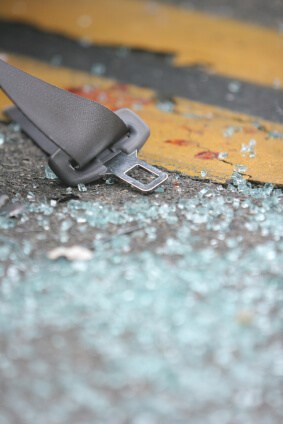 By now, we all know that seat belts save lives and that "click it or ticket" are mainstays of federal and state government and law enforcement efforts to encourage families to buckle up. In my representation of many serious motor vehicle accident victims and their families, as a Gwinnett County catastrophic injury lawyer, in my view, anything that can reduce deaths and injuries is vitally important.
But for some reason, drivers and passengers are still yet to have learned to buckle up every time they get into a motor vehicle. It is never easy to reconcile human behavior with safety measures that are available to us, but that we do not use. So when it comes to seat belt use, the failure to use a seatbelt even when the dashboard in a modern vehicle is telling us to buckle up, is puzzling and sometimes tragic.
The National Highway Safety Administration touts its "Click It or Ticket (CIOT)" campaign as the most successful seat belt enforcement campaign in the history of our country and says it has helped to create the "highest national seat belt usage rate of 85 percent." The State of Georgia has had its own successful Click It or Ticket campaign and continues to encourage us to buckle up.
The risk of injury or death are greatly reduced when using a seat belt. These simple devices save lives and make otherwise might be deadly crashes, survivable. Although the Click It or Ticket campaigns have created a very compliant public, teens, pick up truck drivers and men between 18 and 34 years of age are less likely to use their seat belts.
The death of a Norcross High School student last month has left many of us saddened and stunned. In the tragic accident, a Gwinnett County resident and high school basketball player, who was enrolled in honors and Advanced Placement classes, and three of his family members were killed in a single vehicle car wreck in Florida last month.
The young man's dad who was driver of the Chevrolet Tahoe tragically crashed in a single vehicle accident on I-75 near Ocala, Florida, the SUV traveled across several southbound lanes, overturned a number of times and ended up on its roof. Reports say that during this crash, six of the eight people inside the SUV were ejected in the crash. Only one person was wearing a seat belt — the driver who was the young man's father. Speed was apparently not a factor so it is not clear what caused the vehicle to leave its lane.
Could some or all of the people who died in this crash be alive now had they been wearing their seat belts? We will never know the answer to this question. But this accident is important for all of us to pause and pay attention — make sure that you do not drive or ride in a vehicle without a seat belt.
The Norcross High School community has suffered an enormous loss and it is impossible to imagine the sorrow that this family is experiencing. In addition to those killed in the accident, others were injured. Our hearts go out to the family and the school community.
Please buckle up every time you get into your car or other motor vehicle. You could save your life or the life of someone you love.
If you have been injured in an automobile or other accident, please contact my law firm to arrange for a free consultation with me on matters ranging from truck accidents, motorcycle crashes, personal injury, wrongful death and estate administration. We have offices throughout the Atlanta area in Duluth, Buckhead, the Perimeter and Decatur. for your convenience.