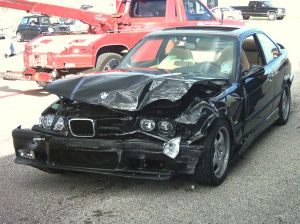 Another cautionary tale, illustrating the now-classic adage that "friends don't let friends drive drunk," happened last week in a Gwinnett County DUI wreck. Soon Kwon, a Duluth man with a history of minor arrests by Gwinnett County police, was charged with two counts of vehicular homicide, three counts of serious injury by vehicle, and driving under the influence of drugs or alcohol. Tragically, and somewhat ironically, one of the two who died in the wreck was a friend who had posted Kwon's bail for disorderly conduct last year.
The report of last week's Lawrenceville DUI car accidentsuggests that more disorderly behavior could have led to the crash–or, more accurately, two crashes. The first collision occurred when Kwon sideswiped the car that was driving next to him. The second happened when the sideswipe propelled Kwon's car across the road into oncoming traffic, where he collided head-on with a third car.

Head-on collisions, due to the force of impact from cars traveling toward each other, are particularly deadly. The third car's driver died mere hours later, after being pronounced brain dead at the hospital. Kwon's passenger–the friend who had posted his bail last year–died sooner: at the scene of the crash. The remaining passengers in both vehicles involved in the Georgia head-on crash sustained serious injuries: a broken jaw, a broken collarbone and dislocated ankle, and serious internal injuries that necessitated spleen removal.
The driver of the first car that Kwon swiped was not injured, but he was arrested for DUI. As for Kwon, he was initially taken to the hospital for injuries, but charged soon after with driving under the influence, along with vehicular homicide and serious injury by vehicle. He hasn't yet been arrested, but it seems only a matter of time.
Fortunately, drivers like Kwon are the exception, not the rule. Still, hundreds if not thousands of Georgia motorists choose to drive under the influence of alcohol and drugs each year…and each year many more responsible motorists pay the price. If you or a loved one are one of those motorists, you may be under a staggering amount of pressure and stress due to hospital bills, lost income and insurance hassles.
Please know that we are here to help. At the Law Offices of P. Charles Scholle, P.C., we are dedicated Gwinnett County DUI attorneys, well versed in Georgia traffic and auto insurance laws, who can help you win full compensation for your injuries and losses. Please give us a call or contact us online today to learn what your rights and options are.