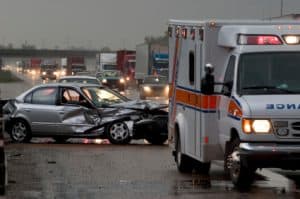 Recently, we shared an Atlanta area truck crash story involving a chain reaction. The accident involving two trucks and two passenger vehicles was the result of a Kia driver clipping the wheel of a truck. This split-second clip resulted in a massive crash that sent one truck over a barrier onto the roadway below. Miraculously, the multi-vehicle accident did not result in any serious or fatal injuries. The Duluth driver of the Kia was charged in the accident. At first glance, the truck drivers seemed to be the cause of this motor vehicle accident since the two trucks also ended up colliding. But that was not the case, and as is true with many accidents, often causes are not obvious and require investigation.
One important aspect of some accident investigations involves the condition of the vehicles involved at the time of the collision. This includes the way trucks or cars are maintained. In the case of large trucks that often travel in interstate commerce across state lines, the federal regulations are extensive and clear. For example, the federal regulations promulgated by the Department of Transportation Federal Motor Carrier Safety Administration (FMCSA) apply in Georgia. These regulations provide very specific guidelines and rules for the maintenance of large trucks as does the Georgia Department of Public Safety Transportation (GDOT).
Truck companies and drivers must maintain their vehicles and that maintenance must be rigorous. These requirements include driver inspections of their trucks — among other important things, tires must have safe amounts of tread, brakes must be functioning properly and loads must be distributed in such a way to avoid cargo spills or truck rollovers. Because truck companies and drivers must keep maintenance logs for their vehicles, these inspections and logs can become a critical part of truck accident investigation after a crash causing serious or fatal injury.
The same is true for other motor vehicles. A car owner who fails to properly maintain his or her vehicle can be liable for injuries caused to others due to that failure. For example, a car with bad brakes or bald tires is more prone to causing or being in a crash. These conditions are known to make driving that car a hazard. A driver that is unable to stop his or her car when necessary can end up causing catastrophic injuries or fatalities to others on the road as well as to themselves and to their passengers. After a crash, these potential causes often need to be investigated. The condition of vehicles involved in an accident can be a key factor in accident reconstruction.
Not every accident lawyer or law firm is willing to take the time to investigate all the possible causes of a crash. This is important because all responsible parties need to be included in any personal injury lawsuit. Scholle Law is thorough and tenacious in the way we approach our representation of accident victims. We take the time and use our expertise to engage in all discovery or investigation needed. If you have been injured in an accident, contact Scholle Law for an evaluation of your situation. We will provide this at no charge and let you know whether or not you have a case.