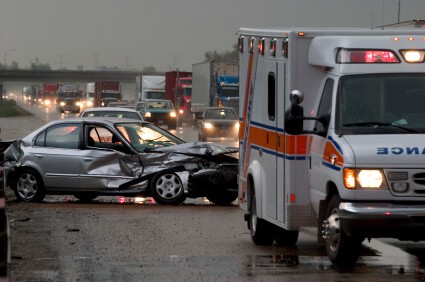 A recent rash of wrong-way crashes has many wondering just what can be done to avoid these deadly collisions. Last week, Gwinnett County saw a deadly crash on Georgia State Route 316 which resulted in the loss of an innocent driver. This is the fourth in a series of head-on collision crashes. In my work as a wrongful death lawyer, who has helped many families deal with the tragedy of fatal accidents, I am saddened that this crash, along with the others, has resulted in serious injury or death due to wrong way drivers in the Atlanta area.
In this most recent crash, the driver alleged to have caused the crash was apparently under the influence of drugs when the accident occurred. Police statements regarding the accident were reported in the Atlanta-Journal Constitution and revealed that the offending driver is believed to have stolen a sedative from the Gwinnett Medical Center prior to the wreck. She is employed by an anesthesia services company.
The evidence for the drug use prior to the accident were needles and an IV bag found on the front seat of the woman's car. Additional drugs found in her purse after she was hospitalized. It is believed that she drove several miles in the wrong direction prior to the crash and that many 911 calls were made by other drivers trying to alert authorities about the situation.
This impaired driver ended up colliding with a passenger car, causing serious or critical injury to occupants of the vehicle, including the driver. The offending driver also sustained injury and was taken to the hospital. After her release, she was taken to jail and "charged with five counts of causing serious injury by vehicle and one count each of driving on the wrong side of the road, reckless driving and improper/erratic lane change…"
Among the violations alleged against the driver is reckless driving found in Official Code of Georgia Annotated section 40-6-390 which provides in part that: "(a) Any person who drives any vehicle in reckless disregard for the safety of persons or property commits the offense of reckless driving. (b) Every person convicted of reckless driving shall be guilty of a misdemeanor and, upon conviction thereof, shall be punished by a fine not to exceed $1,000.00 or imprisonment not to exceed 12 months, or by both such fine and imprisonment …" The cumulative charges against the driver for other violations may well result in jail time if she is convicted.
Is the wrong-way driver becoming a trend? We certainly hope not, because these collisions are often deadly.
Last month, several other crashes ended in tragedy including one that occurred in the northbound lanes of Interstate 85. In that crash two pickup trucks collided head-on in Fulton County. Sadly, the wrong way driver who reportedly caused the crash did not survive it and a passenger in the other truck also died.
Another wrong-way crash occurred last month on Georgia State Route 400 in Sandy Springs. The driver responsible for that crash also lost her life when she struck the vehicle driven by local radio show co-host Kelly Stevens. Finally, also last month two were killed on Georgia 400 in Buckhead in a head-on collision caused by a wrong-way driver.

As a Georgia auto accident and injury attorney I hope that we will see fewer of these senseless tragedies involving wrong way crashes. Sadly, we cannot predict when a reckless driver may harm you or your family. We are hopeful that technologies might be developed to warn drivers of oncoming vehicles that have left the proper lane of traffic.
If you or a loved one have been injured or killed in an auto accident, I am available to assist you in dealing with the medical and legal issues. Please contact the Law Offices of P. Charles Scholle, P.C. for a free consultation with me regarding your situation.