As a Metro Atlanta car crash lawyer, I have followed the national debate on cell phones and driving with great interest. This month, a coalition of top state highway safety officials took a bold step suggesting that they have as well. The Governors Highway Safety Association is a group of leaders of state highway agencies — in Georgia, that's the Governor's Office of Highway Safety. On Aug. 31, the group passed a new policy calling for a ban on texting and driving in every state, calling the practice a distraction and a serious safety problem. The announcement was part of the GHSA's annual meeting, held Aug. 31-Sept. 2 here in Georgia, in Savannah.
The policy is part of a growing momentum among safety experts and some regulators to limit what drivers do with their phones. As the GHSA's press release notes, its announcement follows the release of a study by the Virginia Tech Traffic Institute, which placed cameras in the cabs of long-haul trucks to determine what behaviors led to a crash or a near-crash. The hair-raising result: Drivers who texted took their eyes off the road for an average of five seconds, which is enough time for a large truck traveling at highway speeds to travel the length of a football field. The study concluded that drivers increase their chances of having or nearly having a serious tractor-trailer accident by 23 times when they text.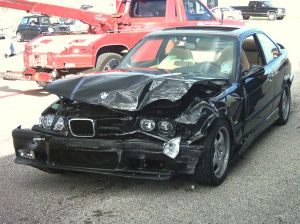 The GHSA also said it looked forward to the results of a study by the federal Department of Transportation investigating effective enforcement strategies.
Meanwhile, Congress has introduced legislation that would tie a ban on texting and driving to federal highway funding, much as it once did for Georgia drunk driving laws. And on Sept. 30, the federal Secretary of Transportation will hold a summit on distracted driving, including but not limited to texting while driving. As a Georgia auto accident attorney, I am pleased that distracted driving is getting attention at the highest levels of our nation's government. A previous study by the Virginia Tech institute found that distracted driving was a major cause of crashes and near-crashes — almost as common as speeding. It found that anything that took the driver's eyes off the road for two seconds or more could substantially raise the chance of a crash, including cell phones, but also sleepiness, rubbernecking, eating, makeup or shaving and reaching for objects inside the vehicle.
When drivers take their eyes off the road, the consequences can affect not only themselves, but the innocent people around them. The Law Offices of P. Charles Scholle represents people who were seriously hurt or lost a loved one because of someone else's bad decisions, including but not limited to distracted driving. After a crash, many families are hit with a financial double whammy — injuries take a wage-earner off the job right when they're hit with huge bills for hospitalization, follow-up care, auto repair and other costs caused by the accident. In Georgia, people put in this position because of someone else's careless driving have the right to hold that person legally and financially responsible for these bills. A Gwinnett County car accident attorney can negotiate aggressively with insurance companies to secure that money — or, if necessary, take the wrongdoer to court to collect.
If you or someone you love was seriously injured by another driver's carelessness, the Law Offices of P. Charles Scholle can help. To learn more about your legal rights and your options at a free consultation, please contact us through the Internet or call 1-866-972-5287.