According to the Gwinnett Daily Post, two people were arrested as of Wednesday after a fatal Dacula accident this past Saturday that ejected two, killed one, and allegedly involved racing. One of the arrested is 24 years old; the other is only 18.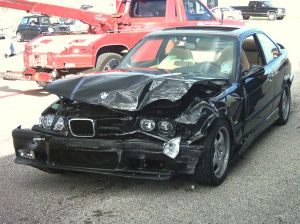 I don't need to tell you that highway racing is an extremely bad idea. I especially don't need to tell the families of Emmanuel Vasquez-Marrero, who died in the crash, and Carlos Bonilla, who narrowly escaped the same fate.
But I would like to point out something that often doesn't occur to people when they think of automobile accidents. Despite the fact that there were four injuries, two arrests, two cars racing and one death, there was only one vehicle in this crash. Does that mean the driver of other car that was allegedly racing doesn't hold some responsibility? Of course not. But no one in that car died. Only one car crashed, and the person driving, the person who killed Vasquez-Marrero, was none other than a trusted friend.
It's tempting to blame the brashness of youth for tragedies like these. Teenagers in particular are at risk for automobile accidents, especially nighttime fatalities. Higher likelihood of drinking, text messaging or trying to impress friends, plus a lack of experience and true gravity regarding a driver's responsibilities, can all be factors.

However, as a Gwinnett County car crash attorney, I can tell you with some regret that plenty of fully-grown individuals engage in racing while driving every day. So the driver's age, while likely an influence, is not to blame for this tragedy. In fact, the driver himself is 24 years old, no longer a minor, so age is a pretty flimsy excuse.
What is to blame is poor decision-making as a result of poor priorities. Because one guy decided not to take his driving responsibilities seriously, his friend is dead, he faces a homicide charge and the families of his other friends face costly hospital bills – not to mention a reevaluation of trust for a person they may have been close with. Put another way, carelessness was the cause of the crash. The fact is that this guy didn't need to race, but he decided to anyway.
As I mentioned before, poor decision-making can happen to anyone at any age, but at least with teenagers there is the opportunity to instill the right values from the beginning. A strong sense of responsibility, plus cold hard facts about consequences like these and how often they happen, should be deeply instilled in every prospective driver–before an incident like this forces them to learn the hard way.
If someone you love has been killed or injured in a car accident as a result of someone else's carelessness, you have the right to full compensation for medical bills, trauma, missed work and many other possible damages. The compassionate Georgia accident attorneys at the Law Offices of P. Charles Scholle, P.C. are here to help you recoup those losses and move on with your life, even after tragedy strikes. Please contact us today for a free, personalized consultation, and let us help you learn what your rights are.