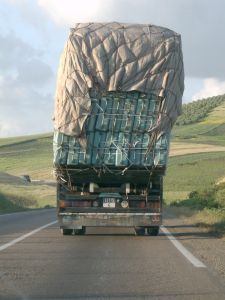 A Georgia tractor trailer had an extremely close call early this morning. According to the Florida Highway Patrol, a highway construction worker was struck by a semi early this morning on I-75 near State Road 56 in Florida.
I say extremely close call because, although there were serious injuries, the potential for causing death in this Decatur, Ga. tractor-trailer driver accident was amazing. What happened was the 18-wheeler's driver slammed on his breaks suddenly, which caused the giant truck to swerve. It's well known that tractor trailers require extra care to remain stable, and in this case, the truck driver was unable to control his trailer's rear end. As a result, it struck Jesus Gonzalez, a contract employee for construction firm.
The news article reports that Gonzalez is in "serious but stable" condition at Tampa General Hospital. "Stable" and "serious" are actually two distinct levels of vitality, but both indicate significant injury. Still, Gonzalez is expected to live. When you consider the elevated mortaility rate of Georgia tractor trailer accidents in general, combined with the extremely high risk of death when a pedestrian is hit by any moving vehicle on a highway, let alone a semi truck, Gonzalez is one lucky man.

So is Antonio Graham, the Decatur, Ga. truck driver who hit him. Tractor trailer drivers bear a huge responsibility to ensure careful, safe driving at all times. The sheer size of these vehicles combined with the speed of highway driving demands constant vigilance and safety checks, and there are legal consequences for not enforcing them. Graham, uninjured in the accident, was cited by state troopers for failure to use due care, but he easily could have caused catastrophic injury from the impact of a tractor trailer, or even killed Gonzalez. For that, the recourse could have been much, much worse.
Here's wishing Gonzalez a speedy recovery, and hoping that Graham will use due care going forward.
If you or a family member have been seriously injured or worse in a Georgia semi truck accident, please know there are dedicated local legal professionals ready to assist you. In a Gwinnett County tractor-trailer accident lawsuit, you can recoup expenses for medical care, hospital stays, lost salary and work hours, and much more. At the Law Offices of P. Charles Scholle, P.C., our Decatur truck accident lawyers have decades of experience helping tractor-trailer accident victims get back on their feet and on with their lives. To find out how we can help you, contact us today for a free, confidential consultation at one of our convenient offices in Decatur, Duluth, Buckhead or the Perimeter.