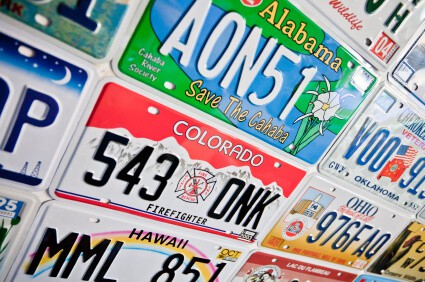 The Atlanta Journal-Constitution's recent report on vanity license plates raises some interesting questions regarding the First Amendment and freedom of speech. We have all seen motor vehicles on Georgia's roads with interesting vanity plates. Sometimes their meaning is obvious and sometimes it takes some thought to "get" the abbreviated meaning. Here in Georgia, the state determines whether one prestige plate will be permitted and another will not. The Georgia Department of Revenue is the arbiter of this decision. As a practicing Atlanta personal injury litigator, I find the question of constitutionality interesting in this context.
The determination of what is, or is not, an acceptable vanity plate has actually been the subject of litigation in other states over the years. The federal courts in Vermont and Missouri have already dealt with this issue and depending on the specific speech have either allowed it or denied it. For example, in a case entitled Lewis v. Wilson, the Eighth Circuit Court of Appeals found a violation of speech, but in Perry v. McDonald, the Second Circuit found Vermont governmental officials were justified in restricting it.
There could be trouble ahead for the way these decisions are made. Inconsistencies could result in claims that the state is "restricting speech in such an arbitrary fashion" and a constitutional challenge could result.
As most readers know, the First Amendment does not allow us to say anything we want to at any time. There are permissible restrictions. But when the government restricts speech, it is necessary that the restriction is justified. For example, the state has to show that there is a "compelling interest" in the restriction. There are times that those interests are clear, such as in limitations on donations we can make to political campaigns which are permissible restrictions on speech to avoid impropriety or the appearance of impropriety with our elected officials (See, Buckley v. Valeo). But deciding whether to allow a vehicle to carry a particular message on a vanity license plate is a different story indeed.
At least the Georgia state employees that make the call on whether to allow a plate or not, rely on a policy regulating what is permitted on prestige plates. These plates are permitted under Official Code of Georgia section 40-2-60 and under the rules and regulations promulgated under this section, profanity, "which is language the community considers obscene or language that ridicules a person, group, or religious belief or being, race or ethnicity" is not permitted. The application itself states that language "obscene, profane or defamatory in nature" will not be approved. And that "[i]f a prestige license plate combination is approved and later determined to be obscene, profane or defamatory in nature, DOR/MV reserves the right to recall the license plate. If a license plate is recalled, we will allow you to request another prestige combination." Official Code of Georgia, Rules and Regulations for Chapter 375-2-3-.02.
However, as our community and culture changes, perhaps these standards will change as well, suggests the AJC article. Apparently, our state employees have a greater challenge now that texting has come into vogue. The Urban Dictionary and Wikipedia can help with decoding a plate's meaning, but sometimes offensive or profane references can be tough to discern.
As you drive on Georgia's roads and highways, think about whether you would have approved a particular plate and about our state employees hard at work deciding whether to approve or deny a vanity plate. Only time will tell whether the courts will be asked to review the process here in Georgia.

As a Georgia native and resident, I am dedicated to the representation of Atlanta area victims of motor vehicle, truck, motorcycle and other injuries and accidents. I also represent clients throughout the state of Georgia. Please contact me for a free consultation about your injury or accident.