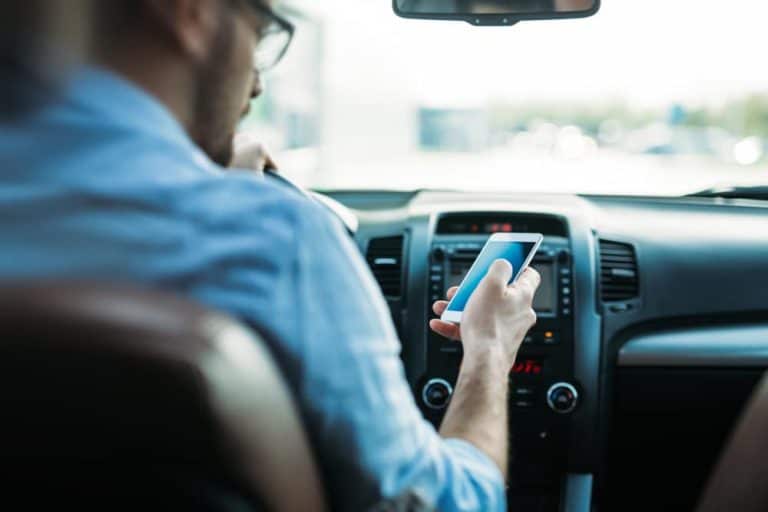 As you all know by now, it is illegal in Georgia to drive while holding a cellphone.  The Hands-Free Law went into effect on July 1, 2018 that made using a handheld cellphone against the law while operating a vehicle in the state, except in a few situations.
You can still talk on the phone while driving in Georgia as long as you use Bluetooth, a headset, or other hands-free device.  But, even with hands-free technology, drivers cannot write, read or send text messages, emails, social media content and other internet data while on the road.
Since this texting law went into effect through the end of 2018, the Georgia State Patrol estimates that they issued more than 8,000 citations for violations of the Hands-Free Georgia Act.
Meanwhile, preliminary statistics from the Georgia Department of Transportation estimate that traffic fatalities from car accidents fell about 7 percent in 2018 from 1,549 to 1,444.  This new law has reversed the recent trend of increases in traffic fatalities that safety experts attributed in part to distracted driving.  (We've been writing about this for 9 years!)
While improved vehicle technology and safety features likely contributed to this decrease in traffic fatalities, the Hands-Free Georgia Act has made our roadways safer by prohibiting motorists from handling their cell phones while driving.  Law enforcement and other industry experts also report that injuries and collision have fallen, thanks to this distracted driving law.
This state's latest development in the effort to decrease distracted driving accidents and increase roadway safety comes from the recently introduced House Bill 113.  This Bill would prohibit motorists under 18 from using a phone or other electronic device while behind the wheel.  It was proposed by State Rep. John Carson, who represents the 46th district.  If this Bill becomes law, House Bill 113 would apply to anyone with an instructional permit or with a Class D provisional license, as well as apply to motorcycle instructional permits.
Under House Bill 113, teens would be prevented from using their cellphones while driving, even in a hands-free environment.  For example, they would be prohibited from talking on the phone, streaming music or getting directions on such a device.  This differs from the Hands-Free Georgia Act in that teens are currently treated like adults and can currently use their phones in a hands-free mode.  This Bill would restore the prohibition on teens using their cellphones while driving that was changed by the Hands-Free Georgia Act.  The majority of other states prohibit drivers under 18 from using cellphone devices while driving.  House Bill 113 would allow teens to only use a cellphone to "report a traffic accident, medical emergency, fire, an actual or potential criminal or delinquent act, or road condition which causes an immediate and serious traffic or safety hazard."
This Bill aims decrease distracted driving by teens because teen drivers are more likely to be involved in an automobile accident as well as be involved in fatal accidents than adults.  By building safe driving habits from the onset, not only can the crashes caused by distracted teen drivers be eliminated, but in the future for the entire population as teens get older.
We see many accidents caused by inattentive driving and every accident we see impacts the lives of our clients both physically and financially.  If you have been injured because another driver was distracted by a phone, we are here to talk.  Call the best Duluth personal injury attorney at 770-717-5100 so we can discuss your situation and tell you how we can help you get the best possible outcome.