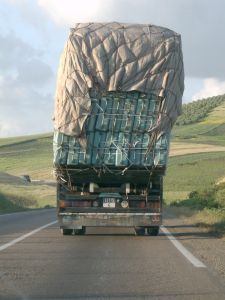 As an Atlanta truck accident attorney, I have represented many clients who have been involved in truck crashes in which aggressive truckers push the envelope and cause serious accident and injury, colliding with smaller motor vehicles.
Last week, a big rig collided with a passenger train in a small farming town in California. We aren't certain yet what actually caused the train wreck, but we do know that two cars were derailed and tracks had to be repaired after the incident.
Reports indicate that the truck's failure to yield wreaked havoc on the Amtrak train and train travel in the area, after the tractor trailer did not stop at a railroad crossing and slammed into the train. There were nearly 170 passengers on board. Authorities had to deal with injuries and a major derailment at the same time. Failure to yield is a serious hazard with big rigs and in this truck accident, the results could have been even worse than they were.
The tractor-trailer, which was carrying a load of cotton, did not yield to the train and on impact the two passenger cars that were hit directly traveled only about 600 feet and then went off the tracks. The train was probably traveling about 70 to 80 miles per hour. Investigators need to rule out whether there was a crossing arm problem with or whether the accident was caused by the truck driver's error.
In this train wreck, two Amtrak cars derailed and 20 people sustained injuries that were reported to be from minor to moderate. That is really a miracle given the severity of the impact. The truck driver was not seriously hurt in the crash.
The accident took place in the middle of the day so visibility was not an issue. The train was traveling from Oakland to Bakersfield and was four car train pulled by a locomotive.
In an unrelated incident, a freight train and a tractor-trailer collided and about 10 miles away. In that crash, the truck driver sustained serious injuries.

If you or someone you know has been injured by a tractor trailer, please contact the Law Offices of P. Charles Scholle to learn about your legal rights. I will speak with you personally at no charge to you at all and let you know whether you have a case.