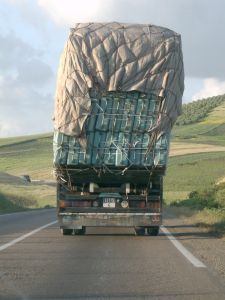 We so often hear about major truck accidents that involve serious and fatal injuries within Georgia and around the Atlanta area. Truck traffic has become a major part of our daily lives as we travel during the holiday season and year round. What we might not think about is the work that goes into researching the way these vehicles function in various situations and how driver behavior and habits play a part in the safety of all as we travel these roads. The researchers at the Center for Truck & Bus Safety (CTBS) make truck design and systems the focus of their research. WIthin the various sections of this center, scientists study such things as the way drivers view the road, the way drivers use the controls of their vehicles and the way situational factors, including roads and infrastructure in general weigh into accident causation and safety. The Center studies many different types of trucks and buses.
As a Gwinnett County truck injury lawyer, I am interested in a driver's behavior before, during and after a truck accident. It is critical to determine whether there is a distraction involved, such as texting or using the phone. It is also critical to determine whether the driver was working in excess of the hour limitations imposed on commercial carriers imposed under a broad regulatory scheme under the federal government.

It is good to know that there are many experts studying these issues as well. For example, the Federal Motor Carrier Safety Administration (FMCSA) has sponsored a recent study that looked at the statistics concerning drivers over the age of 66. In this study, the statistical data regarding drivers in this age category were more likely to be involved in an accident than younger drivers. Interestingly, the data has shown that those in this age group had a greater likelihood of being involved in accidents involving serious injury and death than younger drivers were. Now that this has been established another effort may be underway to determine whether it is effective to require driving tests for commercial drivers to pass a driving test on a more regular basis than is currently required.
One of the particular strengths of the programs at Virginia Tech is their expertise in using naturalistic driving data that is currently being collected by a company called SmartDrive Systems, Inc. The researchers will take the information that is collected, including the use of texting, phones and other potential distractions, to evaluate the impact of these devices and conversations on the driver's performance. Such technical issues as the way a driver performs when talking on the phone and has to deal with a sudden road situation, helps scientists to recommend ways to ensure that drivers can perform their dangerous jobs in a way that does not endanger themselves or others. Nearly 15,000 vehicles will be in a database that includes the high tech collection of data. Both actual truck accidents and near-misses will be part of the study that will help commercial carriers and regulators understand the impact to drivers of visual and other distractions.
Truck accidents can be among the most dangerous of any on our highways. If you or a loved one have been injured in a truck accident, please contact me personally for an evaluation of your situation. Often truck accidents can be the fault of a driver or his or her employer and it is very important to determine all responsible for your injuries so that you can seek recovery from the right persons or entities after a truck crash.