Were you seriously injured in a wreck with a semi, tractor-trailer or commercial truck?
Our truck accident attorneys can help you stand up against the trucking company and insurers.
In the last century, Buford has grown from a sleepy leather town to the booming town that it is today—thanks, in part, to the Mall of Georgia, its proximity to the city and other developments. While this growth and expansion have brought economic benefits to the region, there are downsides too—namely the increasing rate of serious car and truck accidents along I-85, GA-365 and other busy roads, highways and interstates.
The average semi-truck weighs more than 80,000 pounds when fully loaded. That's about 20 times the weight of an average car. If you consider that difference, plus the extra length and higher center of gravity when compared to a passenger car, it's not hard to imagine why these massive vehicles can cause serious accidents and catastrophic injuries.
In addition to recovering from the common physical injuries caused by truck accidents such as traumatic brain injuries, amputations and broken bones, anyone at the wrong end of a large truck accident in Buford, Georgia will also have to deal with complex legal issues including handling insurance companies, trucking companies and determining fault.
Accident lawyer Charles Scholle can help you sort through these issues and more, and help you exercise your legal rights. Charles Scholle and his exceptional legal team have a thorough understanding of both state and federal trucking regulations, as well as decades of experience handling tractor-trailer accident litigation. Scholle Law can help you recover fair compensation by conducting a meticulous investigation to determine the cause of your 18-wheeler accident.
From our law offices in Duluth, Perimeter, Decatur and downtown Atlanta, we serve residents of Buford, Gwinnett and Hall counties, and communities across Georgia. Visit our main office in Duluth, just 12 miles down the road from downtown Buford on I-985/I-85 S, on Sugarloaf Pkwy (Exit 109).
Your first consultation is FREE, and we charge you nothing unless we're able to secure financial recovery for you and your family. No recovery, no fee — it's that simple.
We have offices in Duluth and Metro-Atlanta
If your injuries prevent you from visiting any of our office locations, then we can schedule a time for a legal representative to travel to your home or other location to meet with you or your family.
6340 Sugarloaf Pkwy, Suite 150
Duluth, GA 30097
1 Glenlake Pkwy NE, Suite 700
Atlanta, GA 30328
What to do after a truck accident in Buford, GA
There are steps you can take to prevent a collision with a semi-truck or tractor-trailer such as avoiding their blind spots and giving plenty of space. But no matter how careful you are, the fact is that accidents happen. Whether you or another driver caused a crash, the steps you take (or fail to take) in the minutes, hours and days following your truck accident can impact the final outcome of your personal injury claim.
1. Check for injuries
Due to the size and weight of the truck, a vast majority of crashes involving semis, 18-wheelers and large commercial tractor-trailers result in moderate to serious injuries. Upon impact, first check to see if you or any of your passengers feel hurt. If so, don't move and wait until help arrives. If you're miraculously uninjured and able to move, check to see if anyone else who was involved in the collision is hurt.
2. Call 911
According to Georgia's accident reporting requirements, you should contact local police any time you're involved in a collision involving property damage and/or injuries. In the event of a truck accident, there will almost always be some damage and/or injuries, possibly even serious injuries or a fatality. Dial 911 and tell the dispatcher if you, your passenger or anyone else appears to be injured.
3. Gather information and evidence
If you feel unhurt and are able to move around safely, try to swap information with the other people involved in the accident and take pictures of the accident scene—including photos of your vehicle, the truck, the road, your surroundings and even the weather. All of this evidence may be important later when seeking damages. If possible, also be sure to grab the name and contact information of the police officer who responds to the call.
4. Record your version of events
Answer any questions the responding police officer might have honestly. Try to stick to the facts and avoid apologizing or incriminating yourself for being responsible for the crash, even if you think you may have caused it. There may be other factors that you aren't aware of which may have contributed to the accident. Once you've filed a report with the police officer, be sure you are prepared to recount the incident to an attorney by writing down a detailed account of the accident while it's fresh in your mind.
5. Notify your insurance company
Contact your auto insurance company and let them know that you were involved in a crash. Do this as soon as possible following the wreck, as any delay could add suspicion to your claim and lead to your compensation being denied or rejected. During the call with the insurance adjuster, be sure to stick to the facts and avoid admitting fault. Don't agree to a recorded statement until you've had a chance to consult with an attorney.
6. Seek medical attention
Even if you were fortunate to not have been obviously injured during the truck wreck, be sure to visit your doctor as soon as possible to get a checkup. Sometimes, serious injuries like a concussion or internal bleeding aren't obvious in the beginning but can eventually lead to debilitating and catastrophic damage if not treated promptly. Tell the doctor about any discomfort you are experiencing, including headaches, small aches, pains and bruises.
7. Consult an attorney
Finally, if you were seriously injured or your claim is being contested, contact an experienced truck accident attorney near you to learn about your legal rights.
What if I wake up in the hospital or am too injured to follow these steps?
Needless to say, if you lose consciousness or are in such pain that you're unable to do anything but wait for the ambulance to arrive, you might not have the chance to follow some of the steps listed above. That's okay. Your first priority is to focus on your health and safety.
However, once you've received emergency treatment for your initial injuries, we strongly encourage you to consult with a knowledgeable local truck accident lawyer at Scholle Law to find out what steps to take next and how we can protect your right to compensation going forward. The sooner you reach out, the faster we can launch a thorough investigation and seek out important evidence before it's lost or forgotten.
Have questions? Get answers from an injury attorney near you.
Personal injury practice areas we specialize in
Here are just a few of the legal areas that we specialize in:
Who's liable for a truck accident in Georgia?
As with all personal injury torts in Georgia, in order to obtain truck accident damages (compensation), you must first prove that the defendant was "liable" (or legally responsible) for your injuries and financial losses. Truck injury cases tend to be more complex than other types of accident cases because there may be multiple parties who can be held liable for victim damages.
For instance, you may be thinking that you just want to sue the negligent truck driver for your losses. But what if their employer forced them to work long hours and break industry regulations? Or what if a company in charge of doing regular maintenance of the tractor-trailer failed to do their job, resulting in brake failure that was out of the truck driver's control?
By talking with our Buford attorneys, you can get expert guidance and look at the details of your accident to determine who was at fault—whether it's the truck driver, the truck company or another liable third-party.
Other parties that may be liable for a truck accident can include:
A truck manufacturing or parts company
A truck operating and maintenance company
A truck cargo shipping and loading company
Another passenger vehicle driver or pedestrian
A local government or contractors in charge of poor highway design
What if I'm partly to blame for the truck accident?
Georgia operates under modified comparative negligence law. Comparative fault is a legal standard used in accident cases to assign responsibility for the accident (and subsequent injuries) to each individual who was involved. This standard basically means that you can still seek monetary damages after a truck accident even if you were partially at fault; however, your final compensation amount will be reduced by your degree (or percentage) of liability.
Where the "modified" part of Georgia's comparative negligence law comes into play is when a person is found to be 50 percent or more responsible for the accident that caused their own injuries. In these cases, the plaintiff will be barred from recovering any compensation.
As long as you are 49 percent or less liable for the collision, you can seek damages in Georgia.
Georgia's modified fault law is more favorable to truck accident victims compared to nearby states like Alabama and North Carolina, which both follow a "pure contributory negligence" standard. Under this standard, an injured motorist is banned from collecting compensation if they are determined to have any degree of fault.
On the other hand, Georgia's modified law is more restrictive than other nearby states with a "pure comparative fault" rule, such as Florida and Louisiana, where an accident victim can recover some damages even if they were 99 percent at fault.
Can multiple people/parties be liable for a truck accident?
Yes. In fact, victims may be able to receive more compensation for their losses if they can prove that several parties were liable for the crash. Under Georgia's comparative fault standard, the plaintiff must prove who all can be held liable and what percentage of responsibility they hold for the collision.
Common causes of truck accidents
Every truck accident is different and can arise from many possible causes, but most wrecks are due to either driver negligence or manufacturing defects in the trailer. Driver negligence, which may simply be the result of a lack of experience or training, can include speeding, veering and swerving, aggressive tailgating and lack of attention to the road (distracted or drowsy driving). In fact, roughly 1 in 5 truck accidents is caused by driver fatigue or drug use.
In some crashes, semi-truck design defects are to blame and may include inoperative brakes, faulty or dim trailer lights and problems with underride guards. In such cases, the manufacturer of the defective part may be held liable for the injuries and damage that happened as a result.
Other common causes of truck accidents include:
Bad weather (high winds, slick roads, etc.)
Unsecured loads
Emergency medical condition
Common truck accident injuries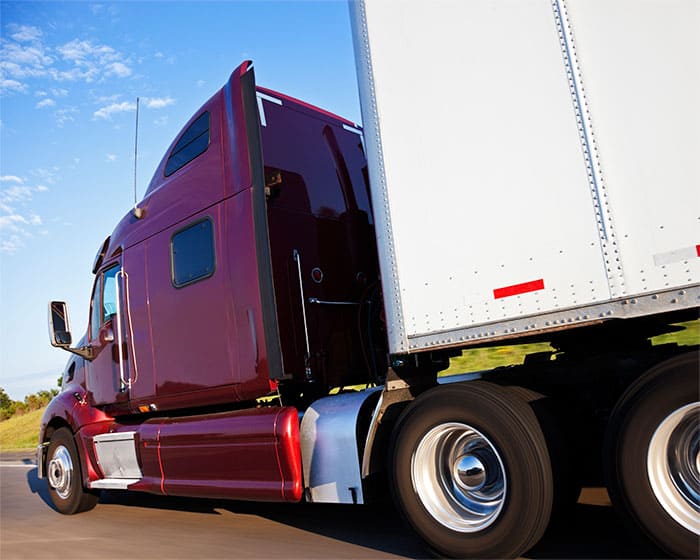 It's tragically quite common for truck accident victims to be killed on the spot. For the "lucky" survivors who are able to escape with their lives following a truck wreck, they often are left with serious and debilitating injuries that impact them for the rest of their lives.
Some common examples of truck accident injuries include:
Back and neck injuries
Internal organ damage
Broken and fractured bones
Types of truck accidents
At Scholle Law, our injury attorneys represent clients in ALL types of tractor-trailer and semi-truck crashes, including:
Our accident attorneys represent clients in ALL types of tractor-trailer and semi-truck crashes including:
Back on the Road
What to do after a serious semi, tractor trailer or truck accident in Georgia
Guidebook for people who suffered a serious injury or lost a loved one after a bad accident with a large commercial truck
Don't delay — seek legal advice now regarding your truck accident injuries
Time is of the essence when coping with the aftermath of a severe large truck accident. Sometimes, just moments after the accident occurs, the insurance companies representing the trucking company will send out investigators and do everything to dismiss your case quickly with as small a settlement as possible. This poses a huge problem when you are faced with tens of thousands of dollars in medical bills weeks or months later.
In addition, the Georgia statute of limitations places a strict deadline on truck accident cases. In most cases, your claim must be filed within 2 years from the date of the crash. This might sound like plenty of time, but building a strong case takes longer than you might think. Plus, the longer you wait, the more motivation the at-fault driver, truck company or insurer has to deny or drag out your claim.
In short: Time is NOT on your side.
If you or someone you know has been involved in a truck accident in or around Buford, Georgia, contact Scholle Law immediately to schedule a free consultation to discuss your legal options.
We've recovered over $75 million for our clients
$625,000 DeKalb County woman was injured when a tractor trailer backed up and hit her, causing serious spine injuries.
$575,000 We secured a settlement following a collision between 3 tractor trailers, causing our client a cervical fracture at C6 and C7 and a displaced fracture at C5 which required surgical repair.
$500,000 We oversaw a federal Court case involving a Canadian truck driver and a Toronto-based trucking company vs. a Gwinnett County mother. The mother suffered a neck injury when a truck pushed her minivan into a ditch.
$400,000 Our plaintiff required back surgery following a truck wreck; however, their case was made more difficult because of pre-existing back and neck issues. Nevertheless, we were able to secure recovery.
$390,000 We negotiated a settlement involving a man who was sideswiped by a Schneider truck on Interstate 85 North near Columbus, Georgia. He suffered a neck injury requiring surgery.
$275,000 We secured compensation of single-limit policy limits for a disabled plaintiff who had undergone a previous cervical fusion surgery and required an additional cervical fusion surgery as a result of a truck accident.
Local resources for Buford, GA residents
Official government websites
Local legal resources

Local community resources
Dedicated to Excellence, Committed to Results
I needed a good lawyer to represent me
The damages and the medical bills from the accident were too high…It was a very difficult case…I was very happy with the outcome of the settlement. The quality of Charles' service was wonderful."
John R. – Serious injuries from a car accident
View our clients' video testimonials
Meet attorney Charles Scholle
"…Every week, I experience a client who's dealing with the worst time that they've ever had to experience. They're injured. They can't pay their medical expenses. They don't know when they're going to be able to work again."
"…I always like the underdog. I always like representing the little guy. I don't want to represent the corporation or the insurance company."
"…We like to have a personal relation with our clients…because that helps us be better lawyers…and serve their interests."
Contact us to speak with a lawyer about your accident.
We're available 24/7 and your first consultation is free.
Call 866-972-5287 or send us a message online