Decatur Uber & Lyft Accident Lawyer
Skilled Rideshare Accident Lawyers Serving Decatur, Georgia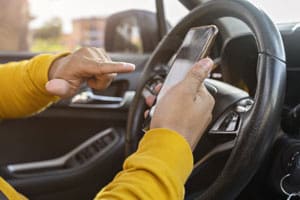 Rideshare services like Uber and Lyft serve residents and visitors throughout Decatur. There are countless rideshare drivers transporting passengers throughout the 4.2 square miles of Decatur at any given time, from major roads like Scott Boulevard and E. College Ave. to far less congested roadways. Uber and Lyft drivers have the same responsibility as other motorists in Decatur—if not a greater one. If a rideshare motorist has caused you or a loved one to suffer harm, you deserve financial justice. A Decatur Uber & Lyft accident lawyer from Scholle Law will fight for the compensation you deserve.
What To Do After A Rideshare Accident In Decatur
First, hire Scholle Law. Our firm maintains offices in Decatur. We know what to do after an accident and will walk you through your next steps. Our team can:
Help you get the medical care you need (and document your care)
Seek out evidence from your rideshare accident—time is of the essence, as evidence like video footage may soon become unavailable
Deal with insurance companies, which may be pressuring you to make a statement or accept a settlement
Explain our strategy for seeking compensation
This is what we will do immediately after your rideshare accident. Once we set a clear course of action, we will handle the entire legal or claims process for you.
How We May Secure Compensation For Your Losses
Our team develops a strategy unique to each case in Decatur. We will evaluate your circumstances and explain your options for seeking compensation, which may include:
An insurance claim with the at-fault driver's insurer: In Georgia, the driver who causes an accident must generally cover property damage and injuries. Rideshare companies require drivers to maintain auto insurance, and we may seek coverage from the liable driver's insurer.
An insurance claim with Uber or Lyft's insurer: Uber and Lyft both maintain substantial insurance to cover their drivers' accidents. However, this insurance only applies under certain conditions. We'll explore whether a claim with the rideshare company's insurer makes sense.
A lawsuit: You might pursue a lawsuit if insurance does not cover all of your accident-related damages. Scholle Law can help you determine if a lawsuit is appropriate, then complete the legal process for you.
We could file a claim with your insurer. However, Georgia's fault-based auto insurance laws mean that a claim with another party's insurer, or a lawsuit, may be more likely.
Why Hire Scholle Law For Your Rideshare Accident Case In Decatur?
Injured as a passenger in an Uber? Struck by a Lyft driver as you were driving your own vehicle? Whatever the circumstances of your rideshare accident, you deserve capable legal representation.
Scholle Law has planted its roots in Decatur. We consider it our duty to protect those needlessly harmed in our city. We will take your rideshare accident case personally, seeking the maximum financial recovery you deserve.
Clients of Scholle Law should expect:
A law firm that knows (and cares about) Decatur: Our office in Decatur means that we interact with the community, and the local legal system, every day. This knowledge and experience in Decatur's civil legal system is invaluable. From our offices on Clairmont Avenue, we've fought and won many cases for victims like you.
Our full financial support: You will pay no upfront fees or costs to hire Scholle Law. We may also hire experts for your case at no cost to you. Because of our backing, you'll face no financial pressure. We only receive a fee if we win your case.
Top-notch client service: We embrace the Southern hospitality that Georgians are known for. From your first consultation to the conclusion of your case, expect us to go above and beyond for you.
Rideshare drivers in Decatur offer an important form of transportation. Nevertheless, those drivers are accountable for the harm they cause. If you have suffered injuries or lost a loved one in a Decatur rideshare accident, Scholle Law will pursue justice for your losses.
Call Scholle Law Today For A Free Consultation About Your Rideshare Accident In Decatur
We may face a deadline to file your case in Decatur, so don't delay. A Decatur Uber & Lyft accident lawyer from Scholle Law is ready to start your case today. Contact us for your FREE consultation as soon as possible.