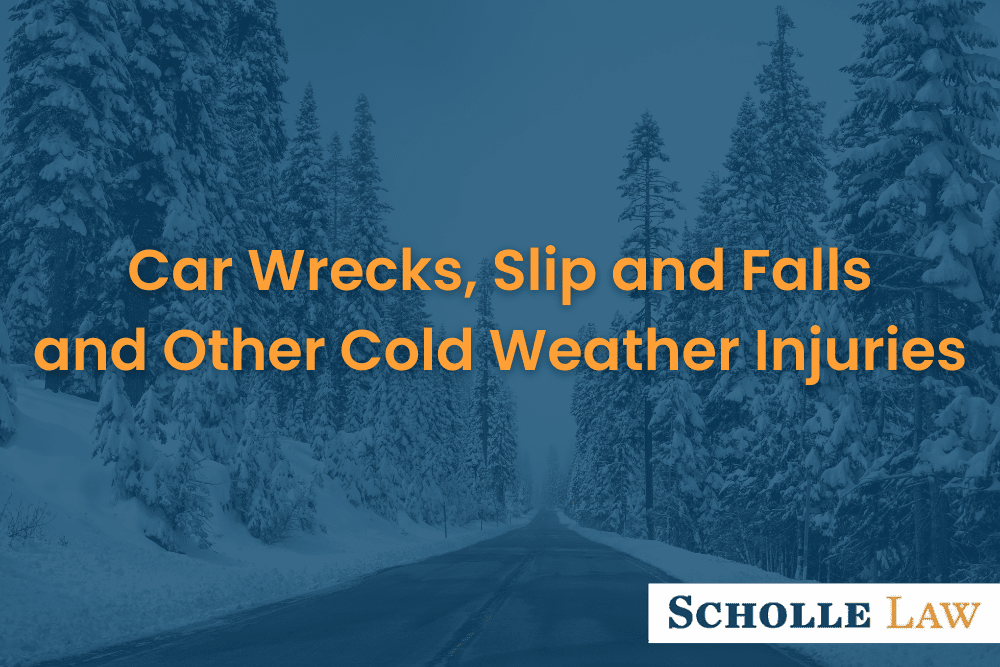 Georgia personal injury lawyers and the entire professional staff from Scholle Law wish everyone safe and fun holidays. The weather may not be the best, so please be safe and remember that cold and wet weather can be dangerous for your drive and other holiday activities.  Wherever you are and whatever you are doing, we hope your holidays are joyous and filled with special memories.  
11 Alive News from Atlanta is reporting cold weather for Christmas 2020.  A winter weather advisory issued by the National Weather Service has been issued for parts of North Georgia.  Murray, Fannin, Gilmer, Union, and Towns Counties are all under this winter weather advisory. The winter weather advisory is in effect Thursday, December 25, 2020 at 1 pm through Friday the 26th at 1 am.  Christmas day will be cold, rainy, and wet for many parts of Georgia during the Christmas Holiday. 
We have said it before, and we will repeat it here: accidents and injuries do not stop for the holidays. We have previously written about the fact that dangerous and deadly accidents are numerous during every Georgia holiday, not just the ones that occur during the colder weather seasons. Car accidents, truck accidents, motorcycle accidents and work injuries unfortunately occur every day in Georgia. Georgia personal injury lawyers from Scholle Law represent injury victims, people injured by negligent drivers, companies, and other's responsible for causing harm.
Focusing on the topic of cold weather injuries, this article serves to highlight a few of the scenarios responsible for such accidents. During winter and the cold weather season(s) car accidents and premises liability situations are the most common types of injury cases we are contacted about. The cases include injuries on other people's property and motor vehicle accidents caused by poor driving conditions. This brief discussion of these topics is a reminder to be mindful of the dangers of cold weather.
Winter Weather Car Accidents
Car, truck, and motorcycle accidents occur every day in Georgia. The weather does not change that! However, the cold weather lends itself to situations specifically occurring during the winter. Snow, sleet, and rain are all contributing factors of many of the motor vehicle accidents that occur in Georgia during the winter. Simply stated, wet and slick roads are dangerous.
Georgia does not see the same heavy amounts of snow that occurs annually in states like Pennsylvania or New York. However, Georgia does typically have wet winters. Driving in the rain is not fun and it can be dangerous. It is good advice to make sure that your vehicle is in good working order to deal with rainy Georgia roads. Make sure that your wipers, tires and brakes are all in good working order. This is true for other seasons, but especially when wet or icy Georgia roads will be more prevalent.
If it does snow, make sure you are prepared to drive on it. Driving on snow is dangerous and inexperienced drivers are targets for potential accidents. Familiarize yourself with your vehicle's recommended driving procedures before driving on snow. Most vehicle manuals have a section that includes this information. There are also plenty of websites that cover this topic, such as this article from Car and Driver.
The same goes with ice and black ice. Those driving conditions are treacherous. At least with ice you may be able to see what you are driving on. With black ice, accidents occur as drivers are not able to see the it. Visible or not, ice is extremely dangerous to drive on. As with snow, there are articles and videos online about the topic of driving on ice and black ice. However, if you don't have to go out, it is probably best to wait until driving conditions are safe.
Many people prepare for cold weather driving by making sure their vehicle is running well / safe and having their fluids, tires and wipers checked out. Besides making sure your vehicle is in tiptop shape, it is a great idea to keep a warm coat, blanket and some drinking water in your vehicle in case you have car trouble or get stuck in your car due to the weather. Lastly, before you do head out it is always a good idea to check the weather reports.
Winter Weather Slips, Trips and Falls
Every year Scholle Law's Georgia personal injury lawyers field calls regarding premises liability cases. These are situations occurring when someone is injured on someone else's property. There is a misconception that these incidents are strict liability. Strict liability means that the injured party does not have to prove any negligence to win their case. Unfortunately, these types of cases do not work that way.
To have a successful premises liability case in Georgia there are certain conditions that must be met. Generally, there has to be some kind of negligence on the part of the property owner or the parties responsible for maintaining the property. Negligence in premises liability cases usually includes a dangerous condition that should have been repaired or removed. These cases are complex, and this discussion is not for the purpose of explaining liability in premises liability cases. For that information check out our article on premises liability.
The information that you should take away from this blog is that winter injuries on other people's property do occur and that under certain circumstances, property owners can be held accountable for the injured person's damages. Damages include medical bills, lost wages and pain and suffering. The most common examples of winter slip and fall cases are slips on icy sidewalks and walkways that should have been de-iced or cleared.
Winter slip and fall injuries occur at businesses and on other properties such as homes and hotels. If you are ever injured on someone else's property because of a dangerous condition like an icy sidewalk, make sure to report the injury and take plenty of pictures of the area where the accident occurred. If you are too injured to do this, seeking medical attention should always take precedent over everything else.
Regarding preventing these types of injuries, the first step is being mindful of the potential hazards of navigating sidewalks and walkways when they are slick from the rain or ice or snow. If you are aware of a condition such as a snowy or icy path or entrance, think twice about walking on it. In some cases, attempting to walk through an icy or slick path you know to be dangerous could prevent you from holding a property owner liable should you fall. Again, these cases are complex, and they are all different. Always ask a lawyer if you have questions about your rights after an injury.
If you are ever hurt in an accident or other injury matter during the cold winter, make sure to speak to a lawyer about your case. Motor vehicle accidents and slip and fall cases are all different. Some are more clear-cut than others, but every case needs the input of an experienced attorney. Our Georgia personal injury lawyers work hard to fight for their injured clients. Scholle Law attorneys are experienced injury lawyers with over two decades of protecting the rights of injured Georgians.
At Scholle Law, we offer free consultations to injured people looking for help with their accident cases. A call to our office always results in an opportunity to schedule a meeting with an experienced injury attorney. During your consultation you can ask as many questions as necessary for you to feel like you have the information you need. We want you to know that our law firm is here to help. Call or contact us today!
To set up a meeting, call us today at (866) 592-1296 or contact us online.