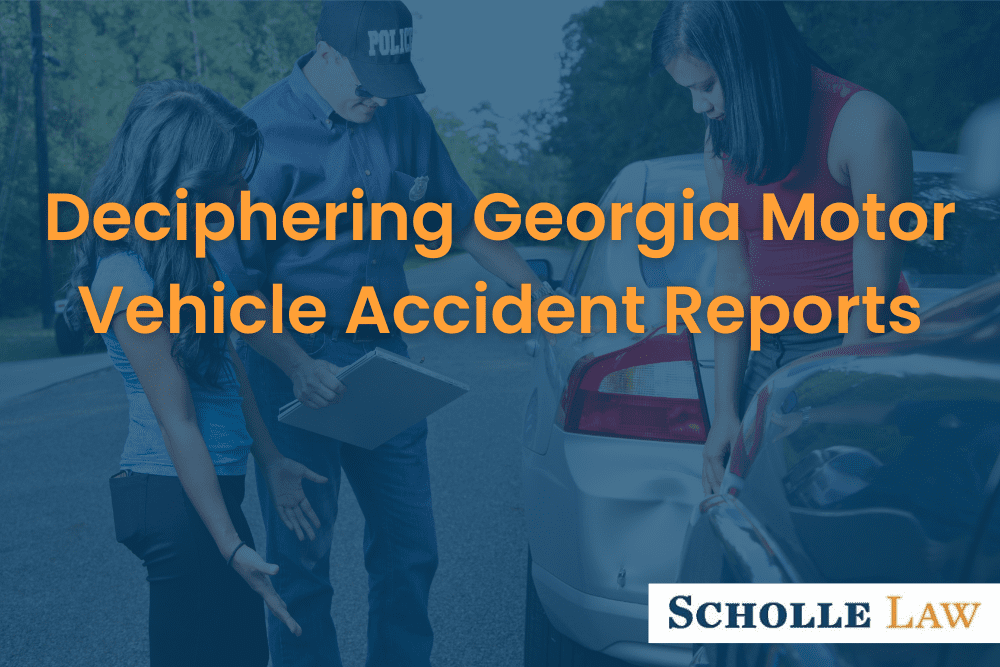 Scholle Law Firm is a Duluth, Georgia based personal injury law firm that handles accident cases in Atlanta and all over Georgia. Our firm primarily handles motor vehicle accidents, premises liability injuries and accidents and injuries related to work related incidents. The Atlanta car wreck lawyers at Scholle Law firm speak to prospective clients every day about their accidents and injuries. Specifically, many conversations involve detailed discussions about Georgia motor vehicle crash reports.
Our firm has recently published an article in our Georgia Personal Injury & Accident Guide Knowledge Center about Georgia motor vehicle accident reports and what information on the report that an attorney may primarily focus on. The motivation behind that article and this topic is the fact that many people complain about how difficult it is to read a Georgia motor vehicle accident / crash report. We understand that, and we want to do things.
First, we want to make sure that people know that our law firm is always happy to discuss their Georgia accident report for free. Anyone with questions about how to find their report can call our office. Depending on the circumstances, we may be able to help you locate your accident report and if we can, we will not charge you for that courtesy. Additionally, we will be happy to speak to you about your accident report and we will offer a detailed discussion with one of our experienced Atlanta attorneys.
Second, we wanted to provide a specific blog post that explains a document that many people do not even know exists. The Georgia Department of Transportation or GDOT has created a document called a Georgia Motor Vehicle Crash Report Overlay. This document is to be used specifically for the purpose of assisting people with deciphering their Georgia uniform accident reports. In this blog we provide a link to where anyone can download a copy of the document for free. For a copy, please click on this link.
In this content piece, we also wish to go over the document to provide some context of what these different fields mean. We will not go over each and ever potential piece of data or potential response in the document, but we hope to be able to give some insight and context into what this information is and why it is relevant or important. We say this often, but please remember that every accident is different. Because of this, the GDOT has built this document to be able to have reporting and data for most every type of accident scenario.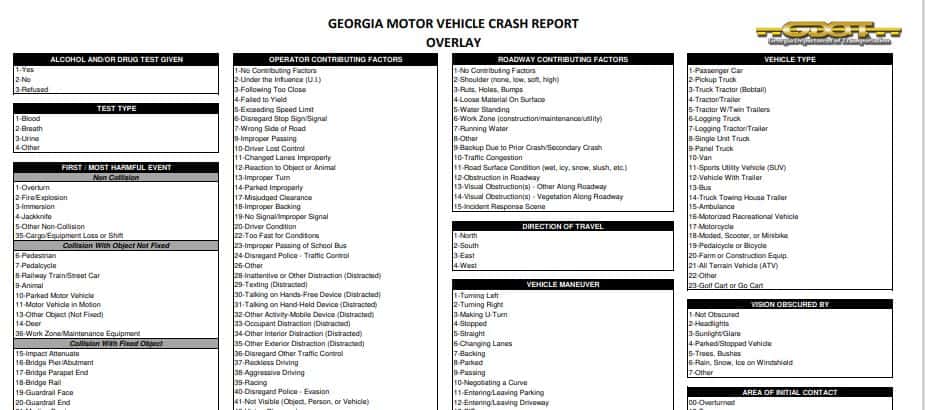 Overlay Field – Alcohol and Or Drug Test Given
This field provides whether or not an accident involved party (usually a driver) was given a drug or alcohol test. The next field indicates whether the test a blood, breath or urine test.
Fist Most Harmful Event
This information provides insight into what exactly this report is about. It provides for information to show if the report is for a collision, non collision and additionally in a scenario involving a collision what did the vehicle(S) collide with.
Operator / Pedestrian Condition
This information notes whether impairment or other issue related to a driver or pedestrians ability to drive or walk is suspected. If no drugs or alcohol were involved, the field would be coded 1 for not-drinking. Additional options include, unknown, alcohol, drugs, drugs and alcohol, physical impairment, suspected fatigue or asleep. Additionally there is an option to report emotional or mental health issues as well.
Operator Contributing Factors
This is very important. This information essentially indicates what the reporting officer believes is the cause or causes of the accident or incident. There are 42 options for responding to this field. Please note that this information is what the officer believed happened. Because an officer making the report is typically not witness to the accident, this information does not ultimately mean that whatever is marked will be the final word on the accident's cause. Additionally, insurance companies and courts of law are the appropriate parties for determining issues related to liability and negligence.
Vehicle Contributing Factors
If the vehicle was in disrepair or something related to the vehicle's ability to operate caused or contributed to causing the accident, this field will indicate as much. For example, a tire failure would be listed here.
Roadway Contributing Factors
If the roadway or road conditions contributed to causing the accident or collision, this field will be the place on the Georgia accident report that indicates it. For instance, work zones are not uncommon places for accidents to occur. If a work zone or road construction contributed to causing an accident in Georgia, this would be the field on the report that indicates it.
Direction of Travel
This simply indicates which direction the vehicle(s) were traveling.
Vehicle Maneuver
This indicates what type of vehicle maneuver was being made by the relevant vehicle. For instance, a right turn, passing or backing up.
Non Motorist Maneuver
This field is relevant to pedestrians. If a pedestrian was involved, this field will note it. Many pedestrian accidents often involve crosswalks. If a pedestrian is hit and we speak to them, our Atlanta car wreck lawyers would certainly look to this field first.
Vehicle Class
This indicates the type of vehicle. Most car accidents involve privately owned vehicles, so those vehicles would be coded as 1. However other vehicles such as police, fire, school. commercial (ex: 18 wheelers) and taxis could also be marked with their own respective codes.
Vehicle Type
This notes the type of vehicle(s) involved. There are 23 different options and they include passenger cars and trucks and commercial vehicles like tractor/trailers, vans and even logging trucks. If it can possibly be on the road in Georgia, then it is listed here.
Vision Obscured By
If the accident involved visibility issues, this field would be marked and accompanied by the relevant code(s).
Area of Initial Contact
This indicates where on the vehicle contact was initially made with another vehicle or object. There are very detailed options to note exactly where the initial collision (if there was one) occurred.
Damage to Vehicle
This indicates whether their was damage to a vehicle and if so how significant the damage was.
Traffic Way Flow
This is specific to the roadway there the incident occurred. Options include one-way or two-way and whether the lanes were separated by a barrier.
Road Composition
Information here indicates what the road was made of.
Road Character
This information indicates if the road was straight, curved, and the gradient (level, hill, etc…).
Work Zone
If there was a work zone, this field will be marked.
Traffic Control
This indicates any specific traffic signs or lights involved at the accident's location.
Cargo Body Type
Information here is specific to vehicles towing a trailer or other type of hauler. This is not generally relevant unless a truck or hauler of some type was involved.
Vehicle Configuration
This is generally specific to large or commercial trucks and other vehicles. For instance, an accident involving a bus or a tractor trailer would be indicated by the information in this field.
Manner of Collision
This field coincides with the Area of Initial Contact field that was previously described. This notes if the damage was caused by head-on collision, collision at an angle, rear end, sideswipe or no collision with a motor vehicle.
Location At Area Of Impact
This notes where on the roadway the collision occurred.
Weather
An Atlanta car wreck lawyer will always want to know more about road and weather conditions. This field is helpful in determining an objective response for determining road and weather conditions at the time of the accident.
Surface Conditions
Again, the weather plays such an important part on the condition of Georgia roads. This field helps determine the condition the road was in at the time of the accident. Specifically, if a road was wet, icy or slick, this information will help determine that.
Light Condition
If the accident occurred during daylight or otherwise, the lighting will be recorded here.
Age
This marks the age of the person.
Sex
This marks the sex of the person.
Seating Position
Where the person was sitting is noted here. This is relevant to cars, trucks, SUVs and motorcycles.
Safety Equipment
This information notes whether seatbelts, car seats, helmets and other safety equipment was used at the time of the accident.
Ejection
In very serious accident it is not uncommon for a passenger or driver to be ejected from inside of the vehicle. This field is for noting whether an ejection occurred.
Extrication
This indicates whether emergency responders used extrication equipment to rescue the driver or passengers.
Air Bag Function
This indicates relevant facts to whether an airbag deployed and if so, which one(s).
Taken For Treatment
This indicates whether the person left the scene (generally in an ambulance) to be taken for treatment.
Call Our Experienced Atlanta Car Wreck Lawyers
We can't overstate it: Do not assume that you understand your accident report or what an insurance company tells you what it says! Every day Scholle Law Firm speaks to injured clients about Atlanta area accidents. Our Atlanta car wreck lawyers know that no two situations are ever the same. We know how to interpret accident reports and we won't ever assume that an insurance company's liability position is accurate until we have an opportunity to review the accident report!
We always take the time to walk prospective clients through the facts of their accident. We aim to help them decipher the most important information from their Georgia motor vehicle crash report in order to make sure they understand the relevant issues. We do this for free and without obligation. It is a part of our free case evaluation and our goal of helping injured Atlanta accident victims.
Call us @ (866) 592-1296 or contact us online for a free case review! We answer our phones 24/7 (including holidays and weekends) and our Atlanta car wreck lawyers are waiting to hear from you today!