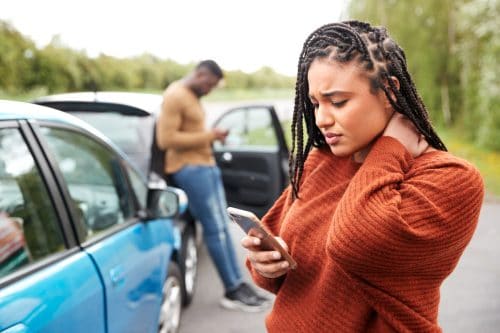 Car accidents cause significant financial damages. But it's not a problem, because you have insurance, right?  What you may not know is that filing an insurance claim for a car accident can come with increased premium rates that will last for a number of years.
Since your insurance company is one of your first calls after being in a car accident, you need to be aware of their reaction. Most insurance companies are focused on protecting their bottom line, which means paying you as little as possible or increasing your rates enough to cover whatever they do have to pay out.
For assistance handling your insurance company, work with a reputable Georgia car accident lawyer. Scholle Law has decades of experience representing individuals like you and protecting your interests versus the insurance adjusters. 
How much will my car insurance increase after a car accident?
According to InsuranceQuotes, someone with full coverage, including collision and state-mandated liability costs, is likely to see a 34 – 41% rise in their car insurance costs after filing a claim. An at-fault car accident could raise your premium from $1,000 a year to $1,410 per year.  Rates vary depending on where you live. In some regions, it may actually be higher.
In Georgia, the average annual premium of $801/year could increase by an average of 39% to $1,109/year due to one car accident if you were at fault. These rate changes also vary based on your insurance company. This can cause an increase as high as 73% in your annual premiums the year after your car accident. State Farm was found to have the lowest average premium change of 23%, while Progressive had the highest with a 73% increase. 
It is important to check your insurance company's premium increases for at-fault accidents before signing to ensure that you are protecting yourself if you are involved in any future accidents.
How long will my rate be higher?
Typically, insurance premium hikes can last three to five years after your at-fault car accident if the damages exceed $2,000.
For the rate to go down, you'll need to maintain a clean driving record during these years.
It's important to note that insurance companies don't properly monitor when your insurance rates should go down. You may need to do this yourself by keeping track of the date that your accident occurred and noting the chargeable time. Contact them when the time is up to reduce your rates.
Avoid the following, as they can lead to a longer increase in your insurance rates:
DUIs

Reckless driving

Multiple moving violations 

An accident resulting in serious bodily harm or death
To avoid insurance increases due to an at-fault car accident, consider asking for accident forgiveness on your next insurance policy. 
How can I lower my insurance rates?
You won't be able to wipe the slate clean once you have an accident that is your fault. To lower your insurance rates, there are a few steps that you can take before and after accidents to protect your financial interests:
Get accident forgiveness. Accident forgiveness is a policy endorsement that gives drivers with a clean record one at-fault accident with no increase in premiums. Not all insurance companies offer this.
Avoid small claims during this period. Insurance companies base their premiums on the financial risk you pose. The more you collect from them, the higher your premiums will be. If you've recently had an at-fault accident, try to avoid filing for small things like a scrape on your door.
Shop around. Don't be afraid to shop around and compare insurance companies. 
Which claims increase your insurance rates the most?
If you cause an accident that results in the bodily injury of another individual, you are likely to have the highest hike in your insurance rates. This is mainly because bodily injury claims are extremely costly. They include paying for medical bills and emotional losses that the victim suffers. Your insurance company wants to recover the costs that they payout, so they will raise your insurance premiums to cover this.
Other car accident claims will result in higher insurance rate increases than comprehensive auto claims for things like hitting a deer or having a tree fall on your vehicle. These claims usually have a 2% national premium increase. 
What if the accident wasn't my fault?
If the accident wasn't your fault, you may be able to avoid insurance increases. Hire an expert car accident attorney to represent your interests and file a car accident claim against the at-fault driver. Your claim will enable you to collect damages from the at-fault driver's insurance company rather than your own.
You shouldn't have to pay for a car accident that's not your fault.
Hold the guilty party responsible by filing a comprehensive claim that outlines their negligence, shows the damages you suffered, and includes expert testimony. Having a lawyer on your side will help you craft a strong case and prevent insurance companies from taking advantage of you.
Contact a Car Accident Lawyer in Georgia Today
Scholle Law provides the best service possible. We work closely with clients to seek evidence during discovery, contact witnesses, depose the at-fault driver, and create a complete timeline of events.
Our lawyers have taken on big insurance companies in Atlanta and won, winning our clients tens of millions of dollars for orthopedic injuries suffered due to a car accident.
Don't get hung up wondering how much your car accident will increase insurance, and don't face the insurance company alone. Contact Scholle Law for personal representation. We will protect your rights to compensation and help keep your insurance rates low.
Call us today for a consultation to discuss how to proceed with your case.