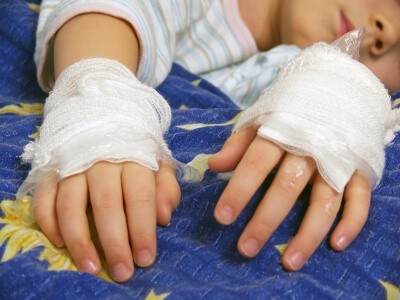 There are no injuries that are more physically painful than burn injuries. As bad as the physical injuries are, however, disfigurement from burns can be even more psychologically devastating to an accident victim. One may feel unlovable or unattractive. Because of the follow-up skin grafts and scarring, the physical and emotional tolls often linger a lifetime. Keloid scars, contracture scars and hypertrophic scars can make an auto accident, truck accident, work accident or premises liability accident victim feel ashamed, embarrassed and depressed. Accordingly, the compensation recovered should be extremely high in light of these damages.
Georgia burn injuries from automobile, truck or other vehicle accidents are often the result of the combustion of gasoline or other flammable liquid. However, other types of accidents can cause different burns. Electrical burns, steam burns, contact burns, grease burns, chemical burns and other types of burns can also result from vehicle accidents or work accidents. Whatever the cause, catastrophic skin damage, nerve damage and cosmetic damages typically result, even if localized, and require a long convalescence.
I have represented many burn victims and obtained substantial recoveries. Burn victims injured in metro-Atlanta accidents should seek the services of a respected Georgia burn injury attorney. Juries are typically very emotionally sympathetic to these plaintiffs, feeling empathy for the hardships ahead for burn victims.
Victims of burn injuries should be entitled to justice. This includes the right to sue for compensation for the devastating emotional and physical injuries. The Law Offices of P. Charles Scholle helps families like these claim compensation for accident-related medical, repair and funeral bills; lost wages, including the future wages a wrongfully killed person will never have a chance to earn; and compensation for the loss of a loved one's care, companionship and affection. Our Georgia auto accident lawyers have more than 15 years of experience fighting insurance companies and their armies of lawyers to get clients the settlements to which they are legally entitled.
The Law Offices of P. Charles Scholle offers free consultations to all potential clients, where you can learn more about your rights and your case. To set one up, please contact us online or call 1-866-972-5287.