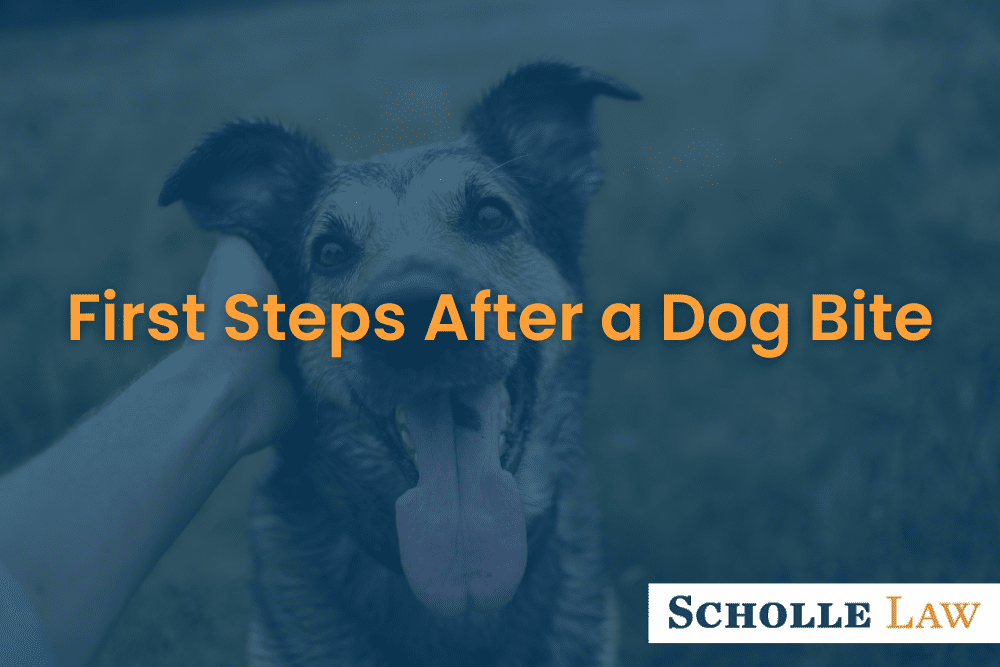 In this blog post from the attorneys at Scholle Law, the topic of Georgia dog bite injuries is discussed. Specifically the content focuses on the steps to take after suffering a dog bite injury. We hope that you will never be in the position to need this information. However, because these injuries are unpredictable, we hope it is helpful to anyone that should need it. If you have questions about this information or any other questions related to a personal injury matter, please feel free to contact us.
Time is never on your side when it comes to serious injury cases. Although accident cases involving Georgia dog bite injuries do not have to be settled immediately (always consult a lawyer about your potential statute of limitations), you must take action right away. What you do in the hours following a dog bite can make or break your case. Here are the steps to take immediately after a dog bite. Please don't procrastinate! Consider following this information so you can get a head start on protecting your rights.
Always File an Incident Report
If you are injured and need medical attention, that should be your first priority.  Call 911 and get yourself to safety. When police and emergency responders are called, a paper trail that documents your injury is created. The initial filing of reports and other information related to your dog bite incident will begin as soon as law enforcement is notified. Having a report is a pivotal step in building your case against the appropriate party, usually the dog owner. The police will also guide you on the next steps, which often includes working with animal control to investigate the Georgia dog bite injury case.
Seek Medical Care
By getting medical treatment, you can protect your health as well as your ability to prove your damages for your injury claim or lawsuit. The sooner you can get treatment for your injuries the better. This step confirms the seriousness of your injuries and that the injuries were caused by the attack.  Depending on where you receive treatment, your medical professionals may also confirm with police or animal control that a proper report has been initiated. Medical care is always a good idea with Georgia dog bite injuries. Sometimes these cases can involve concerns about rabies, and if that is a concern, immediate medical care is absolutely necessary!
Collect Contact Information
If possible, gather contact information as soon as possible. Seek out the dog owner's address and phone number and any other contact information that you can. If there are witnesses, get their contact information as well. In some situations you may have an opportunity to get the dog owner's insurance information. Getting a homeowner's or renter's liability insurance policy information is great. However, do not worry if you do not get it. Experienced personal injury attorneys know how to get that info. Lastly, get the veterinarian information for the dog responsible for the bite injury. Exposure to rabies requires prompt medical care, so check with their veterinarian to see if you are at risk.
Photograph Injuries
Medical records may be used as evidence in your lawsuit, but they don't always tell the whole story. Take photographs immediately following the attack. You can capture the full extent of your injuries, the scene of the incident, the dog (if possible), and any other relevant images that protect you from future disputes. Don't stop documenting your injuries with photographs! Continue taking photographs of your injuries until you are completely healed.
Follow Up With Doctors (If Necessary)
Some dog bite cases will require more than one trip to a medical provider. We recommend that you avoid gaps in your treatment and follow the advice of your medical providers.  It's crucial that you do this! Your documented medical care is extremely important and your lawyers will need this information. The records provide you with powerful evidence in your case.
Contact an Attorney
The bottom line on this issue is that Georgia dog bite injuries are serious.  There are a lot of variables that can affect your case. There is no such thing as a "slam dunk" or cut and dry dog bite case. The issues of liability, damages (injuries) and insurance will determine the outcome of your case. The preceding information relates to all of those key parts of a Georgia dog bite injury case. However helpful this info may be, it is not a substitute for experienced legal counsel. If you are injured in a dog attack, contact a lawyer for guidance.
If you are looking for information and input regarding your dog bite injury case, contact us. Our office handles serious injury cases every day, and we are here to help.  Scholle Law is a personal injury law firm that focuses on representing people hurt by the negligence of others. This includes negligent dog owners.  You can call us if you have questions about filing an insurance claim or a potential lawsuit. Feel free to reach out if you need some assistance with your case. Give us a call for a free consultation.
At Scholle Law, we offer free consultations for people looking for help with their dog bite injury cases. Calling our office will result in an opportunity to schedule a meeting with one of our experienced Georgia dog bite injury attorneys. When speaking to our attorneys, we encourage you to ask as many questions as necessary. Our client first philosophy includes hearing your concerns and answering your questions. We know what it is like to navigate difficult accident and injury cases and we want you to know that you don't have to fight your case alone. Call or contact us today!