Want to talk to an attorney? Here's what to know and expect during the initial consultation…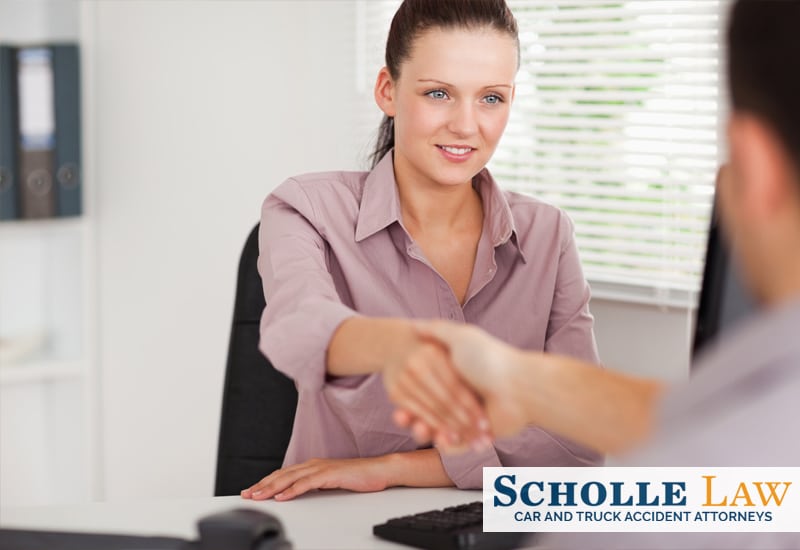 Being involved in a car accident or other incident that resulted in personal injuries can leave you with tremendous physical and financial disadvantages, with many questions about your legal rights. A free consultation with a personal injury attorney can give you an overview of what your options are and how to best proceed.
To make the best use of your free consultation, we encourage our clients to come to the meeting fully prepared with all the information and documentation that is pertinent to your accident and your injuries. Above all, be honest with your attorney. Everything you share is confidential and will aid your attorney in representing you. Stay focused, listen, ask questions, and take notes for future reference.
Below are some common questions to be answered by the attorney during your free consultation.
How experienced are you with my type of case?
You want someone who has had experience and success resolving your type of personal injury case, whether that be personal injuries from auto accident, a slip and fall, a commercial trucking accident, or any other specific type of personal injury for which you are seeking an attorney to represent you.
The attorney should be able to share the number of years they have practiced in this particular area of law, as well as share general information about settlements they've been able to secure for cases similar to yours, and what percent of the practice is dedicated to personal injury.
Do you see any potential problems with my case? If so, what are they and how would you overcome these challenges?
An experienced personal injury attorney will be able to analyze the facts and anticipate arguments the other driver and their insurance company might use to try and reduce the value of your claim. The attorney should also know how to overcome those objections, from a legal standpoint as well as from past experience.
How long will my case take?
There is often no set answer to this question because it may still be determined how much medical treatment is needed for you to reach maximum recovery. Look for an attorney who answers the question by explaining how long the process of gathering records, sending a demand to the insurance company and negotiating a settlement generally takes once you are done treating.
How much are the attorney's fees, and how are they paid?
Most personal injury attorneys work on a contingency fee basis, meaning their fees are collected from your settlement at the end of the case. Their payment is contingent on winning your case, so you shouldn't owe them anything if your claim isn't successful.
Generally, there will be a fee schedule based on settling the case prior to filing suit verses once the case has moved into litigation/trial. This should be clearly explained during your consultation and stated in the contract you sign for the attorney to represent your case.
Who will I talk to throughout my case?
Most attorneys have paralegals and legal assistants who will initially be in contact with you on the attorney's behalf. They will follow your progress throughout the case and keep the attorney apprised of your progress. However, the attorney should also be available to speak with you throughout representation if you request a scheduled consultation to speak with them.
What is your policy on returning client calls and emails?
The firm you hire should have a policy in place to return your call or email within 24, 48 or 72 hours. This sets up a reasonable expectation for a good working relationship between the firm and the client. The attorney should be able to speak to the client's need to be heard. The attorney should also show consideration for his or her staff so that they have ample amount of time to respond to the client's specific needs.
After the consultation: next steps
If, at the end of the free consultation, the attorney feels you have a valid claim, taking all the available evidence and information into consideration, he or she will offer to represent you. A good attorney will also tell you whether or not you will be better served to handle the case on your own, or to have an attorney represent you.
If you have been injured due to the fault of another, it's in your best interest to schedule a free consultation with an experienced attorney near you who will provide you with an accurate representation of your rights by explaining what type of compensation you can expect and how to best move forward in your individual situation giving you peace of mind.
At the end of the consultation, you should have many of your questions answered and information you need to make an informed decision. You can either sign an agreement with the attorney to represent you, decide that you don't need legal representation, or the attorney may decide they cannot help you with your particular claim.
What to expect at Scholle Law
Here at Scholle Law, we typically prefer to schedule in-person initial consultations; however, we can do phone consultations if needed.
Typically what happens when someone contacts us to schedule a free consultation is we first put the prospective client through our intake process to make sure the case is something that we can accept. Our friendly and skilled paralegals are the first point of contact and will help you get the process started.
After the intake process is completed, our paralegals will pass along your case to our experienced attorneys and schedule a time for your free consultation. During the consultation, we'll answer your most pressing questions, clearly explain what we think the outcome of your case will be and discuss the costs. We'll give you all the information you need to make an informed decision about your claim.
Should you choose to move forward by hiring our law firm, we'll write up a contract and start working on your case right away. Get started right now.