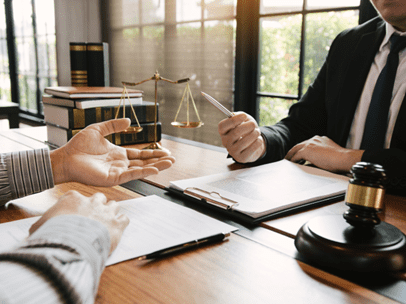 It can all happen in the blink of an eye. An accident occurs out of nowhere, flashing lights appear on the scene, and you're being wheeled into an ambulance. Chaos ensues in the accident's aftermath, leaving you confused, scared, and concerned about your physical injuries. 
Your accident injuries may require extensive medical treatment with a recovery period that means you will miss work. You may be entitled to compensation for lost wages and loss of earning capacity. So what is the difference between these terms?
While they sound quite similar, there is a significant difference between lost wages and loss of earning capacity.
Lost Wages Due To an Accident Injury
When an accident injury sends you heading to the hospital instead of heading to work, you may file a personal injury claim to recover compensatory damages. In addition to losses such as medical expenses and emotional pain and suffering, you may recover awards for "lost wages". 
Your lost wages may consist of several types of income, including the following:
Salary

Hourly pay

Overtime pay

Income from a business

Commissions

Bonuses 

Benefits

Vacation time

Sick time
By totaling all forms of income, your attorney learns how much you earn. 
This is important: damages for lost wages can include past, present, and future loss of income. Therefore, your lawyer will calculate total lost wages by:
Determining how much professional income you have already lost

Calculating the future income you are likely to lose due to injury
Let's say you've already missed one year of work because of injury. Your lawyer determines that you've lost $45,000 in wages during that period. You're entitled to that sum. 
Let's also say that medical professionals project that you'll be unable to work for two more years. You may then be entitled to two more years' worth of lost income ($45,000 x 2). For the three total years that you miss work, you may deserve $135,000. This is the pared down explanation of how lawyers calculate damages for lost wages.
Projecting future lost wages is not always straightforward. You may have earned more money year-over-year before your accident. This and other considerations could impact the value of future lost wages.
These complexities are reason to hire a lawyer for your case. Our team relies on the following documents when calculating lost wages:
Professional contracts

Income-related statements

Records of bonuses and other forms of income

Any document that shows your progression of earnings over a relevant period of time
Determining lost wages without attorney assistance can be difficult. A lawyer can also explain the key differences between lost wages and loss of earning capacity.
Proving Loss of Income Due To Accident Injury
To prove loss of income, a medical expert will typically provide testimony or documentation showing that you were injured in an accident. They will attest that injuries you sustained in the accident caused you to miss work. The expert may also testify that your injuries are likely to prevent you from working in the future.
Your employer then provides evidence that you were absent from work for some period of time. They generally provide documentation – such as a W-2 statement or a 1099 form – that shows how much money you would have earned if you could report to work during that time.
Your lawyer will present their calculation of future lost wages. They can cite the expert's testimony and proof of your earning power to support their projection of lost income. 
Loss of Earning Capacity Due To an Accident Injury 
Loss of earning capacity is a separate class of damage from lost wages. It's called a general damage (as opposed to lost wages, which is a special damage). 
General damages generally do not have a clear monetary value. Their value is more subjective, and so a jury may award any figure that they see fit (within legal limits).
Loss of earning capacity can account for:
Future professional opportunities lost because of injuries

A reduction in your workable hours due to injury

Any other limitations on your ability to earn

Pain and suffering related to professional harm
You may receive awards for loss of earning capacity in addition to your awards for lost wages.
Proving Loss of Future Earning Capacity Due To an Accident Injury
Unlike lost wages, loss of earning capacity is more challenging to prove.  Your lawyer will consider several different factors when estimating the loss of earning capacity. This includes:
Work experience

Skills

Abilities

Talents

Career trajectory
A medical expert may be central in determining loss of future earning capacity. They may explain the extent of your injury and the injury's impact on your ability to work in the future. 
In some cases, the injured person is expected to slowly recover from their injuries over some time. This must be factored into the calculation of lost earning capacity. When injuries are more severe, the injured person may be unable to return to work at all. In this case, they may deserve coverage for lost wages and loss of earning capacity until they reach retirement age.
When considering what damages to pursue in your personal injury claim, it is best to consult with a Duluth personal injury attorney. They will evaluate your accident claim and serve as your counsel. An attorney can calculate and seek awards for lost wages and loss of earning capacity.
Don't Settle For Less Than You Deserve 
When you've been hurt in an accident, it can be very tempting to grab the first settlement offer that is thrown on the table. Resist the temptation. 
Initial settlement offers rarely provide adequate compensation for your losses. Quick offers are merely the insurance company's attempt to lure you into a lowball settlement. 
Physical and psychological accident injuries can cause great long-term expense. Lost income and permanent loss of earning power are examples of these expenses. Any settlement you accept mustn't only account for your current losses. You must consider your future damages as well. 
The team at Scholle Law accounts for all of your losses—past, present, and future. We know that your lawsuit is your best shot at receiving all of the compensation you deserve. We will negotiate for maximum compensation. 
Consult the legal team at Scholle Law to learn what compensation you may receive for your accident injuries. Our team is available around the clock to answer your questions. We provide a free, no-obligation case evaluation. 
Our experienced accident attorneys work on a contingency basis. You pay nothing upfront or out-of-pocket. You pay us no fee unless we win your case. Schedule your confidential consultation with a member of our legal team today. Do not wait to call, as time could be a factor in the eligibility of your case.