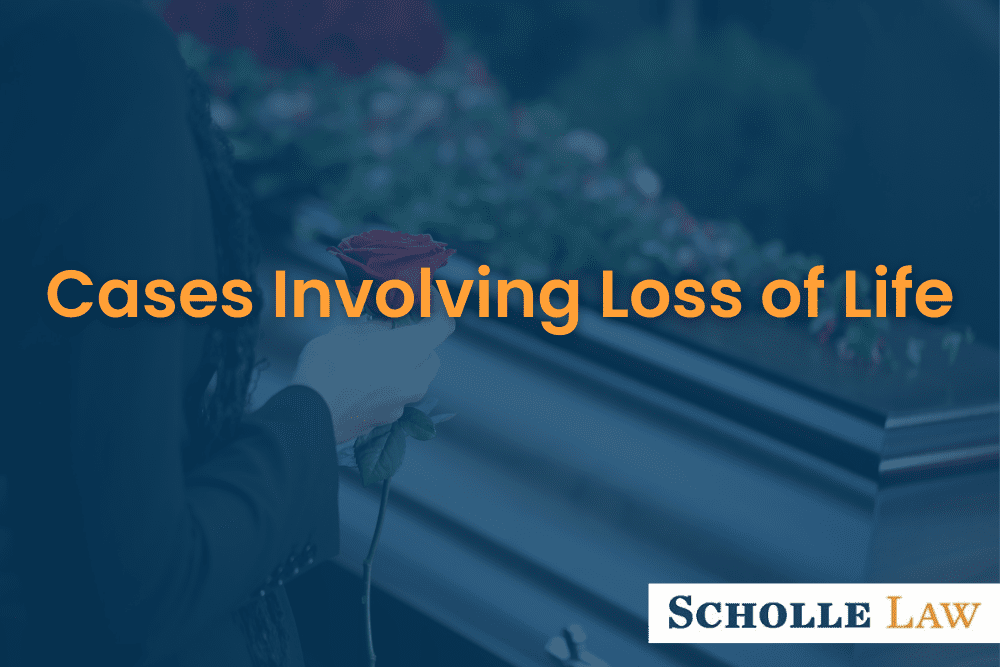 The attorneys at Scholle Law handle wrongful death claims in Georgia related to motor vehicle accidents, work accidents and many other incidences involving negligence.  In this blog article, the Georgia wrongful death attorneys at Scholle Law discuss the importance of wrongful death claims and the way that Georgia law provides for compensation relating to fatal and catastrophic accidents. If you have any questions about this content or a potential case involving wrongful death or other related matters, please contact us for a free case evaluation.
Wrongful death claims in Georgia
The Georgia wrongful death attorneys at Scholle Law understand the significance of handling very serious claims involving the loss of life. When a family member is lost because of the negligent conduct of another person or persons, there is serious confusion on how to move forward.  Not only is there confusion about the rights that they may have, but there is also confusion about whether to move forward with the wrongful death claim itself.  In injury cases involving medical bills, lost wages and pain and suffering it is a lot less complicated to analyze the damages as opposed to a case involving the loss of a life.   
In a wrongful death case, there is absolutely no amount of money that will ever make up for that kind of loss.  We understand that and would never suggest otherwise.  Even so, money damages are the only way that Georgia law (civil law and not criminal law) establishes a method for valuing the loss of life.  This system and these laws are here for the purpose of compensating for the loss of life as well as holding the at-fault or negligent party(s) accountable for their unlawful and negligent conduct.
Experienced Georgia wrongful death lawyers understand the nuances relating to wrongful death claims.  They understand how to navigate the legal system and the insurance company tactics that will challenge their efforts to compensate their clients.  Compensation from a successful wrongful death case in Georgia can be used to help the deceased's family as they attempt to move forward from their loss. Again, while no amount of money will ever replace what has been lost, this compensation can be used for very important family needs.
Wrongful Death
In Georgia, the law relating to wrongful death attempts to provide compensation for the full value of the life that was lost. A Georgia wrongful death claim belongs to the surviving spouse, children, parent, or heirs of the deceased person.  The party(s) considered the rightful owner(s) of the wrongful death claim or designation as the applicable survivor(s) vary in each case.  The wrongful death law in Georgia is first codified in O.C.G.A § 51-4-1.  Section 1 of the statute provides a definition:
"Full value of the life of the decedent, as shown by the evidence" means the full value of the life of the decedent without deducting for any of the necessary or personal expenses of the decedent had he lived.
An important takeaway here is the fact that this law provides for recovery of economic and non-economic damages.  This means that a jury could consider and award damages that could be proven through paperwork and documentation as well as many other intangible damages that are not as easily calculated. A wrongful death claim under this statute does not consider the decedent's pain and suffering or the emotional trauma suffered by their loved ones.  Additionally, punitive damages are not allowed to be considered under a wrongful death claim.
Survival Actions
Besides the wrongful death claim, there is a second part to the potential compensation and damages associated with accidents caused by negligence that result in the loss of life. These additional claims are called survival actions.  They belong specifically to the deceased person's estate. These types of claims include damages that can be recovered by the estate's representative(s) for things like medical bills, funeral expenses and the pain and suffering that the deceased suffered prior to their death.  Additionally, it is possible to argue for punitive damages under a survival action. Punitive damages may be appropriate in situations involving egregious willful and wanton conduct.  Lastly, punitive damages are for the purpose of deterring such conduct and not solely as compensation owed to the decedent's estate for the loss.
Wrongful Death and Survival Actions
In Georgia it is possible for the loved ones of a deceased person to bring both an action for wrongful death as well as a second action for survival. It is not required for them to be brought together and the specific claims brought will depend on the individual facts of the case.  Additionally, it is not necessary to prove a case for survival to be successful with a claim for wrongful death. We cannot say it enough: every case is different! An experienced Georgia wrongful death attorney can help you with determining the legal plan of action that is appropriate for your individual case.  Contact an experienced Georgia wrongful death attorney for a free case evaluation.
Here are a few topics that often coincide with cases relating to wrongful death:
Who Can Hire a Wrongful Death Attorney
As stated above, Georgia law provides that a wrongful death claim belongs to a surviving spouse, children, parents or other heirs of the deceased person.   Unfortunately, the loss of a loved one often creates confusion and issues for their loved ones. The party(s) involved in making the decision to hire the Georgia wrongful death attorney will depend on who these party(s) are and what their relationship to the deceased is.  It is not uncommon for our office to speak to several family members at once to help determine who the law recognizes as the appropriate person or persons responsible for bringing wrongful death and survival actions. Do not assume that you know the answer to this very important question.  Make sure you speak to an attorney to help with this.
A Case's Potential Value
Please understand that even the most experienced personal injury attorneys, trial lawyers and lawyers handling wrongful death cannot initially advise about potential case value.  There are too many unknown factors that ultimately determine a final amount of compensation paid in a wrongful death case. As stated above, the amount of available insurance can certainly play a significant role.  Additionally, the facts of the case will also be very relevant.  Ex: If there are issues with liability or whether the deceased was partly responsible, the awarded damages can be affected. Please know that an experienced attorney will work hard to secure as much compensation as possible and they will be able to provide more information about potential case value after they have investigated and worked on the case.  
Medical Bills
It can be confusing to figure out what type of claims are necessary to resolve medical bills associated with an accident that ultimately results in a death. Again, medical bills are recoverable in a survival action and not in a claim for wrongful death. However, insurance coverage is a significant issue to consider and have an attorney speak to you about. Unfortunately, the amount of available insurance to recover against can be limited. This can certainly affect whether to bring a survival action. Wrongful death actions and accompanying settlements are not responsible for medical liens and providers can not pursue payment of their bills against proceeds from a wrongful death action.  It is a best practice to speak to an attorney about how to resolve unpaid medical bills.   
How Long It Will Take
The amount of time it will take to resolve an action for wrongful death is unknown. Additionally, it would be inappropriate to make a guess or guarantee about this matter. Just as there are factors that determine potential case value, there are also issues that impact the amount of time it takes before a case can be resolved. In some cases, it may be possible to resolve a claim in a matter of months.  In other situations, it could take a year or longer.
Most cases can be resolved without having to file a lawsuit or go to trial. If a case should require litigation, it would certainly be safe to assume that it is more likely than not to require a more substantial amount of time compared to a case than can be settled out of court. Do not assume your case falls into either category.  Your lawyer can speak to you in greater length about this and will know more about the case's path for resolution after they have begun their work.
Call Our Georgia Wrongful Death Attorneys
Wrongful death cases are complex and very important.  We understand the significance of these cases and what they mean to our clients. Our office provides client focused and compassionate representation.  We will do everything we can to help our clients move forward after suffering a significant loss.  This includes investigating the case and using our experience and resources to obtain best possible resolution, as well as the compensation that the client is entitled to.
The Georgia wrongful death attorneys at Scholle Law can assist with helping to identify whether clients can bring and maintain actions for wrongful death and survival.  They can provide expertise and knowledge on what can be complex and confusing matters.  Georgia wrongful death cases are complicated and require expertise – knowledge of the law and experience in dealing with the big insurance companies often involved with these types of cases. We have the experience and resources to help clients that have lost a loved one because of someone else's negligence. Scholle Law firm offers free consultations, and our office encourages anyone with a potential wrongful death claim or other negligence case to contact Scholle Law for a free consultation and case evaluation.
To set up a meeting, call us today at (866) 592-1296 or contact us online.