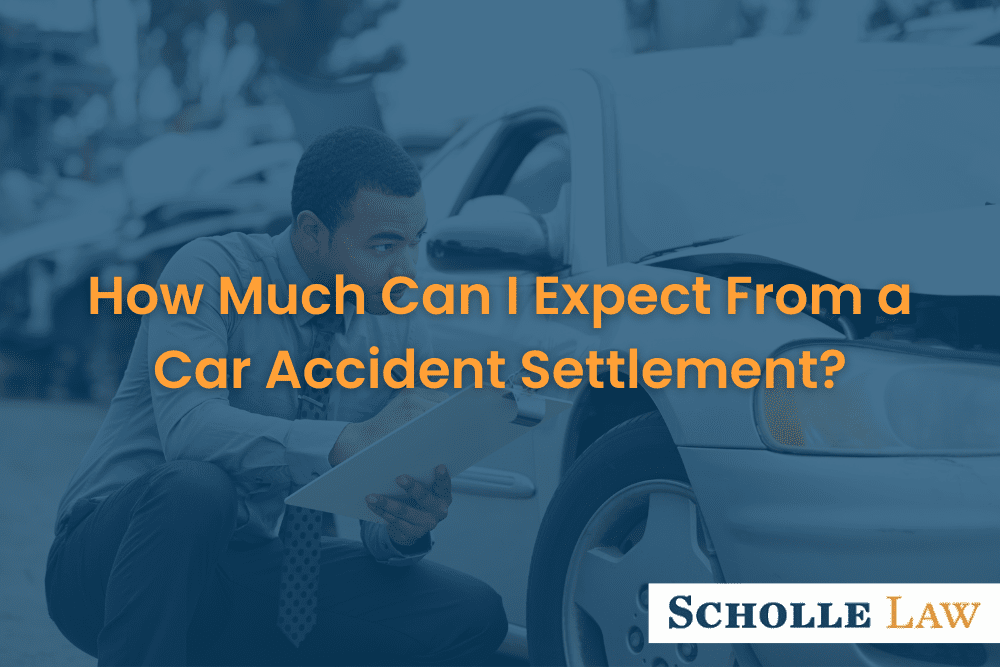 You've been involved in an car accident that wasn't your fault. You see ads everywhere on billboards, television, the internet, and you hear them on the radio all promising that if you call that a car accident lawyer they will get you the hundreds of thousands, maybe even millions, of dollars! Meanwhile you are injured and wondering if calling a lawyer really will really result in the kind of settlement those ads claim.
We often get asked "how much can I expect from a car accident settlement?" The truth is, we don't know when you first walk in our door because it depends on the facts of the case. What we do know is that we will work with you to obtain the best possible settlement.
Step 1:  Look At The Police Report From The Car Accident
To fairly answer the question of what your case is worth, we have to evaluate the facts of your case. For car accidents, this starts with the accident report. There, the police officer documents facts by identifying all parties involved in the accident and the cause of the accident and they will usually assign fault to one of the drivers. Also included will be the insurance information provided at the scene for the vehicles involved and any injuries reported to the responding officer.
Step 2:  What Injuries Did You Sustain From The Car Accident?
Next we look at what injuries you sustained in the auto accident. If you are injured, then you will have gone to the Emergency Room, an Urgent Care clinic, or your physician to receive a diagnosis and treatment. The initial evaluation in an Emergency Room or Urgent Care clinic is to ensure there isn't a need for lifesaving measures and that you don't have injuries which require immediate medical intervention before you can leave. However you will be given a diagnosis and instructions to follow up with a physician or physical therapist for treatment. Always follow your doctors advice and for follow-up treatment, do not wait.
Your follow-up treatment will vary depending on the severity of your injuries. Just because you don't have a broken bone or a traumatic brain injury, does not mean you don't have injuries. Soft tissue injuries, which are common in auto accidents, need time and proper treatment to heal. It is very important to us for our clients to have the opportunity to fully recover and return to the enjoyment of their daily life.
Step 3: What Other Information Will Help?
When meeting with a new client, we take time to discuss all these various facts of their case. We learn about them as an individual, how the accident occurred, what injuries they sustained in the accident, and the immediate impact on their daily lives. These facts help us work with our clients toward the best possible outcome and help us counsel our clients more specifically.
Step 4: Evaluate The Insurance
While the client continues medical treatment we begin work on the case by contacting the auto insurance carriers of all involved parties. By doing this we are able to find out how much insurance coverage each driver has and what, if any, arguments the insurance carriers may try to make regarding our client's claim.
Bottom line:  Each Car Accident Settlement Is Unique
Beyond the available auto insurance coverage, the value of a case is dependent on our client seeking proper medical treatment until maximum recovery is reached.  We are here to support our clients through recovery, gather the facts surrounding the accident, and to fight to see our clients receive the best settlement possible from the insurance carrier. With hundreds of satisfied car accident clients and over 20 years' experience you can be confident that we will not only give you a fair and honest answer to the question "how much to expect from a car accident settlement" but we will proudly give each client our caring and skilled representation.