How can a car accident lawyer can help with the claims process? Our Duluth auto accident attorneys give important advice to accident victims.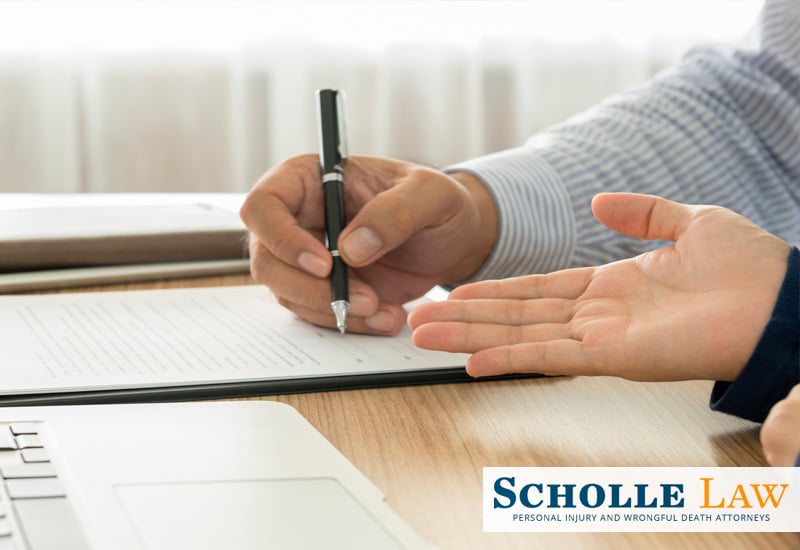 Being properly compensated following an auto accident can be a frustrating experience. Georgia has one of the most restrictive comparative negligence laws in the nation, and many injured drivers are routinely denied financial recovery for accident injuries based on their ultimate comparative negligence percentage when a case goes to court. Many cases go to trial because insurance companies realize the law is skewed in their favor.
While it's common practice for accident victims to discuss their case with an insurance company, it is important to remember that insurance providers may record the original phone call regarding all claims. This means they can begin building a defense immediately before any accident report or documentation is presented.
It's best to consult with an experienced Georgia car accident attorney before presenting your claim to an insurance company.
Here are 5 steps to follow when handling insurance companies after a car accident has occurred.
Step #1: Report the claim
It is a legal requirement that claims for car accident injuries be submitted to the respondent insurance company promptly. All insurance carriers are required to conduct an investigation into the claim immediately and issue a decision on coverage within a reasonable time period. The provider can either honor the claim or deny it based on any specific reason. They cannot merely dismiss the claim as though it's not their obligation.
Step #2: Answer questions carefully
Be careful what you say when asked a question and do not embellish answers, as recorded statements can be used against you when a settlement is being negotiated. Never admit fault. Be wary if they imply you don't need legal counsel. Instructing a claimant that they don't require legal counsel is considered "bad faith" in many states and cannot be directly suggested, but it can be inferred with a quick settlement offer. Wait for their approval or denial before admitting anything and never accept the first settlement offer without legal consultation.
Step #3: Wait for a response
The insurance company will make a determination of approval or denial after the initial investigation is completed, and any denial from the company must include a valid reason for refusing the claim. Many times, the company will admit at least a degree of fault for their client and begin paying benefits. But that doesn't mean they won't stop benefits in the near future, hoping for a lump sum settlement.
The real issue with the insurance carrier is avoiding general damages for pain and suffering, so do not be surprised if they attempt to settle the case with a low offer that will not include these allowances. However, more than likely, any offer will include a full release of responsibility for future medical coverage.
This is a sure sign you need to consult with a car accident attorney immediately, as it is a clear indication that your case is more valuable than you realize. You could have grounds for a lawsuit at that point, including a potential bad faith claim.
Step #4: Keep a journal or diary
It is wise to keep an itinerary of every communication with the insurance company in a notebook, and always make meticulous notes regarding what they request and how they respond to certain claim submissions. Remember that they want to avoid dealing with an attorney at all costs.
In addition, always make sure you go to any third-party doctor analysis appointments requested by the insurance providers, as independent doctors are often used to attempt lessening claims of injury seriousness. Your personal testimony will become part of the record as well if they decide to force the case to court.
This could be excellent case information for you and your car accident attorney because the 50 percent bar rule encourages insurance companies to deny claims when the company lawyers think they can sway the comparative negligence percentage assignment in their favor.
Step #5: Contact a car accident attorney immediately
The truth is that Georgia's modified comparative negligence (50 percent bar) rule is significant in 2-car accidents, which are the most common mishaps on the highways. Injured drivers who are at least 50 percent at fault for the accident can be denied insurance coverage due to contributory fault. Many 2-car accidents are 50/50 final determinations.
The attorney you select can make a major difference. This reason alone is enough to consult with an attorney immediately after being involved in any crash. Your accident attorney can investigate the accident on your behalf and present any material evidence in court that could increase the comparative negligence of the respondent party. The details of your claim matter greatly, and the law gives insurance companies incentive to deny the claim when they think they can prove 50/50 fault.
Never try to handle a Georgia car accident claim on your own. Your claim may be much more valuable than you realize. If you've been in a crash, contact the aggressive and experienced Duluth, GA car accident attorneys at Scholle Law for diligent comprehensive representation.