Duluth Uber & Lyft Accident Attorney
Skilled Rideshare Accident Lawyers In Duluth, Georgia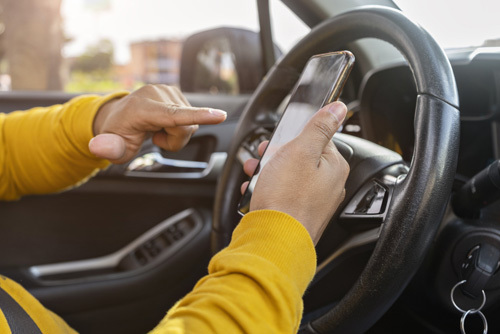 Companies that provide ridesharing services promote themselves as neighborly conveniences. Riders may enjoy friendly transport to their destinations—whether directly to the airport, out on the town, or home for the night—while drivers can earn additional money on their schedule. Unfortunately, accidents can happen at no fault to you. If you are involved in a car accident while riding in an Uber or Lyft, our Duluth rideshare accident attorney at Scholle Law is here to help. 
Ridesharing Apps In Georgia
No one can drive a vehicle on the road for hire in the state unless they have a for-hire license endorsement or a private background check, according to Motor Vehicles and Traffic Law 40-5-39. Drivers must also have liability insurance coverage in the amounts allowed by law for the type of vehicle they are operating.
The law applies to limo drivers, ridesharing companies, and taxi services. The driver must meet the following requirements to get a for-hire endorsement, according to Motor Vehicles and Traffic 40-5-39:
You must be at least 18 years old.
Have a valid Georgia driver's license that isn't restricted
Must not have been convicted of a felony, "moral turpitude" offense, or a series of misdemeanors demonstrating a "pattern of disregard" for the law.
Fingerprints were sent to the Georgia Crime Information Center for a background check.
Be a U.S. citizen or provide federal paperwork that has been validated by Homeland Security as legitimate proof of legal status in the United States.
The endorsement is valid for the same amount of time as the person's driver's license and is subject to a criminal background check to ensure eligibility.
If a rideshare platform's private background check fulfills the state's criteria, drivers can operate for-hire cars without the aforementioned endorsement.
What Should I Do If I Have An Uber Or Lyft Accident In Georgia?
Getting involved in a car accident of any kind is a terrifying experience. A car collision involving an Uber or Lyft is no exception. If you've been in an Uber or Lyft accident, here are some pointers to assist you to navigate the next steps:
Seek medical help right away. It is critical to look after your health. If you are harmed or suspect you have been injured, dial 911 or go to the nearest medical hospital right once.
Call the police. Any accident resulting in bodily harm or property damage should be reported to the authorities.
Make a list. Following a stressful encounter, it's normal to forget important information regarding the accident. Make a list of details concerning the collision, such as the junction, time of day, and road conditions.
Take pictures. Photographic proof of car damage and any injuries, as well as any highway evidence, such as skid marks, can aid prove a case.
Nothing should be signed. You are not required to agree with or communicate with any corporate representative without first seeking legal advice, nor are you required to make any public statements or admit blame. Make contact with an experienced Duluth rideshare accident attorney.
Taking Legal Action Against Uber Or Lyft
It may be required to launch a lawsuit against the ridesharing business if the insurance coverage is insufficient, the insurance company fails to pay, or the ridesharing firm acts recklessly. By designating drivers as independent contractors, Uber and Lyft try to shield themselves from liabilities. The actions of an employee are significantly more likely to be held legally liable than the actions of an independent contractor.
Passengers in an Uber or Lyft ridesharing car, as well as those in another vehicle involved in an accident caused by a rideshare driver, will most likely be restricted to the businesses' liability or uninsured motorist coverage.
When it comes to ridesharing incidents, Georgia law has upheld the independent contractor argument, insulating ridesharing corporations like Uber and Lyft from direct liability. Those harmed in accidents may have a claim against the driver and the driver's insurance, including rideshare providers' commercial and UIM insurance. The ridesharing businesses, on the other hand, are frequently protected by the independent contractor defense.
Contact Our Duluth Rideshare Accident Attorney Today
If you've been hurt in a ridesharing accident, you'll need a lawyer who knows how to fight insurance companies for the best possible result. Scholle Law can help. Contact our Duluth rideshare accident attorney today.