Atlanta Swinging Turn Truck Accident Lawyer
Were you or a loved one injured when a truck driver made a swinging wide turn?
Scholle Law is dedicated to protecting the rights of truck crash victims
In a swinging turn crash with a large semi-truck, the truck's trailer swings outward as it turns, crashing into traffic or pedestrians outside the lane. Many small and rural roads weren't made for the largest trucks, which means that inexperienced truck drivers have a hard time making tight turns — and they often leave their lanes to make wide turns. Unfortunately, these swinging turns can be dangerous. If the truck driver isn't careful, he or she can put other vehicles and pedestrians in danger.
Georgia swinging turn truck accidents are complex personal injury cases that require experience and knowledge to ensure that the victims and their families get the maximum possible financial recovery. At Scholle Law, we understand how to secure the best possible result because we have represented victims of catastrophic car and truck accidents in Atlanta and throughout Georgia for more than 20 years.
If you or a loved one were injured in a swinging turn accident, we invite you to consult our knowledgeable Atlanta truck accident lawyers to find out how we can help. Contact us today for a free, no-obligation consultation at 1 of our 4 offices in DeKalb, Fulton and Gwinnett counties.
Common causes of swinging turn truck accidents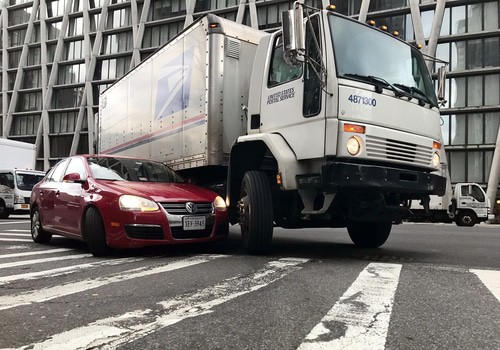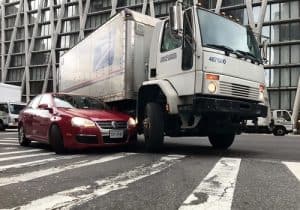 Most swinging turn accidents happen when a large truck, semi or tractor-trailer makes a wide right turn by swinging their cab slightly to the left. During the turn, the driver allows the trailer to swing until it aligns with the cab. However, if this maneuver isn't done correctly, the swinging trailer can continue turning out of the lane or off the road, slamming into other vehicles or pedestrians.
The most common causes of swinging turn truck accidents include:
Drowsy or fatigued truck drivers

Overloaded or unsecured truckload

Driver inexperience, or 

lack of training

Oversteering

Taking a turn too fast (speeding)

Distracted driving

Drunk/drugged driving

Improperly signaling a turn

Failing to check blind spots

Lack of familiarity with the road
Legal obligations of truck drivers and trucking companies in Georgia
Every driver in Georgia is legally obligated to follow traffic laws, but there are special rules for the trucking industry. Among these is a heightened duty of care while turning in light of the problems with fit and visibility created by the sheer size of the truck. Tractor-trailers have large blind spots, which drivers need to be aware of whenever they change lanes or turn. When trucks make a turn in traffic, they may be forced to move into an inappropriate lane—such as moving into the left lane to make a right turn—in order to stay on the road while they make the turn.
Unfortunately, some drivers don't always do this safely. Drivers may make catastrophic mistakes if they try to make the turn too fast, fail to check their blind spots or choose a road that can't accommodate the size of their vehicle.
Trucking companies may ultimately be responsible for crashes if they pressure drivers into making these unsafe choices, fail to train drivers adequately, or don't provide important safety equipment like mirrors, lights, reflectors or "Wide Load" signs. When this kind of carelessness leads to a crash, the driver and the trucking company is legally responsible for serious injuries that result.
The Federal Motor Carrier Safety Administration makes it very clear that truckers should be trained to know the hazards of making turns. Truck drivers can prevent turning accidents by anticipating hazards and avoiding them. So in making a left or right turn with a long vehicle, they need to know that they will have blind spots and that they might well encroach into other lanes of traffic.
Injuries from negligent wide turns by semi-truck drivers can be catastrophic
Because 18-wheelers are so much bigger and heavier than ordinary cars, they can create devastating injuries in a crash with an ordinary vehicle. The greater weight and size can crush a smaller vehicle, knock it into traffic, sideswipe it and more. This can result in life-changing injuries such as:
Paralysis

Severe burns

Brain damage

Internal bleeding

Loss of a limb

Chronic pain

Wrongful death
Truck accident victims often suffer from severe complications. In many cases, the victim may never be able to work again, or not be able to work at the kind of job he or she had before. There may be multiple medical procedures required, along with physical or occupational therapy. The victim may have a permanent disability, or — in the case of wrongful death — the family may have to adjust to life without someone who was taken too soon.
When these kinds of permanent losses are caused by someone else's carelessness, Georgia law allows victims to request fair compensation for their losses.
Our experienced truck accident injury lawyers serve Atlanta and all of Georgia
Because trucking accident injuries can be so serious, the financial and legal aftermath of the crash may be the last thing on your mind right now. But if you find yourself wondering about your rights as medical bills stack up and insurance companies keep calling, contact Scholle Law for help. We offer free, no-obligation consultations so you can tell us your story and discuss the likely outcome of any court case.