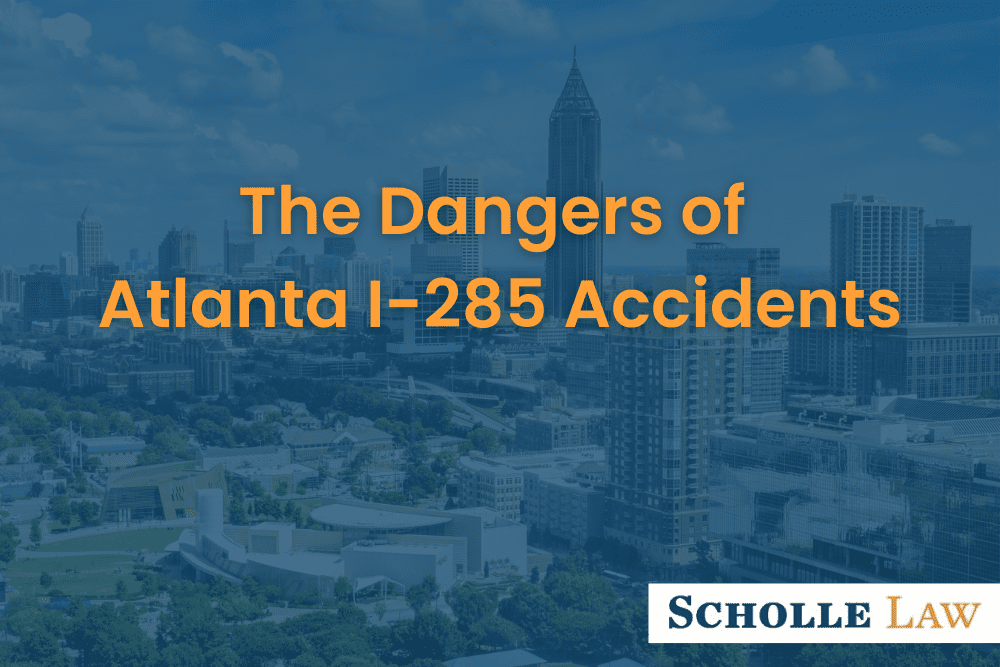 Atlanta may be one of the prettiest cities in Georgia, but it's home to one of the most dangerous interstates in the United States. The southern hospitality of Georgia doesn't extend to I-285, where road rage or rushed drivers cause car accidents that end up jamming traffic for miles.
The Perimeter is dreaded by locals and tourists alike. All local commuters are familiar with the feeling of being stuck in gridlock traffic at rush hour. Most can handle waiting even though they just want to get home from work. Others make more drastic decisions, by driving recklessly or giving in to road rage and causing severe car or truck accidents.
On top of being rage-inducing, I-285 was not designed to be used as heavily as it currently is. The interstate began as a small four-lane highway but grew to accommodate the millions of drivers commuting on it daily. However, when the size was updated, safety protocols were not. This leaves many blind turns, sharp turns that trucks cannot navigate safely, and congested areas where people go far above the speed limit.
If you have been injured in an accident on Atlanta's roadways, contact Scholle Law today for a free, no-obligation consultation. Our experienced Duluth car accident attorneys are here to help you get your life back.
Causes of Atlanta I-285 Accidents
Daily Gridlock Traffic
When drivers sit in traffic for too long, they get antsy and frustrated. They are more likely to make rash, impulsive decisions that may lead to catastrophic crashes. Atlanta natives know the feeling of sitting in rush hour traffic on I-285, gritting your teeth, and either witnessing or experiencing a scary highway accident. 
Not Its Intended Use 
The highway was built in 1962 and the curves in the original four-lane interstate weren't meant to handle heavy, cargo-laden trucks. Truck accidents are common because the deep curve of the interstate leads to distracted truck drivers not slowing down and tipping over or veering between lanes. The interstate also wasn't designed to hold two million drivers every day. 
Exit Ramps 
One of the biggest complaints you'll hear about I-285 is that the entrance and exit ramps are virtually non-existent. Because the interstate wasn't created to be used by about two million drivers per day, the ramps leave something to be desired as overpopulated lanes have to allow even more drivers in at every exit or on ramp. 
Poor Signage and Sharp Curves
Huge trucks, poor lighting, and small signage make traveling on I-285 a struggle as drivers are constantly trying to decipher the traffic coming up, what speed they should be going, and where their exit is. Additionally, it's called the Perimeter for a reason. The shape of I-285 is a circular shape, which means that at the cardinal conjunctions, sharper curves than normal can lead to people and large trucks underestimating their speed and handling. 
Conjunctions
Any conjunctions with another highway or interstate, like I-20, I-85, or I-75, can lead to a huge scramble of people trying to get over four lanes in a quarter mile to make their exit. This leads to drivers paying attention to their GPS, the road, their coffee, and other stressed drivers all at the same time. And when one wreck happens on the ramp to another highway, it can jam up traffic for hours ahead and miles behind. 
Atlanta I-285 Accident Statistics
In 2013, a study found the Atlanta I-285 to be the

most deadly interstate in Georgia

.

In 2008, over 13,250 semi-truck accidents were reported on I-285.

Over 2 million drivers use I-285 daily.

In 2013, I-285 witnessed more fatal accidents per mile than any other interstate in the nation.

Road rage is the most common reason for accidents on Atlanta's I-285. Over 80% of Georgian drivers had participated in some form of road rage in 2013.

Over 40 accidents have occurred where I-285 meets I-75.

Rush hour is the most deadly time of day to drive on Atlanta's I-285.

Georgia was the

4th deadliest state

in 2020, with over 1,400 fatal accidents.
A History of Accidents on Atlanta's I-285
In 2015,

two tractor-trailers

fell off I-285.

A man was killed when he

rear-ended

a

tractor-trailer stopped in traffic.

In 2021, a semi-truck

overturned

due to a collision with another vehicle.

An 18-wheeler driver hit one truck, causing a multi-vehicle collision then fled the scene.

In April 2021, a tractor-trailer knocked down a highway sign when it overturned and

spilled diesel

across the road.
Importance of Highway Safety
With Georgia having a particularly high rate of severe and fatal auto accidents, it is paramount that drivers operate their vehicles safely. You can help prevent Atlanta I-285 accidents by:
Eliminating distractions

. Put phones on silent, keep them away from your hands. Avoid eating and drinking while driving.

Never drive while impaired

. Call for a ride.

Do not tailgate

. Maintain the proper distance between your car and the car ahead of you.

Exercise extreme caution

when driving beside semi-trucks, especially around corners

Take breaks

. Don't drive exhausted.

Maintain a safe speed

, even if there is no one else on the interstate.

Obey all traffic laws

.

Pay attention

, especially during gridlock traffic.
Contact a Duluth Truck Accident Lawyer Today
Truck accidents are extremely serious, with many resulting in life-changing injuries to victims. After suffering the trauma of a truck accident in Atlanta, you don't want to have to worry about how you'll pay for your recovery.
That's why Scholle Law is on your side.
We know how devastating an auto accident can be. Colliding with a truck is likely the scariest thing you've ever experienced. You need time to process while you focus on recovering physically and mentally.
However, while you're healing, bills are pouring in. Medical providers, pharmacists, and rehabilitation centers all want their payments.
If you weren't responsible for the accident, you shouldn't be responsible for the payments.
Let Scholle Law's team of excellent Duluth truck accident attorneys ensure the defendant is penalized for their negligence.
Call us today at (678) 835-9812 for a free, no-obligation consultation with an experienced truck accident lawyer.