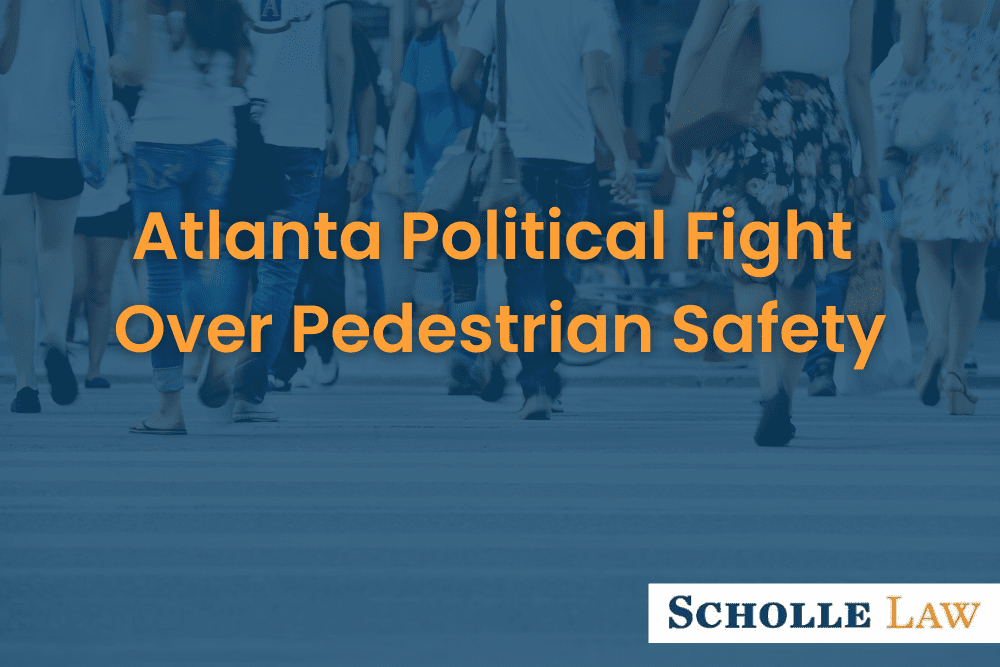 The Atlanta City Council passed legislation that would let the state close the block of Mitchell Street to enhance security at the Capitol. This comes in exchange for the state to make significant safety improvements to Donald Lee Hollowell Parkway on the northwest side of Atlanta. Atlanta Mayor Keisha Lance Bottoms vetoed the law and now the City Council may attempt to override the veto.
The Mayor vetoed the law on the grounds that the council did not have the authority to make such a law or negotiate such a deal. The Mayor's office also indicated that there was already a $6 million dollar package that was specifically for the purpose of addressing pedestrian and cyclist safety in Atlanta. The Mayor's critics are now asking why the $6 million dollars is just now being used for this purpose and where did the money come from.
Grove Park is a neighborhood on the Westside and Donald Lee Hollowell is a corridor that connects Cobb County to this part of Atlanta. The Grove Park Neighborhood Association estimates that 20 people have been killed on the corridor during the last 10 years. Residents note that there are not many places for people to cross and that the neighborhood is full of young and elderly pedestrians that do not drive and have no choice but to walk. Some improvements preceding this conflict are already in the works.
Georgia DOT Interview Discusses Donald Lee Hollowell Pedestrian Crossings
Pedestrian Safety in Atlanta
If you take the time to search for information about Donald Lee Hollowell Parkway you will find multiple news stories of dangerous and fatal pedestrian related fatalities. These accidents are not limited to this one stretch of a busy Atlanta thoroughfare but the road is so notoriously dangerous and busy it is absolutely in the need of safety improvements.
Whether or not the legislation goes through or the political fights that come with the conflict are resolved, either way too many pedestrians are hurt and killed in Atlanta because of dangerous roads and negligent drivers. While it is always recommended that pedestrians should use crosswalks and intersections to cross streets it is unlikely to expect that there will ever be enough cross walks to prevent 100% of pedestrian related incidents on Atlanta roads.
While it is true that some pedestrian involved traffic accidents are also caused by pedestrians, it does not prevent the need for educating both pedestrians and drivers about safe driving and the importance of safely navigating our Atlanta, Georgia streets on foot and by car. Pedestrian safety should be a concern to anyone that drives on the busy streets of Atlanta or anywhere else in Georgia.
Pedestrian Related Accidents in Georgia
Without any research or quoting any data, it is safe to say that there are serious pedestrian related incidents in Georgia every day of the year with many happening in Atlanta. Our office is an Atlanta, Georgia car accident and injury law firm. We handle personal injury cases including motor vehicle accidents, work accidents and injuries caused by dangerous conditions. Unfortunately we are tasked with handling pedestrian accidents fairly regularly.
Pedestrian accidents can be caused by walkers that dart out into traffic and they can also be caused by negligent drivers. We have seen our fair share of pedestrian accidents that could have been prevented if either the pedestrian or the driver had obeyed the rules of the road. When we are contacted about a serious pedestrian accident we can never assume the cause. Each case is different and they all require some investigating and analysis.
Investigating a pedestrian related accident may be as simple as reviewing an accident report or it may be a situation that requires our attorneys to interview witnesses or to try to obtain evidence such as video from a traffic camera or other source. Proving liability in these cases can be tricky depending on the individual situation but involved parties should always expect a fight from the insurance company. The insurance company may not fight over responsibility for the accident but please know that they will do whatever they can to fight over the compensation that they injured person may be entitled to.
Insurance Companies Insuring Negligent Drivers
After a pedestrian accident, the injured person may decide to contact the driver's insurance company. If you are reading this, please do not do that without first contacting us or another experienced attorney. It is so important that people realize that the insurance company is looking for information to reject, deny or devalue the pedestrian's injury claim. Saying things about how the accident happened or how you are feeling could be completely taken out of context and used against your injury claim.
Our experienced personal injury law firm and car accident attorneys can hold your hand through the process of dealing with the insurance company. We can serve as a barrier between you and the adjuster that is working with the driver that hit you. Law firms such as our add value in a lot of different ways. However the main immediate impact that we make is giving an injured party an opportunity to focus on getting well and recovering while we deal with the insurance company.
It All Starts With a Call For A Free Consultation
If you are the victim of another driver's negligence in a car accident or pedestrian related incident, call our office for a free case evaluation. You will have an opportunity to speak to an experienced Georgia injury lawyer for free. You can ask all the questions that you want to ask and we will not end the call until all of your concerns have been addressed. Please know that we are here to help and we will fight for your interests from day 1!
To set up a meeting, call us today at (866) 592-1296 or contact us online.