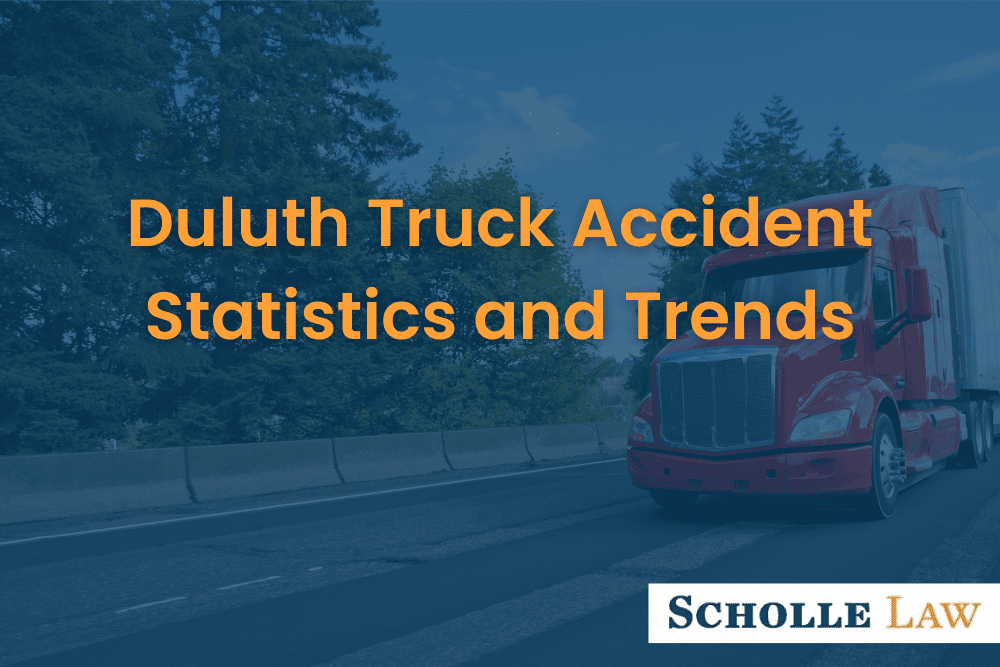 Trucking Accident Trends in Duluth, GA
Vehicle accidents are extremely common in Georgia—to the tune of more than 50 collisions every hour on average. Many of these accidents occur right here in Duluth, frequently along I-85. Some of these collisions are minor "fender-benders," while others can cause injury. But when an accident involves a large truck, the risks of injury or death go up considerably. Consider this: a semi-truck with a loaded trailer can weigh as much as 80,000 pounds, and even skilled drivers may sometimes have difficulty slowing down a heavy truck or navigating a quick turn. When the driver is impaired or negligent, the results can be nothing short of deadly.
Truck accident statistics in Duluth show that this Atlanta suburb is no stranger to serious accidents involving semi-trucks. As recently as last month, a semi-truck driver rear-ended a car and pushed it along the lane into a Duluth intersection, where it collided with another vehicle. The truck driver drove away from the scene and was later caught and charged with hit-and-run. Let's explore this problem in more detail by reviewing some truck accident trends nationwide, in Georgia and Atlanta, and here in Duluth.
Trucking Accident Trends Across the Country
Nationwide, truck accident fatalities are rising at disturbing rates. Let's look at some numbers compiled by the NHTSA and the National Security Council.
Large trucks were involved in 118,000 injury accidents in 2019.
Large truck crashes killed 4119 people in 2019.
Eleven percent of all fatal crashes in 2019 involved large trucks.
More than two-thirds of fatality victims in truck accidents overall are occupants of other cars. However, in two-vehicle accidents involving one large truck and one car, the car occupants account for 97 percent of the fatalities.
Fifteen percent of fatalities in truck accidents are non-occupants (e.g., pedestrians, bicyclists).
Fatalities in truck accidents have increased by 31 percent over the past decade.
Trucking Accidents in Georgia
Comparing Georgia to the national trends, the news regarding truck accidents is mixed. The good news is that trucking accidents are involved in fewer fatal crashes than the national average. The bad news is that fatality rates of occupants in passenger cars in these truck accidents are well above the national average. Let's take a closer look:
Georgia saw 195 large trucks involved in fatal accidents in 2019.
Trucks accounted for 8.9 percent of fatal accidents in Georgia in 2019 (below the national average of 11 percent).
Seventy-eight percent of fatality victims in Georgia trucking accidents were occupants of other vehicles (above the national average of 67 percent).
Fatality rates in Georgia truck accidents are generally trending upward. Trucks accounted for 204 Georgia deaths in 2019. That's down from a high of 278 in 2017 but up from 153 fatalities in 2012.
Duluth Truck Accident Statistics
Metro Atlanta is the most populous and traffic-congested area in the state of Georgia. As such, it accounts for more than half of all vehicle accidents in the state—including truck accidents. As part of the extended metropolitan area, Duluth is a smaller community of 23,000 people; but its location along I-85 makes it just as vulnerable to trucking accidents as any other main traffic artery in the region. Considering both the national and the state numbers regarding truck injury and fatality accidents, it's a safe assumption that the percentages are about the same.
Top Causes of Trucking Accidents in Duluth, GA
Loaded trucks are incredibly heavy compared to other cars, and they can take 20-40 percent longer to come to a stop. It stands to reason that trucks are more vulnerable to collisions on that basis alone. Here are some other common reasons why a truck could cause accidents on the road.
Driver Fatigue
Truck drivers often drive for long shifts with little rest between—and despite legal regulations requiring them to rest at certain intervals, many truck drivers fudge those rules because they're under pressure to make their delivery deadlines. This is a recipe for fatigue behind the wheel—and often disaster.
Speeding
Given that trucks require more room to slow down, a speeding truck can be exceedingly dangerous, especially if quick maneuvering is required.
Alcohol/Drug Use
Drinking on the job is never a good idea for any profession—and it's against the law when driving any vehicle. Some truckers do it anyway—and some victims pay with their lives.
Unsafe driving
Truck drivers can become overconfident in their abilities and sacrifice safe driving etiquette for faster delivery times. Frequently, this choice ends in disaster.
Improper loading procedures
A truck's cargo can be a contributing factor in a trucking accident. If the cargo is not securely fastened, it may come loose, causing an unbalanced situation in a closed trailer—or flying out into the road in an open trailer. By the same token, if the load itself is unbalanced, the driver may have difficulty maneuvering the truck safely.
Trucking company negligence
Sometimes, the driver isn't directly at fault in a trucking accident. Sometimes, the responsible party is the company that owns and maintains the truck. If a truck is not properly maintained out of pressure to keep it on the road for longer—for example, if brakes, tires, and fluids aren't regularly checked and serviced—the driver could lose control of the truck at a key moment, resulting in a potentially fatal collision.
My loved one was injured or killed in a truck accident in Duluth. What can I do?
According to Duluth truck accident statistics, the odds of any person being involved in a truck accident in Duluth is about the same as anywhere else—with consequences that are just as deadly. If you have a loved one who was injured or killed in an accident involving a truck, your family may be eligible for compensation through either a personal injury lawsuit or a wrongful death lawsuit.
In these cases, hiring an experienced Duluth truck accident attorney is the best option for ensuring you get any settlement owed to you. Our experienced team of lawyers can help determine whether negligence played a role in the crash, whether the driver or company is liable (or both), and how much in damages you should ask for. We have a long track record of success in winning millions of dollars for trucking accident victims and their families in Georgia.
Call us today at (866) 582-1302 or contact us online to set up a meeting.