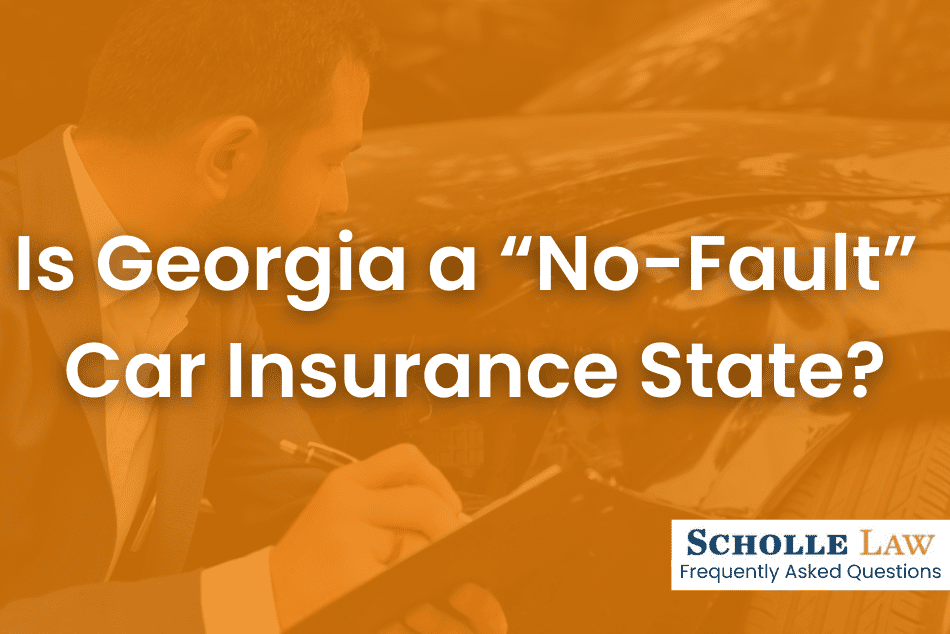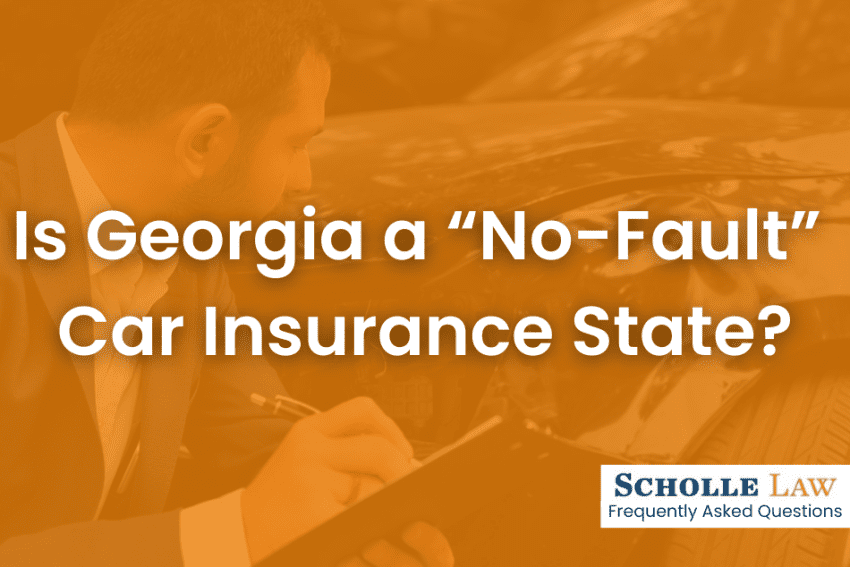 No, Georgia isn't a "no-fault" car insurance state. In no-fault states (such as Florida), each person's own car insurance policy provider pays for damages that result from an accident, regardless of which party is at fault. 
In Georgia, the at-fault driver in a motor vehicle accident is legally and financially responsible for the damage to property and injuries they cause to other persons as a result of their negligence or other wrongful act.
For this reason, it's extremely important to speak with a Georgia car accident attorney if you have been involved in a motor vehicle accident. You have rights that need to be preserved, and obtaining full and fair compensation from the at-fault party can require a difficult battle. 
At Scholle Law, we have extensive experience fighting for the rights of Georgia car accident victims and we would love to help you get the best possible recovery.
What is no-fault insurance?
No-fault car insurance requires drivers involved in accidents to file a claim against their own insurance company rather than the at-fault party. That's why it is called "no-fault."
Through no-fault claims, you can collect medical costs, property damage, and lost wages to help you overcome the financial losses you face after an accident. 
However, Georgia is not one of the few no-fault car insurance states. In Georgia, there is a different method of filing for and claiming damages if you are injured in a car accident.
How does Georgia car insurance differ from no-fault insurance?
Georgia is a fault state, which means that when two drivers get in an accident, the at-fault party is liable for the other driver's damages.  The victim does not need to file against their own insurance.
In Georgia, every driver is legally required to have car insurance. This insurance must have a minimum of:
$25,000 bodily injury coverage per driver

$50,000 bodily injury coverage per accident

$25,000 property damage liability per occurrence
If the negligent driver is involved in an at-fault car accident, their insurance is responsible for paying the damages owed to the victim. The insurance company will use the at-fault driver's insurance allowance to pay out as much as they need to settle your claim once you have proven your right to damages.
To collect the damages, you will need to file a personal injury claim with the at-fault driver's insurance company. This claim will detail the bodily harm that you suffered, how it has negatively impacted your life, and the financial losses that you have suffered as a result. Your Duluth car accident attorney will help you determine the amount of your damages from this.
This is a different procedure from a no-fault state. In those states, you would file a claim against your own car insurance, which is required to have personal injury protection (PIP), to collect the damages you are owed. You may only file a lawsuit if the financial damages exceed your own PIP.
What damages can you claim in a Georgia car accident lawsuit?
Drivers who are injured in a no-fault state may be more limited in what damages they can collect. Since they are first taking money from their own insurance company, many victims try to downplay their injuries or ask for less money to help them recover.
In Georgia, you are able to claim a wider variety of damages, including:
Medical costs

Lost wages

Prescriptions

Rehabilitation

Pain and suffering

Loss of enjoyment of life

Disfigurement

Scarring

Anxiety or PTSD

Property damage
What do you need to do to get compensation?
Collecting the damages that you're entitled to isn't always easy. You will need to collect evidence, file a lawsuit, and brave the adjusters from the insurance company who might try to scare you off.
With the help of an experienced Duluth car accident lawyer, you'll be able to collect the maximum damages. Working with your lawyer, here's what you will need to do:
Gather evidence against the at-fault party.

Take photos at the scene of the accident of property damage and injuries.

Collect a copy of the police report from the officers at the scene of the accident.

Seek medical attention soon following the accident, even if you don't feel hurt.

Listen to your doctor and follow all of their recommendations.

Keep a file with receipts, bills, and evidence to be reimbursed later.

File a claim with the other party's insurer.

Do not speak to the other party's insurance company without your lawyer present.

Don't accept blame-shifting or extremely low settlement offers.

Focus on healing while your lawyer prepares your case against the negligent driver.
Since Georgia is a no-fault car insurance state, you need to file a lawsuit to collect damages for the accident. Collecting damages is the only way to ensure you don't have to live with the financial losses of someone else's negligent behavior.
If you have been injured in a car accident in Georgia, you have a legal right to pursue a personal injury claim. Don't let society make you feel greedy for getting what is owed to you. Scholle Law can help you navigate the complicated process so you have more time to focus on recovering. We have helped victims battle insurance companies for decades, ensuring that they collect far more than the company would ever offer in a first settlement offer. 
We aren't afraid to fight for your rights.
Call us today at (866) 592-1296 or contact us online to book a no-obligation call, and find out why Scholle Law is the right firm to represent you.