Charles Scholle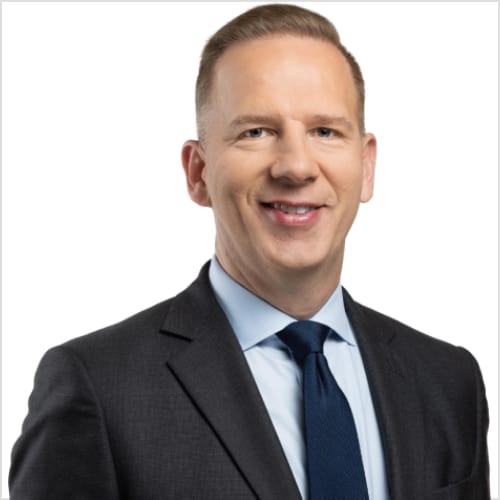 I am very pleased to welcome you to Scholle Law so that you can learn more about what we do and about who we are, not just as lawyers, but as people committed to the welfare of our community.
As a native of Georgia and a graduate of the University of Georgia both for undergraduate and law school, my life and home is Georgia. When I was in school, I focused on business and finance. In law school, my interests turned to international law, and I spent some time in England learning about their system of law (which forms the basis of the American legal system). But my heart is in Georgia, and I came home to finish law school and to enter the practice of law.
Our law practice is solely focused on personal injury law. In practicing in this area of the law, we touch people's lives in a significant way. This area of law practice makes it possible for our team to help those who have been harmed and need legal support, and keeps us close to the people that live and work in our Gwinnett County and Metro Atlanta communities.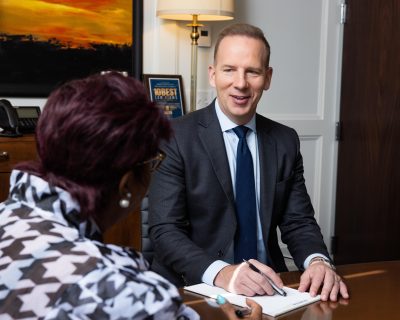 It is our mission to practice law with ethical integrity, to do so with great compassion towards our clients, and to secure the best possible outcome for each and every client. We have helped hundreds of people over the years, and we are grateful to have a very diverse client base. Our clients tell us they felt supported throughout their case and appreciate our skill and knowledge of the law and legal process.
Although we settle many cases, insurance companies will often refuse to pay the compensation our clients deserve, or they will offer a very low settlement. While other firms may encourage you to take the first settlement offered, we will take your case to court if that is what it takes to secure the best possible outcome for you. Nothing is more satisfying than obtaining a great result for our clients, whether through negotiation or litigation.
My peers in the legal community have honored me with a preeminent rating as a trial lawyer for both legal skill and highest ethical standards. We apply this standard in every type of injury case, from small car accidents to complex injuries, such as those involving traumatic brain injury. We also have helped many families who have lost a loved one due to a wrongful death. We stand by each and every client throughout their case, no matter their injury.
We are active in numerous professional and community organizations in which I have served in leadership roles, such as Mothers Against Drunk Driving and the Atlanta Bar Association. My approach to the law and our reputation for excellence are described more fully within our website, which we invite you to explore.
We do what we say we will do. We have compassion for our clients and we are determined to get the best results possible for them.
Personal Life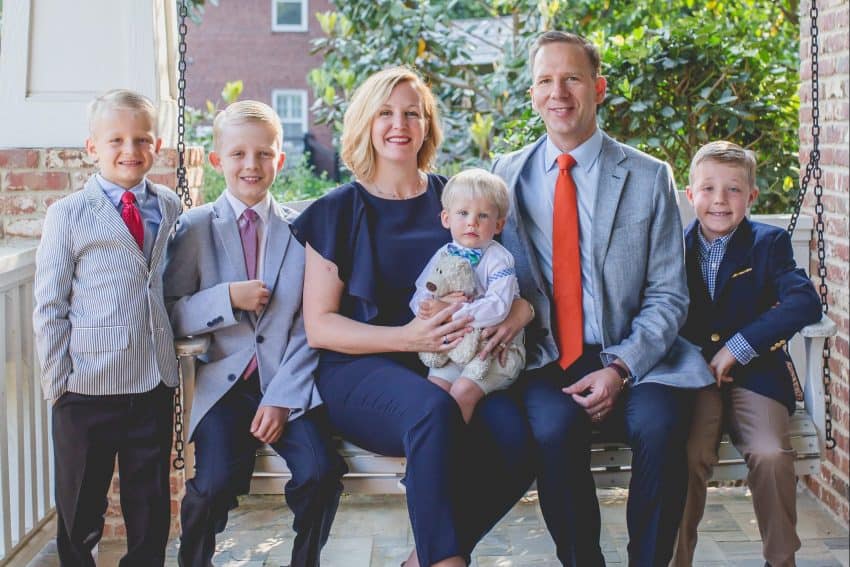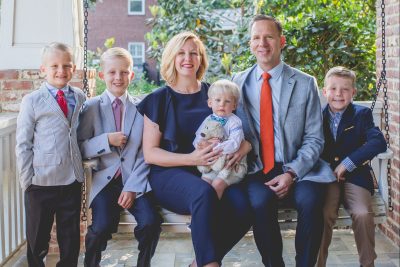 When I am not practicing law, I am spending time with my family, the most important people in my life. I am married to Lori Anne Scholle, a nutritionist, and we have four young sons.
I hope to see you around Gwinnett, and if you do, please introduce yourself to me. You might see me out running or swimming during the warmer months.
When I am not working or playing with my kids, I might be scuba diving (Advanced Open Water Certified), out on adventure travel, or playing a trivia game.
Please give me a call at any time to learn more about our law practice and let us know how we can be of help to you. Thank you so much for your interest in our law firm.
Professional Recognition
2010 Million Dollar Advocates Forum Lifetime Membership

1999 Emeritus Member and Service Award, Atlanta Bar Association Estate and Probate Section

American Society of Legal Advocates, Top 100 Trial Lawyers in Georgia

National Trial Lawyers, Top 100 Trial Lawyers
Professional Leadership and Memberships
State Bar of Georgia and Federal Bar Admissions:

United States Court of Appeals for the Eleventh Circuit, United States District Court for the Northern District, United States District Court for the Middle District, Supreme Court of the State of Georgia, and Court of Appeals of the State of Georgia.

President and Chairman of Board of Directors

, Atlanta Bar Association, Estate Planning and Probate Section

Member

, State Bar of Georgia, Committee on Professionalism

Emeritus Board Member

, Atlanta Bar Association, Estate Planning and Probate Section

Board Member

, Atlanta Bar Association, Board of Directors

Member

, Atlanta Bar Association, Elder Law Committee

Board Member

, Board of Advisers, The Gwinnett Foundation

Member

, Georgia Trial Lawyers Association, Motor Vehicle, Trucking, Worker's Compensation & Premises Liability Sections

Member

, Gwinnett Trial Lawyers Association

Member

, State Bar of Georgia, Fiduciary Law, Aviation Law, Consumer Law, General Practice and Trial Law, Products Liability Law, Tort and Insurance Practice & Younger Lawyer's Sections

Member

, American Bar Association, Real Property Section, Probate and Trusts Section

Member

, American Association for Justice (AAJ): Aviation Litigation, Burn Injury Litigation, Tort and Insurance, Motor Vehicle Collision, Highway & Premises Liability Sections.

Member

, Traumatic Brain Injury Litigation Group

Member

, Trucking Litigation Group

Member

, Eye and Refractive Surgery Litigation Group

Member

, Liquor Liability Litigation Group

Member

, Practice Development Litigation Group

Member

, Spinal Cord Injury Litigation Group

Member

, Motorcycle Litigation Group

Member

, The Lawyer's Club of Atlanta

Member

, National Academy of Elder Law Attorneys, Health Care Decision Making Committee

Member

, Gwinnett County Bar Association

Member

, Dekalb County Bar Association, Trial Lawyer & Young Lawyer Sections

Member

, Lawyers Club of Atlanta, Million Dollar Advocates Forum

Member

, National Crime Victims Bar Association

Member

, Sandy Springs Bar Association

Fellow

, Roscoe Pound Civil Justice Institute

Fellow

, Knights of the Bar
Publications and Presentations
"Build Your Auto Injury Litigation Skills"

, National CLE Broadcast by National Business Institute, October 2018

"A Plaintiff's Guide to Dram Shop Liability"

, Nationwide CLE Broadcast by National Business Institute, October 2014

"Consumer Guide to Tractor Trailer Accidents"

, March 2011

"Guide to Georgia Elder Abuse and Neglect Law"

, CLE Presentation to Eldercare Matters Alliance, April, 2010

"How Long will it Take to Resolve my Georgia Personal Injury Case"

, Practice Guide published on Avvo, 2009

"How to Read a Georgia Uniform Motor Vehicle Accident Report"

, 2009

"What to do After the Death of a Loved One in Georgia"

, Practice Guide published on Avvo, 2008

"How to Probate a Georgia Will or Estate"

, 2006

"Frequently Answered Questions from Out-of-State Executors Settling Estates in Georgia"

, CLE Presentation to the Gwinnett Foundation, February, 2005

"How to Pursue a Personal Injury Claim,"

2001

"Sophisticated Estate Planning for Foreign Nationals"

, Summit National Bank, January 2000

"Business Succession Planning and Estate Tax Avoidance Techniques"

, presented to the Gwinnett Chamber of Commerce, March 1999

"Life Insurance Issues in Estate Administration"

, The Gwinnett Bar Association Newsletter, November, 1998

"Estate and Probate in Georgia: What Every Financial Advisor Should Know"

, presented to Edward Jones Investment Representatives, November 1998

"Estate Administration"

, guest lecturer at

Successful Money Management Seminars

presented by Educational Seminars of Georgia, October 1998
Community Service and Support
I am proud of Scholle Law's involvement in various charities, non-profits and community organizations. Below are some of the organizations that we have supported:
Alzheimer's Association, Atlanta Area

Amputee Coalition of America

Association of Plaintiff Interstate Trucking Lawyers of America

Board of Advisors, The Gwinnett Foundation

Brain Industry Association of Georgia

Buckhead Fifty Club

Choice in Dying

Georgia Planned Giving Council

Goodwill of Georgia

Gwinnett County Chamber of Commerce

Gwinnett County Truancy Intervention Project

Gwinnett Estate Council

Mothers Against Drunk Driving

National Academy of Elder Law Attorneys, Health Care Decision Making Committee

National Committee on Planned Giving

National Crime Victims Bar Association

Shepherd Center for Spinal Cord and Brain Injury Rehabilitation

Special Olympics

Susan G. Komen, Foundation for the Cure

University of Georgia, Alumni Association

University of Georgia, School of Law
Board Memberships
Georgia Trial Lawyers Association:

2022,

Chairman and President, Gwinnett Chapter; Vice President, 7th Congressional District

Mothers Against Drunk Driving:

2011, Board Member, MADD Steering Committee

National Academy of Elder Law Attorneys:

Health Care Decision Making Committee 2003, Board Member

Gwinnett Foundation:

2000, Board Member

Atlanta Bar Association:

1999, Board of Directors, Estate Planning and Probate Section, President and Chairman of Board of Directors, Emeritus Lifetime Board Member, Estate Planning and Probate Section, Board Member Elder Law Committee
Work Life
Scholle Law 2000-Present: Founder and Partner
Scholle & Langstaff, P.C. 1997-2000: Partner
Rooks Rider Solicitors, LP (London, England) 1993: Associate Intern
Atlanta Car Accident Lawyer, Atlanta Wrongful Death Lawyer, Atlanta Motorcycle Accident Lawyer, Atlanta Truck Accident Lawyer