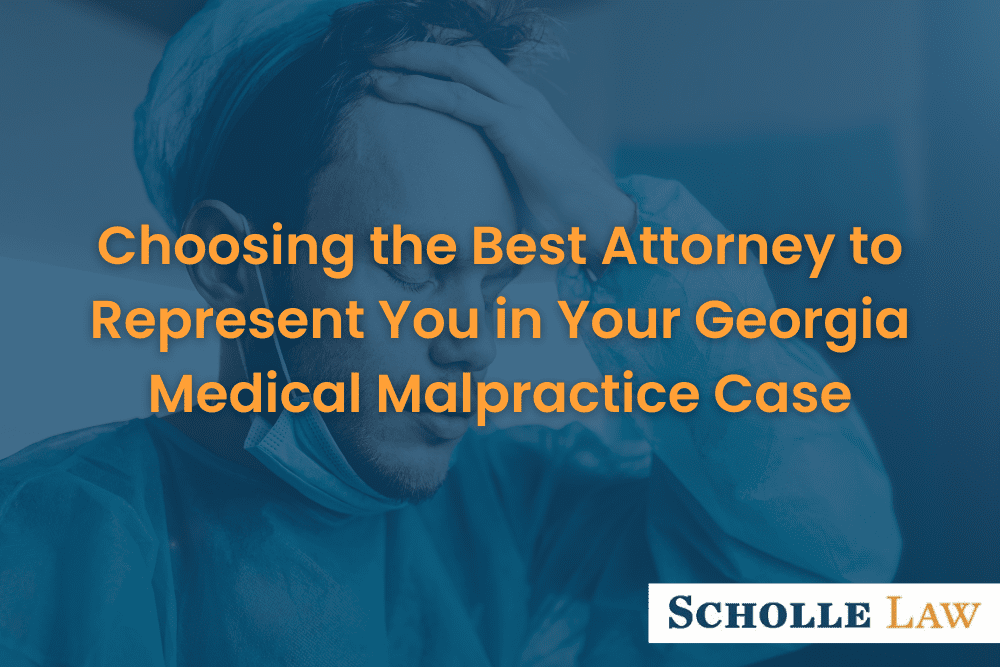 When people entrust their well-being to medical providers, they expect that the care they receive will be competent and will adequately identify and address any health issues they might have. It is a sad fact, however, that medical providers do not always provide sufficient care, and patients unexpectedly become the victims of medical malpractice. If you suffered harm due to inadequate or negligent medical care and wish to pursue a claim against your care provider, it is essential to choose an experienced Georgia medical malpractice attorney who will aggressively advocate on your behalf.
There are several factors you should consider in determining how to select the medical malpractice attorney that is best suited to represent you in your pursuit of damages. Generally, it is better to retain an attorney who has substantial experience litigating medical malpractice cases and understands the nuances and intricacies that come with such cases. Thus, a good question to ask a potential attorney is how many medical malpractice cases he or she has handled, and what percentage of his or her practice is devoted to medical malpractice. It is also important to ask questions about the specific circumstances surrounding your harm, and what damages you may realistically hope to recover. A capable medical malpractice attorney will be able to accurately assess your case and manage your expectations regarding its value. Additionally, it is important to ask questions that provide insight into the attorney's demeanor and personality, to ensure that you feel comfortable with the attorney on a personal level.
Understanding Your Attorney's Role in Proving Liability
It is also important to understand your attorney's role in pursuing your case. Under Georgia law, medical malpractice cases have different procedural requirements than other civil lawsuits. For example, when a plaintiff files a medical malpractice lawsuit, he or she must also file an affidavit drafted by a medical expert, attesting that the defendant care provider committed at least one negligent act. The affidavit must also set forth the expert's basis for his or her opinion. As such, it is vital to retain an attorney that is cognizant of the requirements and will file the necessary documents within the required time. In addition to complying with the procedural requirements, your attorney must be able to gather the facts and evidence needed to prove your case. To prove liability in a medical malpractice case your attorney must be able to prove that you were a patient of the defendant medical provider, the defendant negligently provided care that did not meet the applicable standard of care, and the negligent care was the cause of your harm. You only have one shot at proving the defendant's malpractice caused you to sustain damages, and therefore, it is important to find an attorney who understands how to navigate the complexities of a medical malpractice case.
Consult a Georgia Medical Malpractice Attorney Regarding Your Case
Your attorney is responsible for presenting your medical malpractice case and the strength of the case depends in part on the knowledge and skill of your attorney.  If you live in Georgia and you suffered harm due to medical malpractice you should consult a Georgia attorney who is proficient in handling medical malpractice cases to assist you in pursuing your claim.  The experienced medical malpractice attorneys of Scholle Law will work diligently to help you set forth strong arguments in hopes of helping you seek any damages you may be owed. Call the best Duluth medical malpractice attorney at 770-717-5100 to set up a confidential and free consultation.