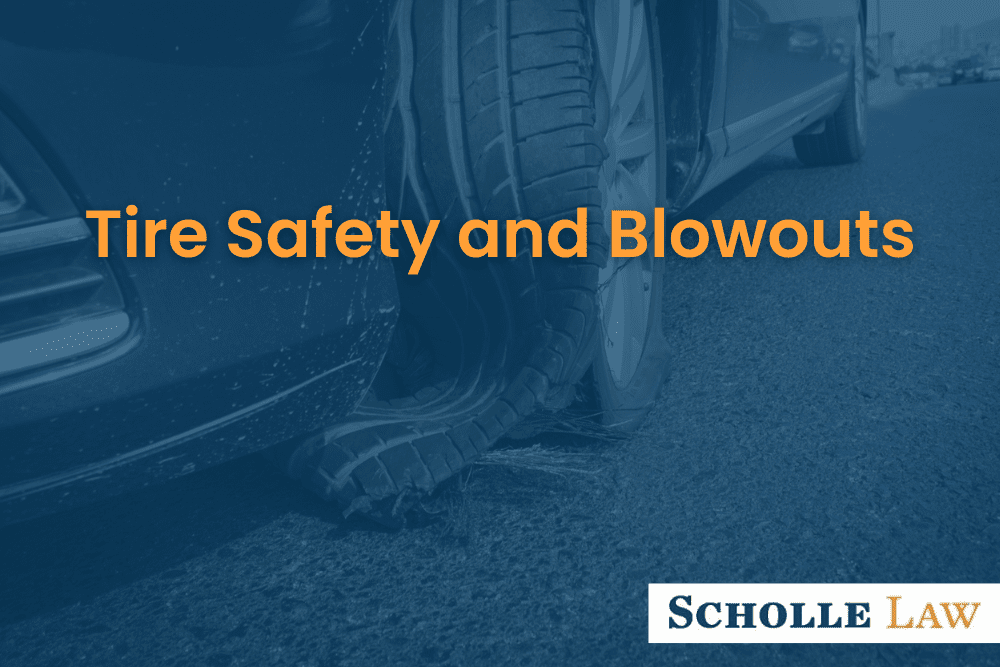 In this blog article for their website, Scholle Law's Atlanta tire accident lawyers discuss tire safety. Cars, trucks, motorcycles and even big rigs and 18-wheelers can be subject to bad accidents caused by tire blowouts. These types of accidents are unpredictable yet potentially preventable. By discussing the causes of tire blowout accidents, the Atlanta tire accident at lawyers hope to make Atlanta roads safer. If you or a loved one has been the victim of a serious accident caused by defective tires or driver negligence, contact Scholle Law for a free consultation.
What is a tire blowout?
A tire blowout is the term used for when a tire fails while being driven. Typically a tire blowout is a sudden loss of air pressure that can result in a vehicle's tire rapidly disintegrating. Often times a tire blowout is accompanied by a loud boom or other explosion like sound. Generally a tire that has failed will leave a vehicle suddenly driving on its rim or having to regain control. These tire failures are so sudden that the tire-less vehicle causes a driver to lose control of the vehicle. Additionally, this happens with very little to no notice of any issues prior to the blowout.
Tire blowouts are dangerous!
Again, tire blowouts do not generally happen with advance notice. For instance, in some cases a negligent driver or owner may know that they are driving on bad tires. Even then that does not mean that they are aware of an impending blowout. Also, tire blowouts often cause vehicles to quickly lose control. When a vehicle is not able to maintain its lane it may come into another vehicle's lane. Additionally, it may even come across a center line or median and cause a head on collision. Many tire blowout accidents are single vehicle accidents. However, many other blowout accidents can cause serious chain reaction accidents on our Georgia roadways and highways.
Tire Blowouts: Their Causes
There are several different things that can cause a tire blowout accident. For instance, it is not uncommon for harsh weather conditions to take their toll on a vehicle's tires. Tires exposed to very cold and very hot weather can cause deterioration that is not always visible. Additionally, some tires can arrive from the factory with defects. Accordingly, manufacturing errors often contribute to serious vehicle accidents involving tire blowouts. Additional causes of tire blowouts include:
Poor Tire Maintenance
Low Tire Pressure
Over Inflated Tires
Road Debris
Damaged Tires Caused by Collisions with Other Vehicles or Objects
What Happens After a Blowout?
A tire blowout can cause very bad collisions. This can include head-on collisions. Also, tire blowout accidents often involve as few as one vehicle and as many as several vehicles. Additionally, tire blowouts result in drivers not having enough time to regain control of the vehicle. Also, blowouts result in vehicles leaving the roadway, striking other vehicles and even flipping over in rollover accidents. Lastly, blowout accidents result in pedestrian strikes and collisions with other objects. Additionally, those include vehicles trees, signs, utility poles and buildings. In very bad accidents these impacts often result in passengers being ejected from vehicles.
Don't Forget About Dangerous Tire Debris
Tire debris is a forgotten danger associated with blowout accidents. Many severe injury cases involving tire blowout accidents include injuries caused by tire debris. When a vehicle loses a tire at high speeds on the highway, the tire breaks into many pieces. Because of the speed of travel, the broken pieces are strewn all over the roadway. Debris often hits other vehicles and passengers. In some of the most severe cases, large pieces of commercial truck tires even land in windshields of other vehicles. Large pieces of tire debris flying at high speeds is dangerous enough to be deadly.
Injuries Caused by Tire Blowout Accidents
Tire blowout accidents cause numerous injuries ranging from soft tissue sprain and strain type injuries to catastrophic cases involving death. Also, the range of injuries is so vast due to the many different scenarios that lead to these accidents. Highways are not the only places where these accidents happen. Because of this, factors such as speed and traffic volume vary. Those factors impact the seriousness of tire blowout accidents. For instance a single vehicle blowout on a surface street is different than a tractor-trailer jackknife accident on an interstate. Tire blowout accident injuries include:
Abrasions
Bruises
Burns
Broken Bones
Contusions
Cuts
Fractures
Lacerations
Loss of Limbs
Paralysis
Spinal Injuries
Traumatic Brain Injuries
Loss of Life
Tire Safety Check List
Again, tire blowout accidents are not predictable. But there are things that you can do to make sure that your vehicle is safe for driving.
Keep an eye on your air pressure. It is a great idea to routinely inspect your tires and to also take a reading of their pressure. Depending on the size of the tire, the air pressure will have an accompanying recommended pressure range. Make sure that your tires are within that range. If you do not know how to check the tire pressure, take it to a tire shop. A local mechanic can also help with this important task.
Keep an eye on your tire tread. This is more technical than checking your air pressure, so you need to know what you are looking for. Tire tread is the best way to know how much life your tires have left. Again, this is something a tire store or mechanic can check. There are also videos on Youtube that show you how to check this.
Rotate your tires. This is a part of good maintenance to help ensure that you maintain consistent wear with your tires. A lot of people do it themselves. If not, this is a great way to make sure that your tires are in good working order. A tire technician is trained to let you know of any issues with your tires when they rotate them.
Just don't forget about your tires. There are numerous things that automotive experts say about tires and tire maintenance. This list is not all encompassing. If you want to know more about tires, do your research. The bottom line: Never ever get in your vehicle or any vehicle (behind the wheel or as a passenger) without knowing you are riding on good tires.
Experienced Atlanta Tire Accident Lawyers
Contact our experienced Atlanta tire accident lawyers. Scholle Law's experienced Atlanta tire accident lawyers have the knowledge and expertise to evaluate, investigate and litigate complex tire accident injury cases. These cases are complex because not only do the cases generally involve big insurance companies but they can also include potential issues with proving negligence and damages. Our firm is prepared to hire expert witnesses if necessary and to do everything we can to hold at-fault drivers, tire manufacturers and big insurance companies accountable.
The Atlanta tire accident lawyers at Scholle Law offer free case evaluations on tire accident injury cases and other injury matters including car, truck, motorcycle, commercial vehicle and work accidents. If you have the need for an experienced law firm to answer your questions, address your concerns and help you move forward after your serious accident or injury, contact Scholle Law for a free case evaluation. As always, it will never cost anything to see how we can help you. We look forward to speaking to you.
To set up a meeting, call us today at (866) 592-1296 or contact us online.