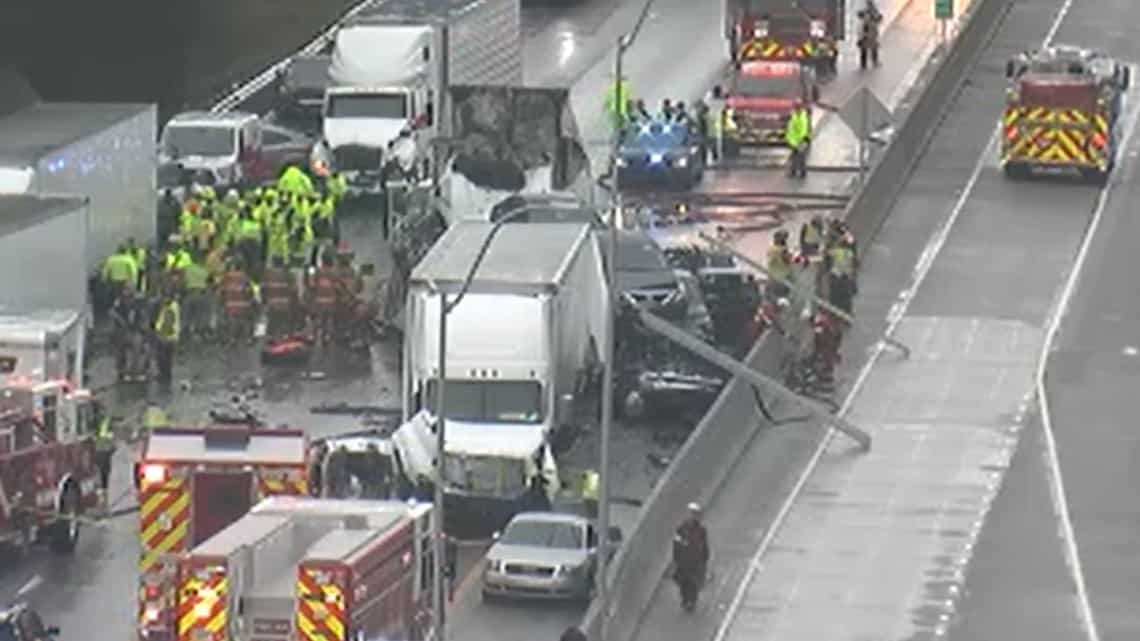 An accident involving over a dozen vehicles and killing one person resulted on interstate 75 on February 11th. The accident happened in the northbound lanes of I 75 close to Big Shanty Road in Cobb County. A total of 17 vehicles including a tractor trailer were involved.
The crash happened after a vehicle crashed into the left guardrail. Soon after there was a crash between two 18-wheelers and a car. The accident involving those vehicles set of a chain reaction of crashes. Local news reports injuries in the accidents were sustained. Unfortunately a fatality linked to one of the commercial vehicles was also reported.
The weather on Thursday was very wet and may have contributed to very poor driving conditions. Additionally, the collisions resulted in a significant fire. Due to the amount of vehicles involved, the weather and the fire, there was a significant challenge for first responders to deal with. The news even reported that first responders may have had a difficult time approaching the scene because people got out of their vehicles to film the accident scene. The highway was not clear until almost 7 pm on Thursday night.
Do Not Exit Your Vehicle Unless Absolutely Necessary
Our office reports on serious accidents because they generally provide an opportunity for us to provide some safety insight that we can share with our community. In this accident, the new story provided some news about people that exited their vehicles to take pictures of the smoke and remnants of the multi-vehicle crash. While we were not there and have no personal account, we must absolutely take this opportunity to remind people not to do this.
Getting out of your car on the highway is a bad idea. It does not matter if traffic is at a complete standstill or if there is what may seem like a safe opportunity to get out of your vehicle. Just do not do it. Not only do you risk having your vehicle become a hinderance to first responders but you risk having yourself become injured. Highways are chaotic. If a highway is blocked due to an emergency crash, there are just too many things going on to add to the situation by exiting your vehicle.
Additionally you yourself could get hurt by being run over or hit by another driver or even injured by road debris. In this case the northbound side was blocked. Southbound traffic was still flowing south. It may seem unlikely that something from the southbound side (other side of the median) could cause harm, but you never know and it just is not worth it. Exiting your vehicle is also most likely (unless under certain circumstances) unlawful as well.
Chain Reaction Accidents Involving Multiple Vehicles
This chain reaction accident should also serve as a reminder to always drive cautiously during bad weather. This goes for travel on highways and surface streets. The initial account of the accident indicated that weather could have been a contributing factor. Bad weather not only affects visibility but it just makes it more difficult to navigate our Georgia roads. Slick roads and even standing water are par for the course when traveling during our generally wet winters.
This accident involved a lot of cars and may have been caused by bad weather. It also could have potentially been caused by drivers that were traveling too fast for conditions. Some drivers may not have driven with a safe distance between their vehicles and the vehicles in front of them. Also, there could have been distracted drivers that did not react quick enough. Again, these are not proven and this is just based on our experience in handling serious highway accidents. Some of these things could have been related or they might not have been. We will have to wait and see what the official word is when the Georgia motor vehicle crash report is released in the near future.
Chain reaction accidents are very common and they are very dangerous due to the amount of people and vehicles involved. Because these accidents are generally on major interstates and occurring at significant road speeds, the physics of these accidents is considerable. This is even more significant when you take into account accidents involving large commercial vehicles. This accident involved a total of 17 vehicles.
Atlanta Georgia Car Accident and Injury Attorneys
Our office handles serious highway accident cases in Atlanta and all over the state of Georgia. While our office was not witness to this accident, we are writing about it to encourage people to drive carefully and follow the rules of the road. This includes driving at safe speeds, driving focused and only driving in safe conditions. If you are caught driving in bad weather, make sure that your driving is in line with the poor conditions that you are facing.
We offer our condolences to the family and loved ones of the person that passed away as a result of this accident. Additionally, we wish all those injured and involved quick and healthy recoveries from their injuries. Lastly, thank you to the police, fire and emergency medical responders that worked hard to help those that were involved in this accident.
If we can ever be of service to anyone with a question about a Georgia motor vehicle accident case, please contact us.