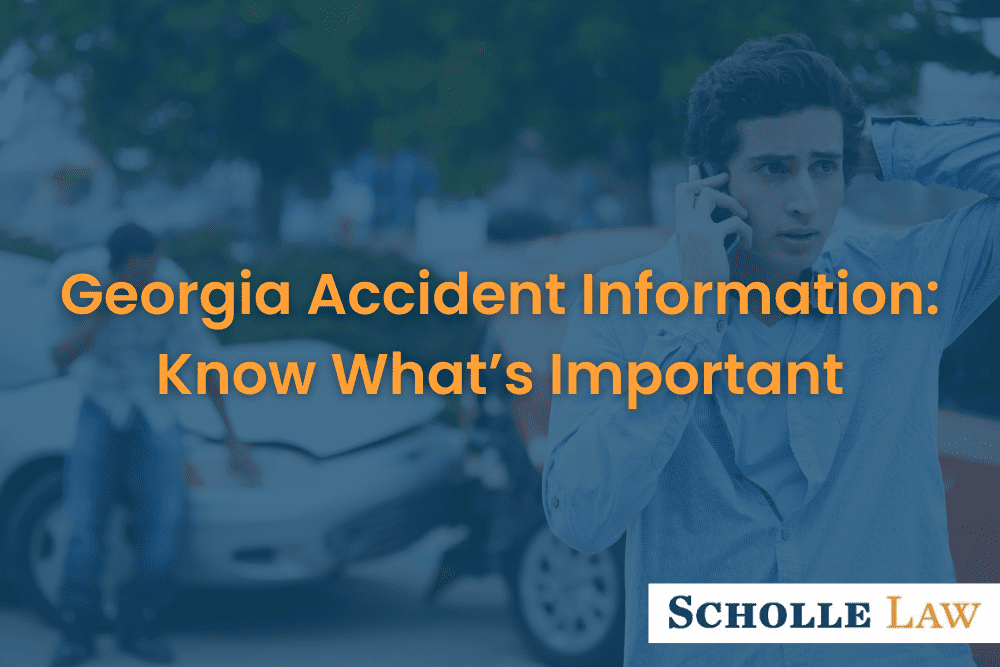 Accidents are confusing and often painful. There are many issues to deal with and a lot of questions needing answers. Who is at fault? Who is going to pay for what? What do I do first? Additionally, most people in accidents do not know what Georgia accident information they should get from the accident scene. Most all the information pertaining to an accident is important and without the right information, delays and other problems can impact a Georgia motor vehicle accident. This article discusses the basic information that can generally be gathered at the scene of a motor vehicle accident.
Scholle Law is an Atlanta, Georgia personal injury law firm. After 20+ years in representing the rights of injured Georgians, we have a lot of knowledge and expertise regarding auto accident claims. Every day we work hard for clients recently injured in Georgia car, truck and motorcycle accidents. Rarely does a new client ever have all of their Georgia accident information and we do not expect them to. After an accident it is always a best practice to consult with a lawyer whether or not there is complete accident information.
Important comments about safety
Every accident is different. Depending on the accident, you may not have an opportunity to get any of this information. Lawyers have the know how and resources to find Georgia accident information when we need it. Do not assume that you damaged your case by not getting this info. An experienced accident lawyer will help you fill in the gaps.
Additionally, never put yourself in danger to get this information. Accident scenes are often dangerous, especially ones on the sides of busy highways and other roads. Always focus on your safety if you are in a position to pull over after an accident. Lastly, if you are not comfortable with speaking directly to the other party, wait until law enforcement arrives and let them assist you in gathering this information.
Basic information from the accident scene
Other Driver's Name and Contact Information – This information is helpful in locating insurance information and other relevant documents or records that may be required later. An unknown at-fault driver is a hurdle to a Georgia motor vehicle accident case. Knowing the other driver's information is extremely important!
Exchange Insurance Information – Insurance claims cannot be filed without knowing the applicable insurance company. It is a best practice to get the insurance company and the policy number. If the policy information is not up to date, it is better to at least have the other driver's current insurance company information as opposed to not having any information at all.
Some people take photos of each other's insurance cards. Others text the info to one another. Also, law enforcement agencies on scene record this information and publish it on accident reports. Don't fret if you leave the scene without this information. An accident lawyer can point you in the right direction.
You Have to Know the Location of Accident – It seems obvious, but it is important to know where the accident happened. In most cases an accident scene is the same as an accident location. However, in some cases depending on weather, traffic or safety concerns, the report may be made at another location. As soon thereafter as possible, try to note where the accident occurred. For instance, if on a highway, it would be helpful to recall the mile marker where the bump-up occurred. Record the info in your memory or better yet on your phone.
The Driver's License (DL) and License Plates – Obtaining the other vehicle(s) license plate information does not present a significant challenge. It is as easy as a click on your phone's camera. Get a pic of it when you are taking photos of the damage. Knowing the license plate info is helpful in scenarios where there can be a question over the involved vehicle's driver or their liability insurance coverage.
We have seen unreported accidents (situations where the police were not called) involve scenarios where the at-fault driver is dishonest about the vehicle that they were driving at the time of the accident. They may do this because they did not have permission to drive the vehicle or because they did not have insurance on it at the time of the accident. Proof of the license plate information is one way to combat the potential for dishonesty or fraud.
Additionally, getting the other driver's license information and sharing your own will eliminate the need for taking the extra step of exchanging names and contact info (assuming the DL information is correct). Also, finding out whether the other driver is licensed can be telling of potential issues that may arise, such as having a claim with an uninsured driver or a non-permissive driver.
What Kind of Car Did They Have? – Make a note of the other driver's vehicle. Take some photos of it as well. Getting this information is easy and important. A driver that does not match up with the car make or model can also be indicative of a driver driving a vehicle that they do not own or a driver driving a vehicle that they do not have permission to drive. Not always, but such scenarios can involve complications regarding insurance coverage. Those same scenarios are the ones that experienced accident attorneys handle every day!
Questions about your Georgia accident information? Call Scholle Law!
Anyone with questions about a motor vehicle accident or their Georgia accident information can contact Scholle Law for a free consultation. During your call you will speak with an experienced Georgia personal injury attorney that will take the time to answer your questions and address your concerns. We will do provide you with the helpful information that you need to know to move forward. Our law firm has 2+ decades advocacy for Georgia's injured. We are here to help.