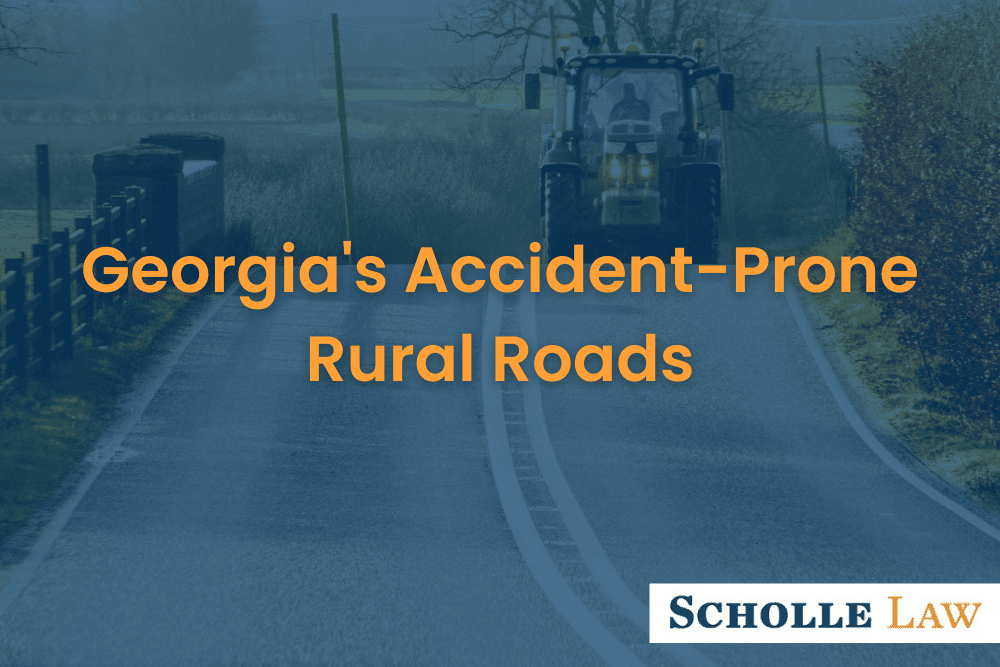 Many Georgians don't realize that our rural roads can be just as dangerous for fatal accidents or catastrophic injuries as our metropolitan highways. We live in a state in which we have some of the most sophisticated and vibrant metro areas and artistic, historic havens. We also enjoy a significant, productive farming community in our rural areas. Out on the open rural roads of Georgia, whether driving a truck or riding a motorcycle, we can encounter slow-moving farm equipment. Often this equipment, such as a large tractor, must travel more slowly. Many tractors and other equipment, can only travel between 15 and 25 miles per hour. Farmers often have to move equipment on our rural roads when they transfer equipment between fields.
Although perhaps not as well-publicized, Georgia's rural roads are the scene of serious injuries and fatal accidents. To educate the public, the Governor's Office of Highway Safety and the Georgia Department of Agriculture established a campaign entitled — Improving Georgia's Yield Behind the Wheel. This educational campaign is intended to help Georgia's drivers remember to be cautious and patient while driving around farm equipment. Georgia law requires certain slow-moving farm vehicles to display an emblem so that they can be seen by other vehicles and so that other drivers can quickly identify them as farm vehicles. Under the provisions in the Official Code of Georgia Annotated section 40-8-4, farm vehicles that travel under 25 miles per hour are required to display the red-orange triangular emblem on the rear of the vehicle. This also applies to certain slow-moving construction vehicles.
The public education program also includes practical recommendations for drivers who are in a rural area and encounter farm equipment. Some of the suggested tactics are as follows:
When driving behind a farm or related vehicle, keep in mind that it is not always possible for the driver to move over to allow others to pass. There are many areas in which the shoulder of the road would not accommodate the equipment.
Given the distances most farmers need to travel with equipment, it is likely that the average delay will only be six minutes.
Do not try to pass a wide slow-moving vehicle. If an equipment driver has been able to pull off the road, it is critical to pass carefully. Make sure you know what is coming towards you. And common sense dictates to avoid passing on curves or hills.
This is an important reminder: since some pieces of equipment are really large, farmers can sometimes pull to the right in order to make a left turn. It is critical that drivers pay attention to what the farmer is doing and for hand signals. Never assume anything until you know which direction the farmer is headed.
In 2011, farm equipment and motor vehicle crashes increased by one third over the prior year, which is why the effort was made to educate drivers about the hazards involved in rural driving. Unfortunately, these statistics have continued to rise both in the number of accidents and the number of accidents that have resulted in injuries. This danger is most prevalent during fall harvest, but it can be a problem throughout the year. Fatalities are also still increasing year over year and we all hope the educational program saves lives.
When accidents happen, those involved can quickly become overwhelmed. Sometimes the accident victim is disoriented and cannot go to work. This is when those who have been injured need support and guidance. At Scholle Law, we help those injured in accidents and provide complementary consultations. Most often, we do not get paid until we recover money for our clients. Please contact our law firm when you need help after an accident or injury.