You've just been in a wreck. Now what? Our Duluth car accident attorneys recommend these 7 steps.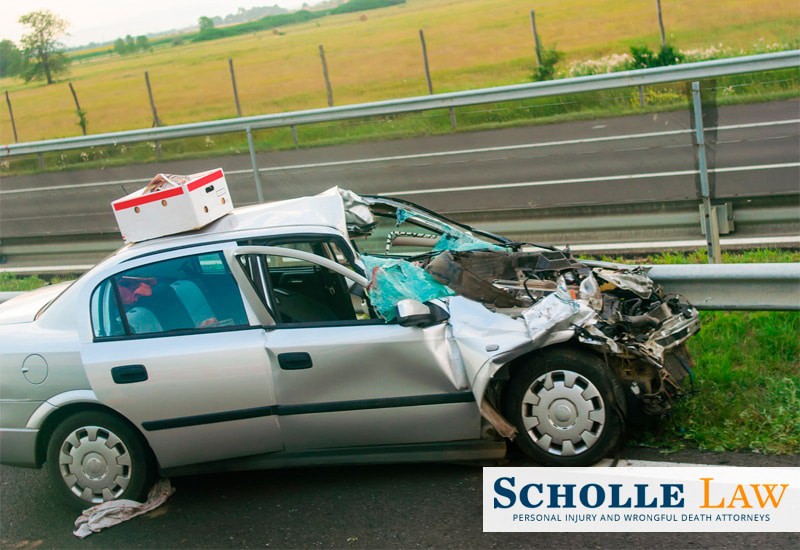 Did you know that the average American will get into 3 or 4 car accidents over the course of their lives? In just a single year, over 6 million car accidents occurred across the nation, and half of those resulted in injuries. In Georgia alone, there are more than 20,000 car injuries per year.
Every car accident can be prevented. However, there is little time to react when you are on the road. In most accidents, there is property damage, but injuries also occur. It's important that you know what to do and say after an accident, especially when you speak to the other party and police. Using this guide, you can save yourself from losing money, and in some cases even avoid penalties and other punishments.
So here are the important steps you should take after a car accident.
Step #1: Stop and check for injuries.
Everyone involved in an accident must first stop. It's the law. Next, when safely pulled over, check yourself for injuries. You may feel pain in your neck, shoulders, back, legs and other areas. If you are experiencing any pain, you should not move and wait for help to arrive. Call 911, or have someone else do it.
Step #2: Report the accident to police.
The 911 operator will need to know the location of the accident, description of the scene (including any details of glass or hazards), and a description of the injuries. You must report the accident per Georgia Code 40-6-273 if the accident resulted in an injury, death or damage exceeding $500.
One thing to keep in mind is that if you don't file a report at the time of accident, you may not be able to claim any damages or seek further compensation if something else goes wrong.
Step #3: Exchange information with the other driver.
You'll need to exchange your contact information and the name of your insurance company with the other party. The other driver should provide you with their full name, home address, email address, telephone number, date of birth, driver's license number, vehicle information (including license plate and registration), VIN, and insurance company and policy number.
Step #4: Gather evidence.
Before you leave the accident scene, take photos and videos if you're able to without injuring yourself further or putting yourself in harms way. Take pictures of all vehicles involved, including damage hot spots, license plates, witnesses, other drivers, photos of the scene (such as a dangerous intersection or construction signs), and any other evidence you feel is relevant to your claim. This evidence will support your version of events in case you want to seek damages later on.
Should you talk with witnesses around the accident? While it may be tempting to talk to others around the scene, it's best to not make it official as these witnesses are not legally obliged to talk with you. In this situation, you'll need to wait for the police.
Step #5: Talk to the police.
If you plan on collecting any compensation, you'll need to file a police report and give your statement to the police. However, if you're hurt badly, you should seek medical attention immediately and worry about the police report later.
Typically, law enforcement will arrive faster if there was an injury because they'll need to arrange for an ambulance to come treat the injured party. They also must secure the accident scene, investigate the cause and issue traffic citations. If anyone is intoxicated or has an outstanding warrant, the Georgia police may place them under arrest.
You should talk to the police about what happened before and during the accident, as well as any injuries you are experiencing. This will go into the official police report, so it's important to be honest but highlight any pain and suffering that you have experienced. At the same time, avoid admitting fault or apologizing, even if you think you might have caused the accident.
You can obtain a copy of the police report after the accident by contacting Georgia's Open Records department and completing the Accident Report Release Form. You can go to the Georgia Department of Safety website for more information on these records.
Step #6: Notify your insurance company
After speaking with police, you'll also want to notify your insurance company. They'll want all the details as well for determining who was at-fault, how your rates will be affected, and what claim you can file for vehicle damage. Be aware of the statute of limitations in Georgia for filing a claim with your insurance. If you wait too long, you may not be eligible for compensation.
Step #7: Contact a car accident lawyer
Some people aren't sure if they want to hire an attorney to handle their car accident claim. However, if you suffered an injury or significant damage to your vehicle where your life was threatened, you should consult an attorney about your legal options. In case of a fatality, an attorney may be able to collect significant compensation for the family that goes beyond just damages.
For assistance in following these steps and getting started on your claim, contact Scholle Law today. Our attorneys are well-known for their expertise in car accidents and will fight for the compensation you deserve.