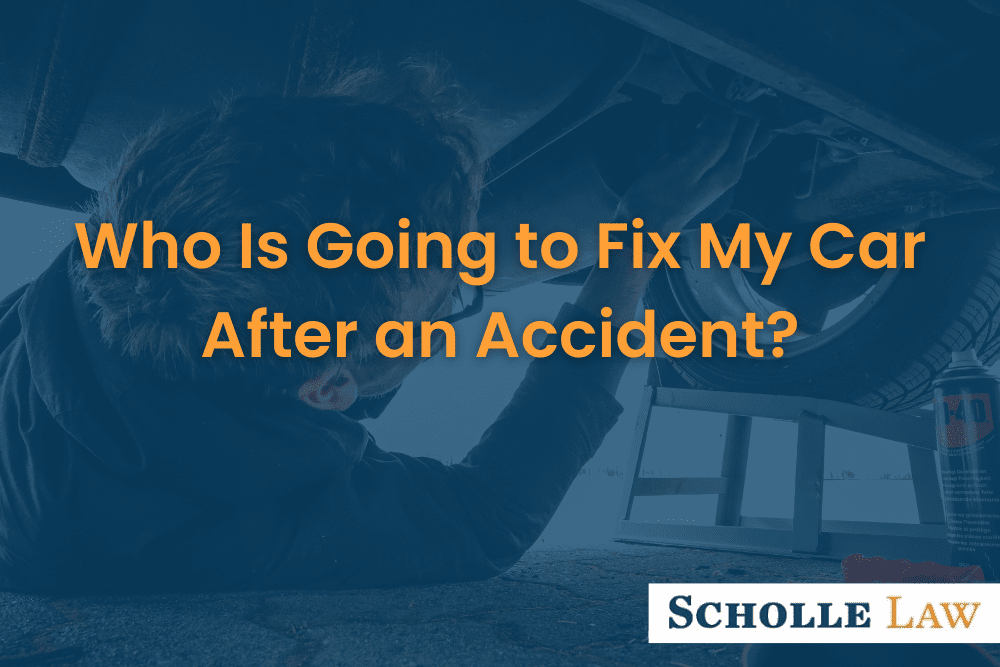 Although most attorneys who work with car accident victims are personal injury attorneys, they often have experience in dealing with property damage issues. As soon as you get in an accident, you should immediately talk to an experienced attorney who can help walk you through your property damage claim. It is always best to have an attorneys advice when dealing with an insurance company to ensure that your claim is protected. While there are many potential pitfalls in dealing with an insurance company, we have a lot of general knowledge about property damage claims that can apply in many cases.
Common questions about who will fix your car after a car accident
My car is damaged!
When your car is damaged in an auto accident, you need answers fast. What if your car is not drivable? How are you going to get to work or school? What if the other driver has no insurance? Do I have to use my own insurance? What shop should I use? Can I pick my own shop? These questions add more stress to the already traumatic experience of the accident itself. Thankfully, there are answers.
Who fixes my car?
The insurance company covering the car that caused the accident is responsible for damages caused to your car. After an accident, promptly contact the insurance company of the other driver and report your claim to them. If that information was not provided to you at the accident scene, it should be on the police report. Once your claim is reported, an adjuster will contact you and explain their process for obtaining an initial estimate. Keep in mind, this an initial estimate only. It is not a final repair estimate. If the other insurance company has accepted responsibility for their driver causing the accident, payment for the initial cost of repair will be made to you. However, when your car goes in for actual repairs, your vehicle will be disassembled at the body shop and a supplemental estimate for repair will be written accordingly. A second check will be written to cover those additional costs. Customarily, the insurance company will have a field estimator who will work with the body shop. The field estimator will come to a meaningful agreement with the body shop regarding all supplemental costs of repair and a second check will be issued to cover the difference.
Do I have to use the insurance companies "preferred shop?"
The adjuster may suggest their "preferred shop" as a good option for repair. This is actually not a bad idea. Most "preferred shops" provide a written lifetime guarantee on their work for as long as you own the vehicle. Additionally, the written guarantee may transfer if you move. For example, what if you repaired your vehicle at a body shop in Buford, Georgia, or in Lawrenceville, Georgia, and then moved far away or out of state? Would you then have to return to the body shop in Buford or Lawrenceville to address the corrections needed on the repairs? If you used the insurance companies "preferred shop" they likely will have another "preferred shop" near your new address. Also, keep in mind that a shop of your own choosing may coincidentally be on the insurance company's "preferred shop" list. In the final analysis, when you have your car repaired through the other driver's insurance, you are free to choose. You may use their "preferred shop" or choose your own shop.
What if the driver who caused the accident has no insurance?
What do you do? It feels unfair that you have to use your own insurance for an accident that you didn't cause in the first place.  The unfortunate reality is that there are drivers on our streets who do not have insurance. If it comes to light that the person who caused your accident has no insurance, you should check your own policy to see if you have collision coverage or uninsured motorist coverage. If you have to go this route, you will, unfortunately, owe your deductible. However, you have found coverage to fix your car. For example, if you have $5,000.00 in damage to your car and your uninsured coverage or collision coverage has a $500.00 deductible, all you owe is $500.00 to fix your car. But if you have no collision coverage or uninsured coverage, you have to pay the entire $5,000.00 to fix your car. As unfair as it may seem to pay the $500.00 deductible, you at least escaped having to pay the entire $5,000.00
What if I just want to go through my own insurance? 
Many prefer to get their car fixed through the insurance of the at-fault driver. But, you are free to choose. Some feel more comfortable going through their own insurance. In this scenario, you would be using your collision coverage. In cases where the other insurance company has accepted responsibility for their driver causing the accident, your own insurance company may waive your deductible. In cases where the other insurance company is taking too long or refuses to accept liability, you may have little choice. You may be forced to go through your own policy.
Again, if you have been in a car accident, talk to an attorney. Especially if you're injured, an experienced personal injury attorney can advise you on the best way to deal with the insurance company and can help you navigate the sometimes complicated process of getting your car fixed. We have had many clients who tried to deal with a claim themselves and very nearly got taken advantage of by an insurance company. Our goal is to help our clients get the best possible resolution of their claim and we work closely with our clients to advise them on any communication they have with an insurance company. If you've been injured in a car accident and you're confused by the insurance claim process, please call us at 770-717-5100. We would love to sit down with you and talk through the ways we can help take some of the pressure off a very stressful situation and help you get the recovery you need.