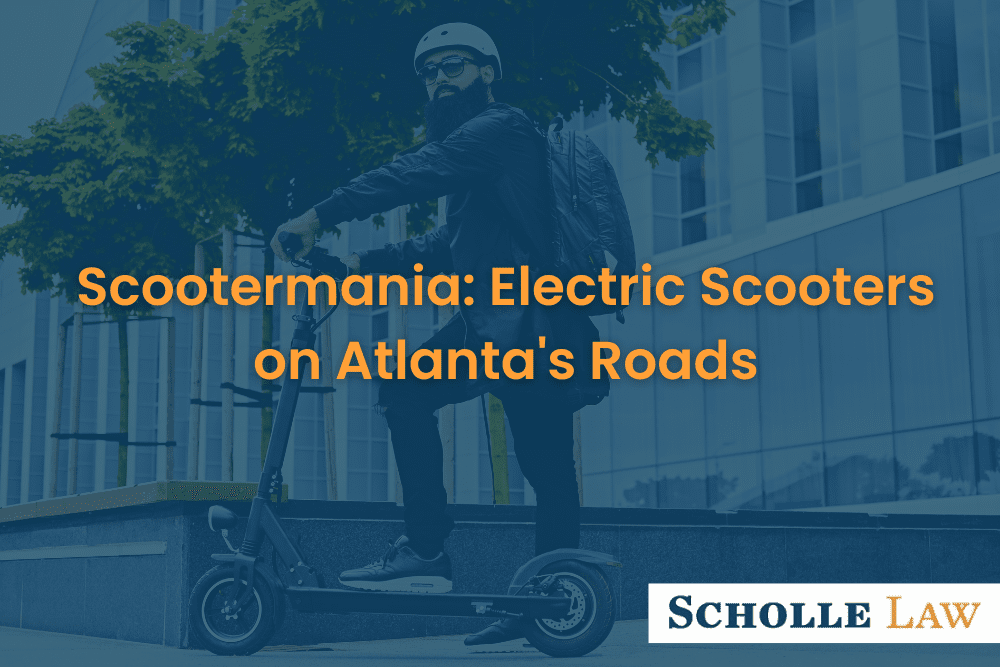 In Atlanta, ride sharing transportation options are plentiful.  We have everything from Uber and Lyft to bicycles and electric bicycles.  And just last May, we were introduced to electric scooters (or e-scooters) as an exciting new option.  People are turning to these dockless e-scooters to zip around the city more and more.  They provide a convenient way to move around not only for pleasure but for short commutes to avoid congested traffic.  With lower carbon footprints than cars, many eco-conscious consumers view e-scooters as a good alternative transportation option.  These appealing qualities have led to an influx of e-scooters scattered across the city, with Bird and Lime being the major operators.  Lyft and Jump (owned by Uber) have also recently entered the Atlanta market.
E-scooters are easy to find and access.  By simply downloading an app on your phone, you can locate and reserve one or you can walk up to an available e-scooter and scan the QR code.  Users pay a small fee to "unlock" it (typically $1) with an additional per-minute fee after that.  Some e-scooter operators also ask users to agree to a rental agreement, waiver of liability and release.  An example of one can be found here: https://www.bird.co/agreement/.
Unfortunately, the arrival of e-scooters has transformed communities so rapidly that our state and local governments have been unable to effectively regulate this industry or protect the public.  Complaints have steadily increased about e-scooters being left unattended, blocking sidewalks and streets, and being operated in unsafe and erratic manners.  This has led to angry and annoyed citizens who have asked for their regulation.  In fact, residents of Decatur are so fed up with e-scooters that they have tried to ban them altogether.  Others have suggested that cities adapt its roadways to add more bike lanes to accommodate e-scooter users and encourage them to stay off the sidewalks.
Just last month the City of Atlanta City Council adopted Ordinance 18-O-1322, which regulates the operations of shareable dockless mobility devices while also protecting public health and safety.  A few notable sections of this ordinance include:
Users must obey all traffic laws;
E-scooters shall not be operated by more than one person at a time;
E-scooters shall not be operated on sidewalks or any space exclusively for pedestrian use;
E-scooters shall not be capable of propelling the device in excess of 15 miles per hour;
Operators will educate users regarding laws applicable to riding and operating in the City;
Operators will encourage users to wear a helmet while operating an e-scooter; and
When parking or leaving an e-scooter, users must leave 5 feet clear for walking, park them upright and not on vegetation or landscaping, and not block crosswalks or driveways.
A complete copy of the ordinance can be found here: https://www.atlantaga.gov/home/showdocument?id=39601.  The ordinance also lays out fines should users and operators fail to comply, but it is yet to be seen how this ordinance will be enforced, making it is likely that violations will continue in the near future.
As their popularity has increased, we have seen more and more reports of injuries from e-scooters.  Whether people overestimate their riding skills, zip down busy streets and sidewalks at 15 miles per hour, or are too young to properly operate them, people are suffering serious injuries as a result of e-scooters.  Abandoned e-scooters cluttering sidewalks can also cause injuries.
Lawsuits against e-scooter operators typically fall into three broad categories.  The first being a failure to adequately warn, instruct, and qualify users. Operators do not inform riders that they need any special skills or prior experience to operate an e-scooter.  Operators also do not provide warnings or offer training and instruction.  Second, negligent inspection and maintenance.  E-scooter manufacturers have maintenance recommendations and operators should have established inspection and maintenance procedures.  If operators fail to reasonably inspect and maintain their vehicles, they should be held responsible.  And third, a failure to provide necessary safety equipment.  E-scooters are dangerous and reasonable care suggests that operators make safety equipment, such as helmets, available to all users.
If you were injured and wish to seek compensation for your injuries, it is very important to contact a qualified lawyer or law firm after an accident.  The investigation should begin as soon as possible and preservation of evidence letters should be sent to the e-scooter operator and any motorists involved.  Scholle Law helps injured victims who have suffered due to the negligence or wrongdoing of another person or entity.  Please feel free to contact our law offices for a free consultation.