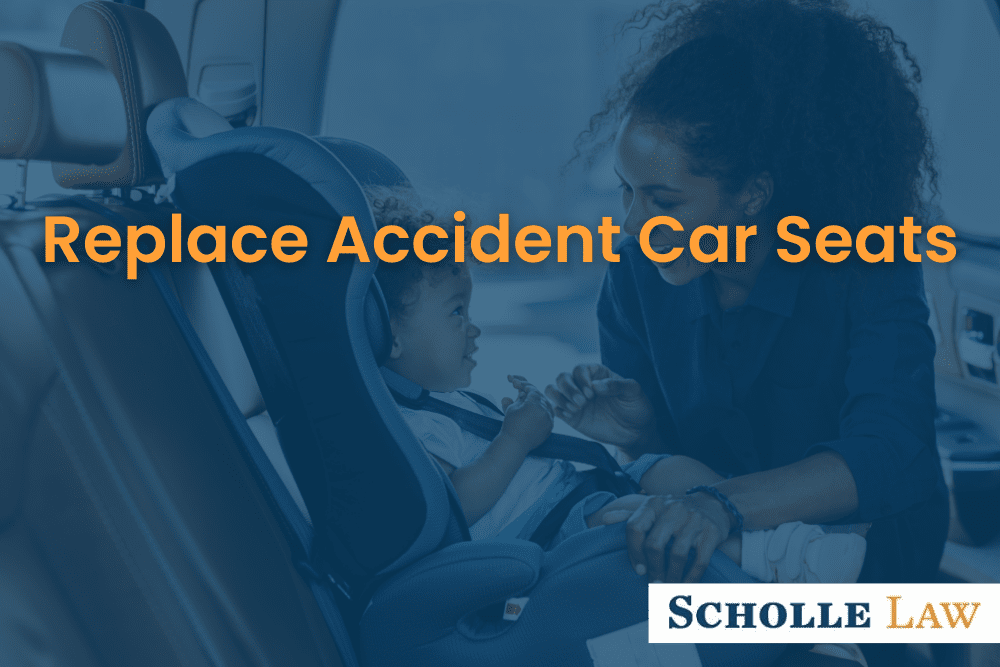 The attorneys at Scholle Law discuss Georgia car accidents involving children. This includes the importance of always replacing a car seat that has been involved in a motor vehicle accident. Questions about this content or anything else? Please contact us for a free case evaluation.
Riding with kids is always an adventure.  At one time every parent has sat through a long car ride when they were asked multiple times "are we there yet?"  Even with mild annoyances and lots of stops for snacks and bathroom breaks, many of the fondest family memories are made during family road trips.
Nowadays kids have so many ways to be kept entertained. Phones and tablets with video games, tv, music and movies are all normal parts of even the shortest trips to the neighborhood grocery store. A lot has changed in a short amount of time. 30 years ago, these devices did not exist. If you go back 40 or 50 years, you may even be at a time when seat belt laws and car seats did not exist.  If they did, they were nothing like they are now!
Seat belts and car seats are required and that is a good thing. Georgia car accidents often result in people being ejected from vehicles. Even in cases where there is no ejection, injuries can occur from being strewn about a vehicle's cabin.  Everyone on the road is vulnerable to injuries from car accidents, but probably none more than small children. Thankfully, this is where car seats come in.
Most parents of small children know the importance of having a properly fitting and properly installed car seat for their children. The law requires it, and society has evolved to the point where non-compliance with car seat rules and laws is frowned upon. Anyone that has ever bought a car seat has probably read the accompanying instruction manual to the limited extent of learning how to install it and operate it.  However, many do not read the part about car seats being no longer used after an accident.   
After an accident, the focus should always be on getting to safety. Make sure that injury victims receive immediate care. This is of the utmost importance! After that, people tend to focus on their property damage and insurance claims. All too often do people forget that their property damage in the accident should also include their installed car seats. It is probably because they do not look damaged or because they did not suffer any direct impacts.  Either way, too many people do not replace their children's car seats after a motor vehicle accident.
Just because a car seat does not look damaged does not mean it is still safe for use. Think about the frame damage to a wrecked vehicle.  Many times, a vehicle's complete damage is unknown until a body shop takes it apart. A lot of frame damaged vehicles would never be deemed "totaled" without that type of inspection. Unfortunately, it is not feasible to have a car seat inspected in this manner. This kind of damage is too difficult to see. Also it would be cost prohibitive to spend that kind of time and money on such an effort.  Remember that just because it does not look damaged does not make it safe. Manufacturers know this better than anyone. Accordingly, they recommend replacing car seats after an accident.
Having to replace a car seat after a car accident can make Georgia car accidents involving children even more expensive. True. However, there is good news. Depending on the situation, insurance can most likely cover the replacement cost for the car seats. If you were hit by another at fault vehicle, their insurance company should pay to replace the car seat(s). If you were at fault, your own insurance company may pay for it. This depends on your policy and the coverage that you purchased.  For instance, many comprehensive coverage plans will pay for car seats after an accident.
Sounds too good to be true right?  Nope.  It really is as simple as filing the right type of claim with the appropriate insurance company. Georgia car accidents involving children occur every day. After calling the police and treating the injured, do not forget to replace the car seat as soon as possible. It is a best practice to replace car seats without having to re-use them, even once. Purchasing a new seat before filing the insurance claim is acceptable.  Just make sure to keep your receipt.  
The replacement seat does not have to be the same exact make and model as the one you are replacing.  It would be ok to replace it with something similar if you are unable to find the exact replacement model. Also, it is ok to replace the car seat with a model that is the next step or size up.  For instance, if your child was preparing to move up to a bigger seat at the time of the accident. If so, it would be ok to replace the seat with a bigger car seat or booster seat.  Make sue you keep your receipt. Also, take a picture of your old car seat should the insurance company have questions about it.
As previously mentioned, having the seat is not the end of it.  Car seats require proper installation!  However, car seats can be difficult to install.  Depending on your vehicle, issues with the seat's installation may also present themselves. Lastly, it never hurts to have someone else look at your car seat's installation. Many fire stations and other local organizations will help install car seats for free.  Here is a link to some in Georgia: https://www.safekids.org/inspection-stations#GA
The bottom line on this issue is that Georgia car accidents involving children occur every day.  These accidents are often very serious.  Many of these accidents will have injuries prevented because of properly installed car seats. Replace car seats installed in a wrecked vehicle!  It is just not worth the risk to not do so.  
If you are looking for information regarding a recent accident, contact us. Our office handles motor vehicle accidents every day, we are here to help.  Scholle Law is a personal injury law firm that focuses on representing people in serious motor vehicle accidents.  We help people hurt in car, truck, motorcycle, and work-related accidents.  We do so every day.  You can call us if you have questions about filing an insurance claim. Feel free to reach out if you need some input on this topic or anything else. Give us a call for a free consultation.
At Scholle Law, we offer free consultations for people looking for help with their accident and injury cases. Calling our office results in an opportunity to schedule a meeting with one of our experienced injury attorneys. During the case evaluation we encourage you to ask as many questions as necessary. Our client first philosophy includes hearing your concerns. We know what it is like to navigate difficult accident and injury cases and we want you to know that our law firm is here to help. Call or contact us today!
To set up a meeting, call us today at (866) 592-1296 or contact us online.