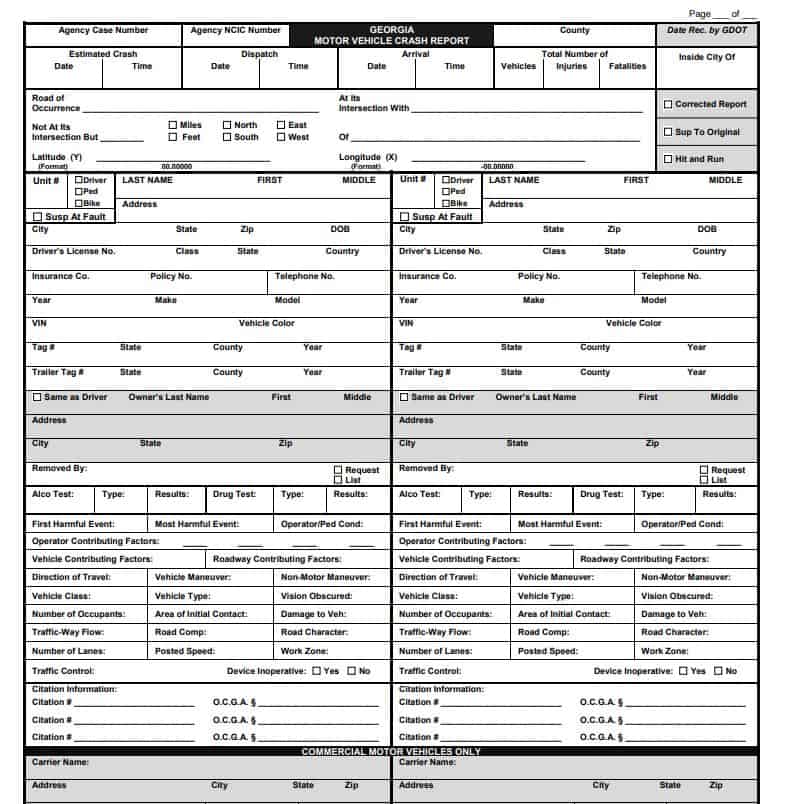 The Scholle Law Firm is a Duluth, Georgia personal injury law firm. The firm primarily handles motor vehicle accidents in Atlanta and throughout the state of Georgia. In this piece for their Georgia Personal Injury & Accident Guide Knowledge Center, the car accident and big truck accident attorneys at Scholle Law discuss Georgia motor vehicle crash reports and what reported information is important to an Atlanta car accident attorney when they initially review a Georgia accident report.
Often, these reports are convoluted and confusing to an injury or car accident victim that has never had an opportunity or reason to review an accident report. The data contained in a Georgia motor vehicle crash report is fairly voluminous and overall it is a lot to take in. Our law firm understands that being in an Atlanta car accident (or anywhere for that matter) is unpleasant and scary.
We hope providing some insight into Georgia accidents reports will take some mystery and confusion out of the process of moving forward after a car wreck. If you have any questions about your car accident or Georgia car accident report, feel free to contact us. Our attorneys are happy to speak to you about your accident and your accident report. We do this every day as a service to those impacted in car, motorcycle and 18-wheeler accidents. It does not cost anything to talk to us and there is no obligation. Let us know if we can help you. Contact us today for a free accident report evaluation.
Why You Need a Georgia Accident Report
Let's get one thing out of the way. It is imperative to always contact law enforcement (police, Georgia Highway Patrol, etc.) if you have been in a car accident. Even if there are no serious injuries and it is just a matter of damaged vehicles, exchanging info with the other driver(s) is probably riskier than you think. Unfortunately, our office regularly receives calls from accident and injury victims that did not make a police report.
In some cases these car accident victims left the scene with information from an at-fault driver that they assumed was legitimate. If you leave the scene without making a police report it can be difficult to get the police to make one later. Only law enforcement can make an authentic report, and if you do not have them involved, a report cannot be created. Without accurate information from a report it can be difficult to file an insurance claim against the correct parties and insurance company. If this is not done correctly an accident victim can be stuck paying for their damages out of pocket or having to use their own insurance policy.
Filing an Insurance Claim
Assuming that a police report has been made, the information in the police report is necessary to locate the insurance company of the at-fault driver. More times than not, an accident victim is always going to be concerned about their vehicle's damage. In many cases, car accident victims are left without a vehicle or a vehicle that is able to be safely driven. Many people are motivated to get their accident report because they know that the other party's insurance company (if the know who it is) is generally not going to be able to put them in a rental car or help with getting the vehicle repaired until the accident report has been released.
Fault and Georgia Accident Reports
A Georgia motor vehicle crash report is not the determining factor of who is responsible for causing a car accident. Issues of liability (fault) and financial responsibility for accident related damages are determined by insurance companies and courts of law. It is important to realize this because many people believe that they are in the clear as long as the accident report is helpful or supportive to their position. Unfortunately big insurance companies deny insurance claims every day in situations where an accident report may read obviously in favor of the person they are denying.
This is why it is so important to contact an Atlanta car accident attorney. An Atlanta car accident attorney can help explain why an insurance company may try to deny a claim when they shouldn't. It is important to understand that in many cases the other party may immediately contact their insurance company with facts totally contradictory to what is reported on the Georgia accident report. When that happens, an insurance company may try to outright deny the claim or investigate the matter further prior to making a liability determination.
An experienced Georgia injury lawyer can help with these issues. Ultimately a denied claim may result in a lawsuit where the facts and evidence can be presented to a judge or jury. The bottom line is that the police report and an insurance company's liability determination is not always the final word on responsibility and liability for damages caused in a motor vehicle crash in Atlanta or elsewhere in the state of Georgia.
Information On a Georgia Accident Report
There are dozens of field for data on a Georgia accident report. The report contains so much information and so many specific codes, the DOT even has a secondary document (report overlay) to help people decipher all of the information that is contained on a Georgia motor vehicle crash report. If you are interested in learning about what a Georgia motor vehicle crash report looks like here is a link. Here is a link to the report overlay.
In no way do we wish to communicate that some information on a uniform Georgia accident report is not important. The state DOT has plenty of reasons that these reports are as detailed as they are. Some of that has to do with data that they track, and additionally too much information is generally not a bad thing if it can be useful in determining what caused a motor vehicle accident or if it can be used to make our Georgia roads safer.
Even so, an experienced Atlanta car accident attorney at Scholle Law is generally going to be able to assess the potential case without having to initially go over each and every field contained in the report. In assessing a prospective client's situation the most important information in the report will be contained on the first page of the report and on the top of the second page of the accident report. Every case is different, so some accidents may require a more extensive review…
The First Page
The first page of a Georgia accident report is going to list the names of the people operating the involved vehicles. This information will include their contact info (sometimes redacted), their insurance information, vehicle information, and vehicle owner information. Please remember that the person operating the vehicle is not always the vehicle owner. That can be extremely relevant to situations involving stolen cars or non-permissive drivers. This information is so important because as noted above, you cannot pursue a claim against a person if you do not know who they are or who their insurance company is.
In situations involving more than two vehicles, this information for additional vehicles and drivers may be found on the following pages. In those cases additional pages for more drivers and vehicles has to be added. The report also has fields for vehicle passengers as well. A good piece of advice here is to remind any passengers not listed on the report need to make sure that they contact the reporting officer to have their name(s) added. If a passenger wishes to pursue an insurance claim for related injuries the insurance company may not accept their claim if they are not listed on the accident report.
Besides the importance of knowing the people and vehicles involved, it is important to know what the reporting officer noted as potential contributing factors involved in causing the accident. Again, this is not an ultimate determination in fault and liability, but still a general piece of information that holds a lot of weight in assessing who is responsible for the accident. This information on the first page of the accident report will note those causes. Additionally, if the officer ticketed someone, that information will be reported on the report as well. Please note that an at-fault driver is not required to be ticketed in order to have a successful case against them.
The Second Page
On that same theme of ascertaining how the reporting officer sees the accident, the second page contains a narrative section. The narrative section is an objective statement of facts regarding the accident. Because the officer was not there and was not a witness, the narrative should not be considered an absolute recollection of exactly what happened. The officer will take information from the scene and information provided by drivers and witnesses to make an overall narrative that explains the general information of what is known about the accident.
The narrative statement is important because it takes the mystery out of what the officer thinks about the accident. The narrative statement is not for the purpose of determining fault or liability but again it is for recording information that can be used by the accident's involved parties to resolve their accident claims. That process generally involves insurance companies assuming the parties were insured. In more complex cases involving injuries and significant damages, the process may also involve attorneys and courts of law. Most injury claims are resolved without having to file a lawsuit but initial claims and the cases that do go to court will always involve information from the officer's narrative.
What Else Is on a Georgia Accident Report?
The previous pieces of information are generally the most important parts to an Atlanta car accident attorney. That is not to say that the other dozens of pieces of information are not relevant or important as well. The previous information is generally enough for an attorney to come to an initial conclusion about the main issues potentially at play. The other fields contain information about weather, road conditions, injury severity, speed, light, accident causes, airbags, seatbelts, involved objects, collision data and a lot more. Every piece of accident report is important and because every accident is different, the information used to prove one case may be totally different than in another. Contact an experienced attorney about the information that is relevant to your individual situation!
Experienced Atlanta Accident Lawyers
It cannot be said enough: Do not ever assume that the accident report is the final word on your serious injury case! Every day Scholle Law Firm speaks to injured Georgians about Atlanta area accidents and no two situations are ever the same. Issues with liability and insurance coverage are frequently discussed when an injured person contacts us about their car accident case. We always take the time to walk them through the facts of their accident and help them decipher the most important information from their Georgia motor vehicle crash report. We do so for free and without obligation. It is a part of our free case evaluation.
A call to Scholle Law results in a phone call with an experienced car accident attorney. We will talk to you about your accident and gather the information we need to be able to ascertain how we can help. We will address your concerns and your questions. Then we will tell you about how our experience and resources can help you move forward from your injury accident. If you have a question about your accident, your accident report or you need help with locating your report, give us a call. Our Georgia law firm is here to help you and we look forward to your call!
We understand that accidents are complicated and we know that navigating an accident report can be confusing. We are happy to speak to you about your accident report and any questions you may have! Call us today at (866) 592-1296 or contact us online.