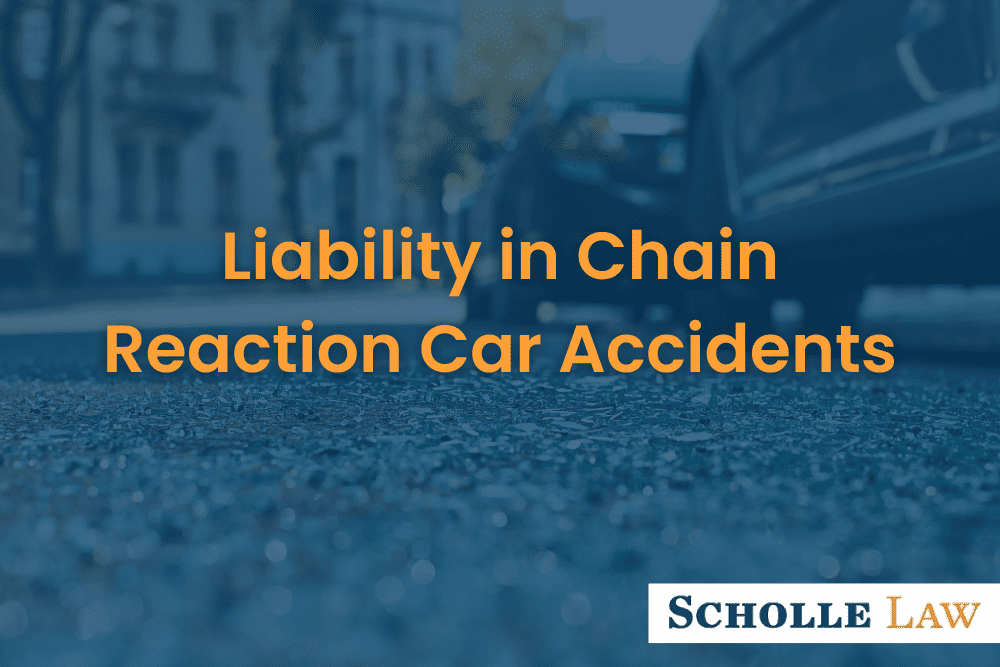 Chain reaction car accidents present unique legal challenges. Scholle Law, a trusted Duluth car accident lawyer, may be able to help you collect maximum compensation after your accident.
Car accidents can be devastating physically and mentally.  Some accidents cause life-altering injuries. If you're a victim, you must understand who is at fault. This is central to your case for compensation.
Chain Reaction Car Accidents
A chain reaction car accident happens when more than two vehicles collide. You may see this type of accident when one vehicle stops suddenly. Often involving at least three cars, affected vehicles collide front to rear in a pileup. These accidents are especially common in poor weather conditions with low visibility.
The most serious injuries tend to affect those in a sandwiched vehicle. They collide with the car in front of them and then get hit from behind. Multiple impacts can occur in rapid succession. Because of these multiple impacts, chain reaction car accident victims often suffer catastrophic injuries.
Causes of Chain Reaction Car Accidents
The most common cause of car accidents is human error. This comes in many forms, including:
Texting while driving
Driving under the influence of drugs or alcohol
Distracted driving
Driver inexperience
Poor road conditions
Poor weather
Failure to yield
Brake failure
Other maintenance issues
We may hold the negligent driver liable for your accident and subsequent injuries. Your ability to recover maximum compensation may depend on how soon you speak with an experienced Duluth car accident lawyer.
Injuries
Chain reaction car accident injuries can be serious. Your injuries may range from minor bumps and bruises to life-threatening conditions.
Common injuries include:
Whiplash
Broken bones
Sprains and strains
Dislocated joints
Concussions and other traumatic brain injuries
Internal injuries
You may have losses beyond your physical pain. You may miss work, face medical expenses, and require rehabilitation. Even minor injuries can cause costly medical bills. These costs can cause financial trouble for even the most financially stable individuals.
A skilled car accident lawyer in Duluth can work to hold the negligent driver responsible for your injuries. By proving that someone else is at fault, your lawyer may collect every dollar you deserve. You may not have to pay a penny out-of-pocket.
Determining Liability in a Chain Reaction Car Accident
Every car accident presents different details. It is not always clear which driver caused the accident. The complexity of a chain reaction car accident makes it more difficult to tell who is at fault.
The following examples are meant purely as an illustration. If the facts of your case are not below, that does not mean you cannot collect compensation. Speak with a knowledgeable Duluth chain reaction car accident lawyer for a free case review.
First Car
If a vehicle cuts off another vehicle abruptly, the second vehicle may hit the one that cuts in front. Fault generally falls on the driver of the first vehicle, the one who cut off another car.
Last Car
Picture this: several cars sit at a red light. A car approaches the line of stopped vehicles from the rear. The approaching vehicle does not stop in time. That car hits the vehicle in front of it. The car that it hits lurches forward, striking the vehicle in front of it. And so on. The pileup would most likely be the fault of the vehicle that failed to stop.
Multiple Cars
Multiple drivers could be at fault for a chain reaction car accident. Because these accidents involve multiple collisions, there is a cause for each crash in the chain. In some cases, there may be numerous at-fault parties.
Investigating Chain Reaction Car Accidents
Police typically arrive on the scene of a chain-reaction car accident. They will create a police report. They may speak with witnesses and note important details of the collision.
But you also need your own investigation. Partnering with an experienced Duluth car accident lawyer gives you access to their team of car accident experts. These crash reconstruction experts may:
Visit your accident scene
Review your medical records
Obtain police investigation records
These steps will help your lawyer paint a picture of your accident. It will help determine fault. This will inform them about who to sue.
Collecting Compensation
Filing a personal injury claim is the first step towards financial justice. It may result in coverage for your losses. You need to act fast because you have limited time to sue the at-fault driver. If you miss this important deadline, you may miss your chance to collect compensation for your injuries.
When you work with a car accident lawyer, they will try to get you compensation for:
Pain and suffering
Emotional distress
Lost income
Lost earning potential
Loss of companionship
Loss of life enjoyment
Present and future medical expenses
Rehabilitation costs
Depending on the severity of your injuries, you may be able to collect a substantial amount of money. The goal is to make sure you do not pay a penny out of your own pocket.
Some chain reaction accident victims think only about recovering money for medical bills. This is a mistake.  Even minor injuries can prevent you from working. Losing just one paycheck could cause you financial hardship.
It is vital that you speak with a trusted Duluth chain reaction car accident lawyer right away. Your lawyer can handle your legal responsibilities. They'll allow you the time and energy to focus on your physical health and wellbeing. The sooner you get better, the sooner you can get back to your regular life.
Speak with an Experienced Duluth Chain Reaction Car Accident Lawyer
The odds of getting into a car accident in Duluth rise every year. The more cars on the road, the more likely it is that you get into a crash. This includes chain reaction collisions.
You or a loved one may be entitled to compensation for a car accident. Make the call to a lawyer with experience assisting victims like you. Contact Scholle Law today to learn more about how we can help you get back on your feet.