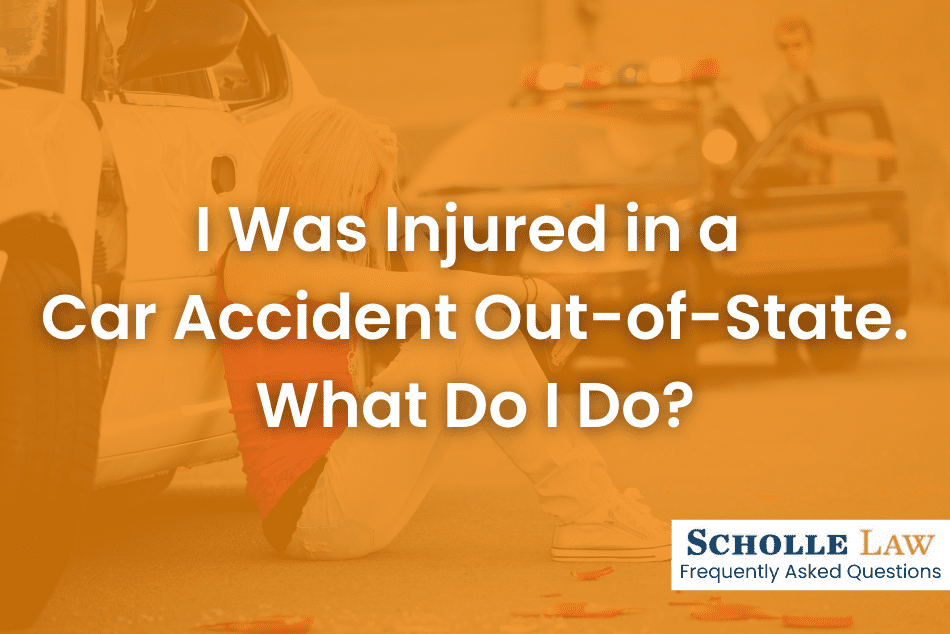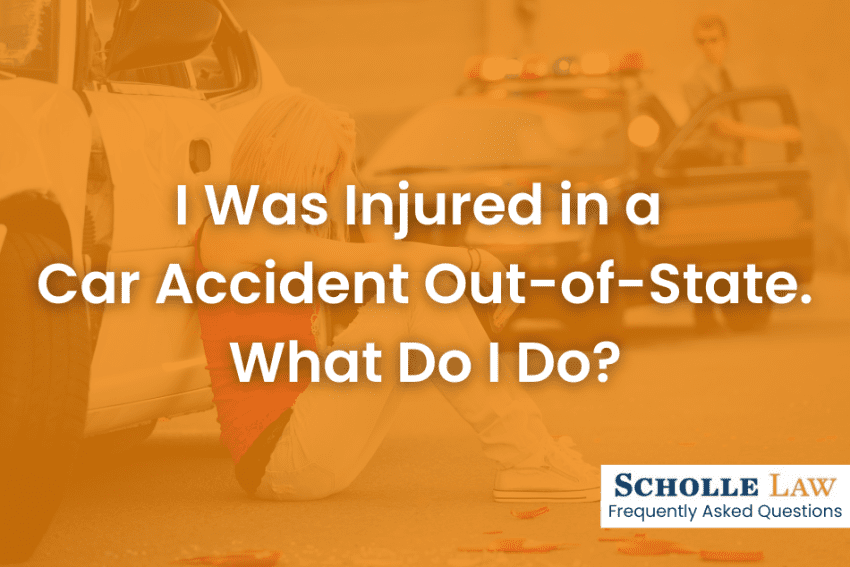 There are significant issues that arise with any accident or injury case. Even if a victim has been in a Georgia car accident before, the rules and procedures will likely be different in an out-of-state injury case. The following text provides information on potential issues that accompany out-of-state accidents and injuries. Lastly, this article will provide helpful information on what an out-of-state accident victim should do after experiencing a car accident or other injury.
Out-of-State Accident Scenarios
Does anyone ever want to get involved in a car accident? No! What about while traveling far from home? Of course not! Getting hurt close to home is bad enough, but having an accident or injury far away from home and loved ones is even worse. Believe it or not, these situations happen often. Our office receives regular calls and e-mails from Georgia accident victims injured outside of the state. Consequently, we also receive calls from non-residents injured while visiting Georgia. 
Car and air travel results in many people traveling for work and pleasure. Atlanta is home to Hartsfield-Jackson Atlanta International Airport, the nation's busiest airport. Many of residents travel for work every day. For instance, people are injured on business trips every day. Holiday and vacation travel are the other significant causes of Georgia accident victims becoming injured outside of the state. Georgia is within a day's drive of Disney World and some of our country's most beautiful beaches. All too often, we hear about accidents that occur during vacations and trips outside of the state.
Every Case Is Different
There is no such thing as a pleasant accident. But there are different levels of seriousness for all types of accident and injury cases. For example, a "fender bender" with no reported injuries is not the same as an out-of-state accident that requires significant medical care. A minor accident with no need for medical care is hopefully something that will amount to an inconvenience. For instance, an exchange of insurance and contact information will most likely suffice.
A Georgia accident victim seriously hurt in another state will have additional considerations. That accident victim will receive medical care away from their own established doctors. The injured person will have to navigate delayed travel plans. If the person is well enough to travel, they will need to travel back home or continue on to their destination. Accident victims unable to travel may be required to remain out-of-state until they are well enough to return to their Georgia home.
The preceding points illustrate that accidents are never convenient, and they are not paused until after someone completes their travel plans. Keep this in mind and consider the foregoing advice about what everyone should know about moving forward after an out-of-state accident.
Time Is Not on Your Side
Most people have heard of a statute of limitations. If you have not, it means a finite amount of time available to bring a claim or lawsuit after suffering an injury or loss. For instance, the statute of limitations in Georgia for a car accident is generally two years from the date of accident or injury. A Georgia resident injured in Tennessee is subject to that state's statute of limitations, which is generally only one year.
These laws vary by state. That is why it is imperative to speak to an experienced injury attorney to find out what laws and time limits govern your case. An inability to bring a claim or lawsuit within the legal time limit will prevent an injury victim from having their day in court.
Laws Vary by State
Time limits are not the only thing that vary by state. Georgia accident victims in out-of-state accidents also must be concerned with other laws that they have no reason to even know about. Hence, another reason to contact a lawyer. For example, a Georgia accident victim hurt in North Carolina will be subject to that state's contributory negligence law if applicable. Georgia is a modified comparative negligence state. (These laws deal with the distribution of liability in a civil case.)
A North Carolina case involving contributory negligence will require investigation and lawyering to overcome it, something an accident victim would not know without first speaking to an experienced lawyer about their case. In conclusion, there are numerous laws that vary by state. Contact a lawyer to discuss the laws that impact your injury or accident case.
Health Insurance
Personal injury lawyers add value to injury cases by working to resolve their client's medical bills. In many Georgia accident cases insured clients are not required to repay their health insurance company back with proceeds from their injury settlement. That is a general rule, and every case is different.
However, a Georgia accident victim hurt in an out-of-state accident is susceptible to other laws. Out-of-state medical bills cause frequent complications. Do not assume the bills will or will not be paid by your health insurance. Speak to a lawyer and let them provide a detailed explanation of how your medical bills will be resolved.
Car Insurance
Car insurance is never simple. Even with the best facts, car insurance and car insurance coverage issues can present themselves. For example, involvement in a Florida motor vehicle accident could cause confusion regarding the Georgia driver's medical payment coverage. Another example is uninsured motorist coverage. A Georgia resident involved in an accident with an uninsured Florida driver in Florida could present coverage questions.
What about being in an accident in a no-fault state? Georgia is not a no-fault state. What would that mean for a Georgia accident victim with Georgia insurance? It depends. Please note that there is no suggestion that these issues arise on all out-of-state trips. We mention these scenarios to remind anyone ever in an out-of-state accident to speak to an experienced injury attorney prior to working with the insurance company. Handling these issues incorrectly could mean a significant impact to a potential accident settlement.
Out-Of-State Accident To-Do List
The lawyers and staff of Scholle Law hope that you are never in an accident in Georgia or elsewhere. However, if you are, here are a few tips:
Seek medical attention. out-of-state accidents should receive the same priority for medical attention as accidents that happen close to home. Too many times we hear of people waiting weeks to get to a doctor following their accident. This is not only bad for you, but it is also not good for your injury case.
Report your injury or accident. It can be very difficult to help a client if there is no accident or incident report. Many accidents go unreported. Sometimes it is because they do not feel hurt at the time. Other times they believe that they can file the report later. A client with an out-of-state accident and no police report may fail to get accurate (or truthful) information from the other driver. Getting a legitimate record of the accident is a best practice.
Take pictures. If you can, take pictures of the damage to your vehicle and the other vehicles also involved. If you have injuries such as bruises or scrapes, document those from the time of the accident until you are completely healed. Getting this information at the time will be helpful for your case. Because of time and distance, this information is a lot easier to obtain at the time of the accident or shortly thereafter.
Speak to an attorney. Find an attorney that can help answer accident specific questions. Do not assume that previous experience in a Georgia accident is enough to help navigate a more recent out-of-state accident.
I live in Georgia, and an out-of-state driver with "no-fault" insurance hit me. What now?
If you are hit by an out-of-state driver with "no-fault" insurance, you should speak with an experienced attorney. Although Georgia law will govern the claim if the collision happened anywhere in the state, and the no-fault carrier must provide coverage for the accident according to Georgia law, it's important that a knowledgeable and experienced attorney help you through the process to make sure the out-of-state insurance carrier doesn't accidentally (or even intentionally) violate your rights or fail to properly compensate you for your injuries.
At Scholle Law, we routinely investigate and pursue claims against out-of-state drivers and insurance policies. If you were hit by an out-of-state driver with no-fault insurance coverage, we would be happy to speak with you and help you navigate this difficult process.
There are too many variables in an injury accident to not have some concern about potential outcomes. Concerns about injuries and the financial impacts of medical bills and lost wages keep accident victims awake at night. All accidents are unpleasant, and no two accident are alike. For instance, this article has discussed the issues between an in-state accident and accidents that occur outside of Georgia.
The laws, the time limits, the differences in health insurance and car insurance, these topics are relevant for every Georgia accident victim hurt in an out-of-state accident. Experienced accident attorneys are the best resource for finding out the applicable laws and issues that govern an accident and injury case.
Call us at (866) 592-1296 or contact us online today for a free, no-obligation consultation.