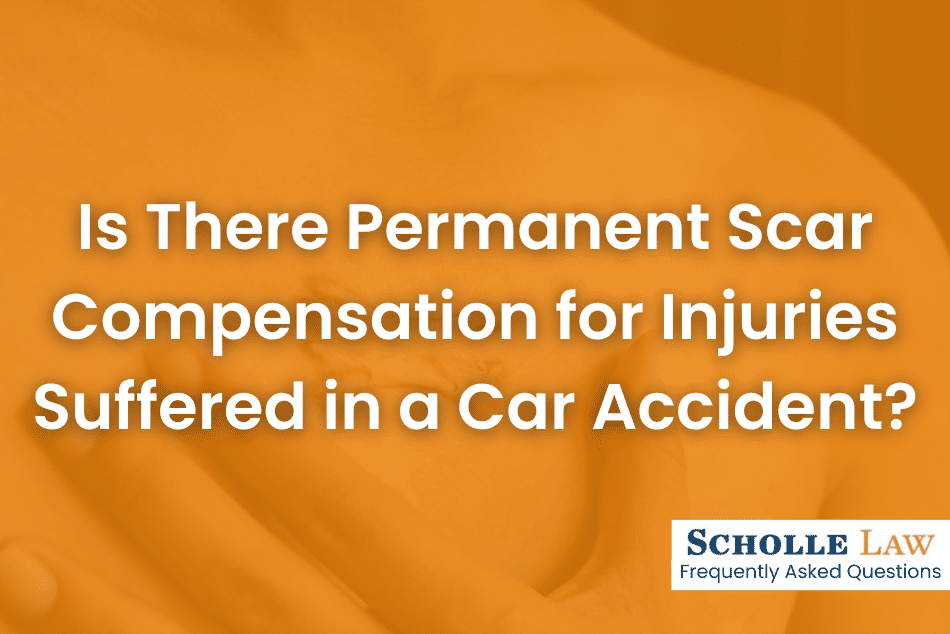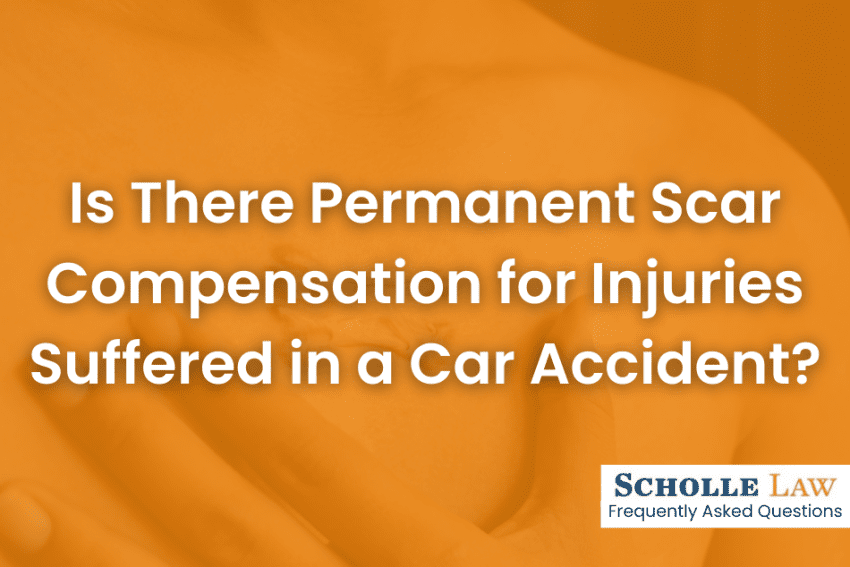 Most people don't associate scarring with vehicular accidents, but these permanent disfigurements can be life changing and debilitating. Which is why they often receive higher compensation than many other injuries. Permanent scar compensation is for anyone whose scarring has caused their quality life to decrease because of the negligent acts of another.
Permanent scarring can cause lifelong pain, require extensive surgeries to correct, and can affect a plaintiff's mental health as well as their perceived self-image. Permanent scars may cause victims more stress and anxiety than other injuries simply because it's a permanent reminder and the result of a traumatic accident.
If you have suffered a permanent scar from a car accident, you deserve compensation if the other driver was negligent in their actions. Scholle Law is here to fight for you. Call us today to book a free, no-obligation consultation to discuss your options for compensation.
What Kind of Permanent Scar Compensation May I Collect?
Like any other personal injury suffered in a car accident, you can recover compensation for your permanent scar treatments, mental anguish, or lingering effects. Many victims don't understand that they can recover more than the cost of medical treatments and procedures. 
Our experienced attorneys at Scholle Law understand the effect of a lifelong scar whether it's visible to others or not. It can significantly alter your view of yourself and your ability to live your life as you did before the car accident. A large scar across the face may impact you for the rest of your life even after plastic surgery to fix it. Scars along joints may limit mobility and no matter where your permanent scar is, it may ache with pain for the rest of your life. 
Because of the long-term effects of your injury, you shouldn't settle for anything less than the maximum compensation our experienced Georgia car accident attorneys can win for you.
Medical damages
The first thing most people consider when seeking compensation is recouping their medical expenses. This can include: care for the original injury, rehabilitation, surgeries, and any procedures required to lessen the challenges of the scar, including cosmetic ones. Even the insurance companies tend to offer settlements that will cover at least part of your medical expenses when they make their first low-ball settlement offer. 
With a permanent scar, you may face extensive procedures and surgeries to handle pain, mobility, and try to minimize the visible scarring. These can be expensive procedures that continue for years after the car accident.
Insurance companies try to argue that cosmetic surgeries are not necessary and therefore shouldn't have to pay for them. But the reality is that cosmetic procedures can often do more for a plaintiff than rehabilitation.
Some medical damages you may be able to claim are:
Hospital bills

Ambulance costs

Specialist care

Rehabilitation

Mental trauma

Permanent change in lifestyle

Ongoing medical care and surgeries
Lost wages
You need time to heal after a debilitating car accident. However, employers can only give out so many sick days before they have to cut your pay . As your treatments continue or intensify, you'll need to miss days of work for treatments and recovery.
It is unfortunate that a car accident can prevent you from earning the income which you need to live. That's why you can claim lost wages as a form of financial damages that you suffered due to the car accident. 
Lost earning capacity
In some cases, a permanent scar can affect your ability to pursue your career. Obvious facial scars can limit work for people who rely on their looks or communication skills. Models, actors, salespeople, and many other jobs which require one-on-one interaction can face dire results due to facial scarring, which leads to diminished earning capacity or loss of work completely. 
Additionally, some scars cause mobility issues, sensitivities, or chronic pain, which may prevent a person from conducting their daily job. For example, a contractor wouldn't be able to work with a stiff hand due to extensive scarring. Knee or leg scars can also cause chronic pain, which means jobs that require walking or standing for long periods can be unmanageable. 
It can be difficult to determine your diminished earning capacity due to your permanent scar. An experienced lawyer at Scholle Law can help you determine the difference in potential salaries, the costs of retraining yourself for a new career, previous job experience, and lost potential due to your injuries. 
Non-economic damages
These are damages that affect you emotionally, mentally, and physically, but are normally intangible. These are lifestyle changes, mental challenges, and emotional trials that you have had to endure and suffer from due to your injuries. 
Non-economic damages you may claim are:
Pain and suffering

Anxiety 

Depression

Disfigurement

Emotional distress

Physical impairment

Loss of enjoyment of life

Loss of quality of life
How to Determine the Value of Permanent Scars
It is not easy to calculate the impact a scar will have on your life. The cost of a scar depends on several factors including the age of the injured, how deep the scar goes, how noticeable it is, and where the scar is located. It also depends on medical opinions regarding treatment, surgery to repair or minimize the issues, and potential rehabilitation or therapies you may need in the future.
To discuss your potential permanent scar compensation, schedule an appointment to meet with a Scholle Law attorney.
Permanent scarring may have an immense impact on victims and their lives. Handling the treatment, suffering, pain, mental anguish, and anxiety related to your injury should be your main concern. Let us worry about getting you just compensation for your injuries, you focus on healing.
While the offer from the insurance company may seem generous, talk with an attorney before accepting to make sure they aren't taking advantage of your lack of knowledge. We can help. Ensure you get the compensation you deserve by hiring an experienced personal injury attorney from Scholle Law. Our skilled team has been helping car accident victims get the justice they deserve for decades. 
Call us at (866) 592-1296 or contact us online today to speak with a Georgia car accident lawyer.