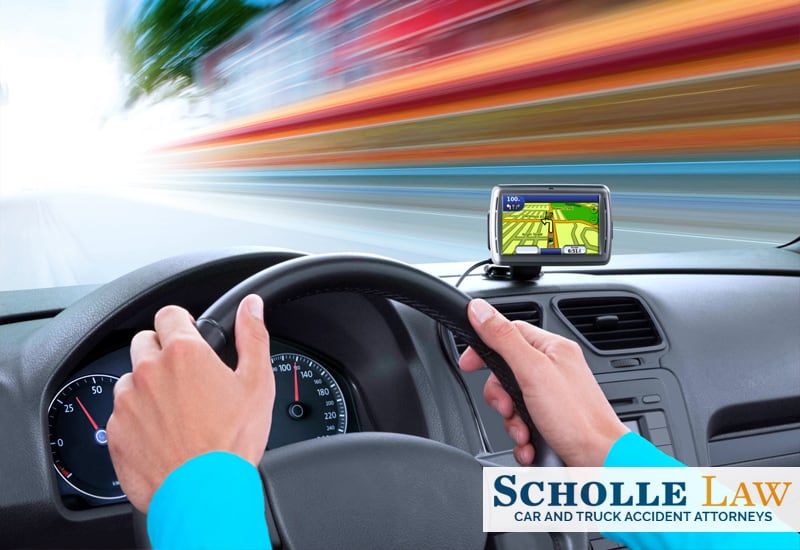 Simple tips every driver should follow to get their destination unharmed and alive
Driving is not a right, it's a privilege.
To earn this privilege, you should always drive defensively, anticipating that other drivers may not slow down to let you merge onto the interstate or change lanes even though your signal is on. We like to describe defensive driving as "driving as if everyone else on the road were drunk." Be attentive to the other vehicles around you.
According to the Georgia Department of Transportation, 1,505 people died on Georgia's roads in 2019. Of these traffic deaths, 70 percent were caused by unsafe driving behaviors. Most auto accident deaths are due to preventable crashes. By changing your driving behavior, you can help protect yourself and others from becoming yet another statistic.
While you can change your behavior, you can't change someone else. If you or a loved one were seriously injured in a crash caused by a negligent or reckless driver, we invite you to contact the experienced Atlanta car accident lawyers at Scholle Law for your free consultation.
How to "drive alert, arrive alive" in Georgia
Drive Alert Arrive Alive is Georgia's statewide safety campaign to educate drivers about simple changes they can make in their driving behavior to prevent crashes, improve safety and ultimately save lives. Here are some simple tips you should follow based on GDOT's recommendations:
Tip #1: Complete your pre-driving checklist
Safe driving behaviors actually begin as you approach the vehicle. Before you get into the vehicle, do a safety check. Walk around the vehicle looking for fluid leaks. Check the tires to see if they are properly inflated. Start the car and check the headlights, tail lights, brake lights and turn signals. Driving with headlights on will increase the visibility of your vehicle.
Also, take time to check and adjust mirrors and seats before your vehicle is in motion. Adjust your left and right side mirrors so that you cannot see your vehicle in the mirrors when you are sitting in the driver's seat. This helps reduce your blind spots.
Tip #2: Wear your seatbelt
When you get into the vehicle, buckle up. Most people do, but according to GDOT 56 percent of traffic fatality victims were identified as not wearing a seatbelt or unknown. Remind your passengers to also fasten their seatbelts, so everyone is safe while on the highway.
Tip #3: Be aware of your blind spots
Know where your blind spots are – not only of your vehicle but of the vehicles around you as well. If a truck is in front of you or in the lane next to you, it's important to know that if you cannot see the driver in the truck's rearview mirrors, they cannot see you!
Tip #4: Steer clear of tailgating
Watch for tailgaters, aggressive and reckless drivers. Tailgaters don't leave enough room to stop. A rule of thumb for a safe braking distance is 1 car length for every 10 mph. And remember, heavier vehicles take longer to stop.
Tip #5: Use the correct traffic lane
The lane furthest to the right is considered the slow lane. If a road has multiple lanes going the same direction, the right lane travels at the slowest speed and each lane to the left should travel a little faster while remaining within the posted speed limit. Always travel in the lane that is moving closest to the speed you are going or wish to go. Driving slower than the flow can cause traffic to build up behind you, which is a safety hazard.
Tip #6: Pass on the left
Always pass on the left, using your turn signal to indicate your intention to change lanes to the left. After you have passed the slower vehicle, signal your intent to return to the right-hand lane.
Tip #7: Adjust your speed to road and weather conditions
Speed is the #1 cited driver-related factor in highway fatal crashes. Speeding doesn't increase your ability to arrive on time, rather it only increases your chances of not arriving at all. Drive according to weather conditions. Inclement weather may require you to be more alert and allow extra time to react.
Don't assume the roads are safe for the speed limit. In low-visibility or other severe weather conditions, it's good practice to reduce your speed and give yourself more space. It takes longer to stop on wet or icy pavement. There is a wise old saying that goes, "If the roads are wet, then drive like it's snowing. If the roads are snow-covered, then drive like they're icy. If the roads are icy, then don't drive."
Tip #8: Merge safely
When merging onto the interstate, use the acceleration ramp to get up to speed and avoid other vehicles that are already traveling at speed from having to abruptly brake or change lanes. Sometimes one acceleration ramp merges another. When this is the case, there's a yield sign at the end of the ramp, indicating which lane has the right of way.
Tip #9: Obey all road signs and signals
Road signs are not placed on the side of the road as a beautification project – their purpose is to control traffic in a safe manner. Always obey all speed limits and other road signs.
At stop signs and traffic lights, you should leave yourself enough space so that you see where the tires on the vehicle in front of you touch the ground. Before you start to move forward, look left, then right, straight ahead, then left again before proceeding. Take notice of all vehicles near you and ensure that someone else is not going to run the light. Expect other drivers to make mistakes and, like any other type of emergency situation, think of what you would do if a mistake does happen.
Tip #10: Yield the right of way
Four-way stops have very specific rules to safely determine the order of who has the right of way. The first vehicle to pull up to the stop sign is the first car that gets to proceed. If 2 vehicles arrive at the same time, the tie goes to the vehicle on the right. If 2 vehicles are traveling in opposite directions and stop at the intersection at the exact same time, vehicles going straight go before those that are turning. Finally, vehicles turning right should go before those turning left.
Tip #11: Stop for emergency vehicles
Emergency vehicles always have the right of way. If you hear or see an emergency vehicle, no matter what direction they are going, pull over to the right shoulder of the road and stop.
Tip #12: Avoid distracted driving
Effective July 1, 2018, all drivers operating a motor vehicle in Georgia are prohibited from holding or supporting, with any part of the body, a wireless telecommunications device or stand-alone electronic device. Violating Georgia's hands-free law is punishable by fines of $50 to $150, as well as 1 to 3 points assessed against your driver's license.
Avoid distracted driving of all kinds, including answering phone calls, eating, drinking and of course, texting. It is estimated that glancing at a single text takes your eyes off-road for 5 seconds. If you are traveling at 55 mph, that's like driving the length of a football field with your eyes closed.
Tip #13: Stay in your vehicle if possible
If your vehicle has engine trouble or you have another type of emergency, pull over as far as possible and put on your hazard lights so others will see you better. Stay in your vehicle and wait for authorities to come to your aid.
If you must get out of your vehicle, don't stand between your vehicle and any type of barrier. Again, remain in your vehicle unless there is a chance of additional danger. Leaking gas would be an additional danger requiring you to get out of your vehicle.
Tip #14: Avoid drowsy driving
If you start to feel drowsy while behind the wheel, stop and take a break. If you are unable to safely pull over at that moment, try turning on upbeat music or roll the window down.
Tip #15: Let loved ones know about your destination
When leaving for an out of town trip, be sure to give an itinerary to someone back at home with your route of travel, approximate time of arrival and a contact number at your destination. Don't deviate from this plan without informing your at-home contact.
If you are traveling a long distance, check-in throughout the trip with a current location and any changes in your route or times. If something were to happen, this information may be used to narrow the search.
Tip #16: Don't drink and drive
Driving under the influence of drugs or alcohol causes an estimated 29 percent of traffic fatalities. When you are not fully aware and functioning, you are not as likely to make good judgments. Have a designated driver or use a rideshare service (Uber or Lyft) if you've had anything to drink. It's never a good idea to drive if you are (or may be) under the influence.
Tip #17: Let go of road rage
Last but not least, let it go! Road rage is a serious issue in Atlanta, and aggressive driving is responsible for as much as 66 percent of traffic fatalities. Rather than getting frustrated when another driver makes a careless mistake, it's better to take a deep breath and let it go. Getting to your destination safely and alive is your top priority.
When to contact an Atlanta car accident attorney
Despite taking all of these precautions, you may still get into an auto accident — perhaps because another driver wasn't following these safe driving tips. If you or a loved one were injured in a car crash, we invite you to get in touch with the experienced auto accident lawyers at Scholle Law Firm. For over 20 years, we have recovered millions of dollars for our clients in personal injury verdicts and settlements, including car accidents, motorcycle accidents, truck accidents and wrongful death.