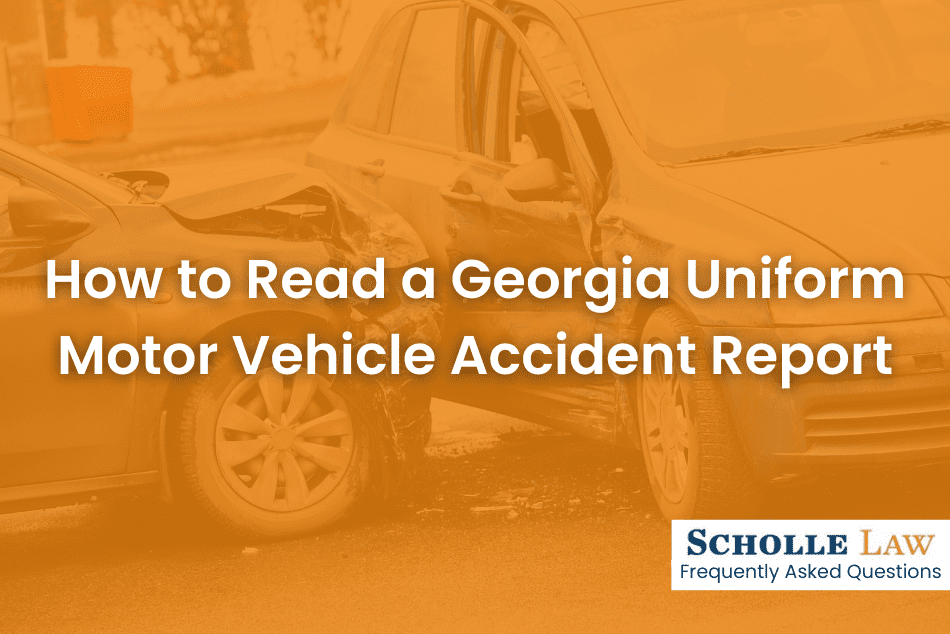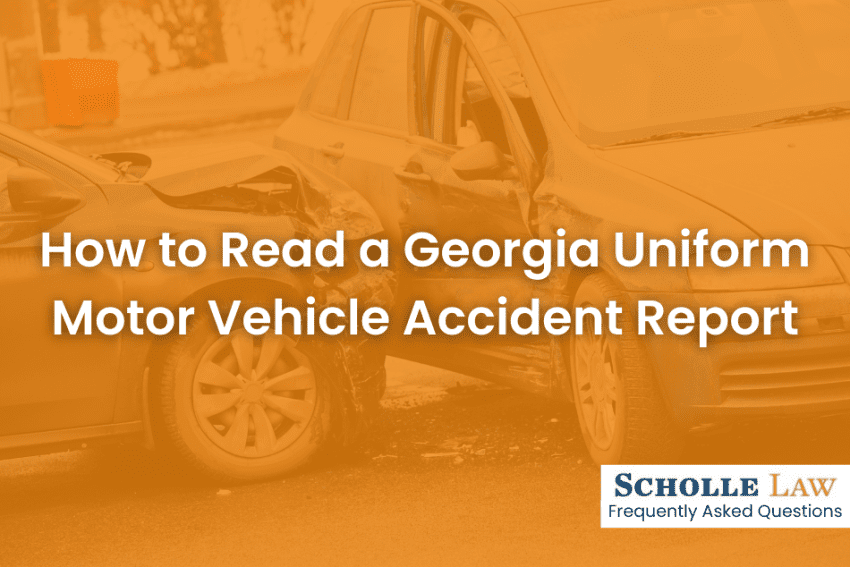 A serious auto accident, truck accident, motorcycle accident, or commercial vehicle accident is a traumatic and tumultuous experience. Once the dust settles though, you will need to obtain a copy of the Georgia motor vehicle accident report from the jurisdictional precinct of the reporting officer. A Georgia Uniform Motor Vehicle Accident Report can be confusing. The police officers who draft accident reports are trained to use arcane symbols, coded words and numbers to convey a multitude of information in just a couple of pages.
These reports are designed to provide a data record in a standard format — not to be an easy-to-read diagram for a layperson. Despite what can appear to be an overwhelming and confusing task, most Georgia accident reports provide a reasonably comprehensive story of what happened in a car accident. One just needs to know where to look. Typically, in Georgia, a police officer arrives on the scene after an accident has been reported and speaks with all the parties involved about their version of events. He or she may speak with witnesses if there are any, and then draft up a Georgia accident report from all the information he has gathered.
You are not allowed to look over the officer's shoulder while the Georgia accident report is being drafted. Most often, Georgia accident reports are available within 5-7 business days after the accident. The reports are available at the police department or through a third-party website (such as BuyCrash.com) for purchase. Once you have the Georgia accident report in hand, you will need to check it for accuracy. But first, it's helpful to know what exactly you are looking at.
Sections of a Georgia Uniform Motor Vehicle Accident Report
Page 1, Part 1

The top boxes give some basic information about the accident. The most important box is the top left, which is the report number. The police officer should give this number to all parties at the time of the accident. This is how you will find the completed report once it is ready. The next boxes list information such as date of incident, location, time, and whether or not this is the original accident report or a supplemental report. Should you need to alter any information on the accident report, the police officer will typically note that this has occurred. The top boxes typically are not something that gets a lot of disagreements.
Page 1, Part 2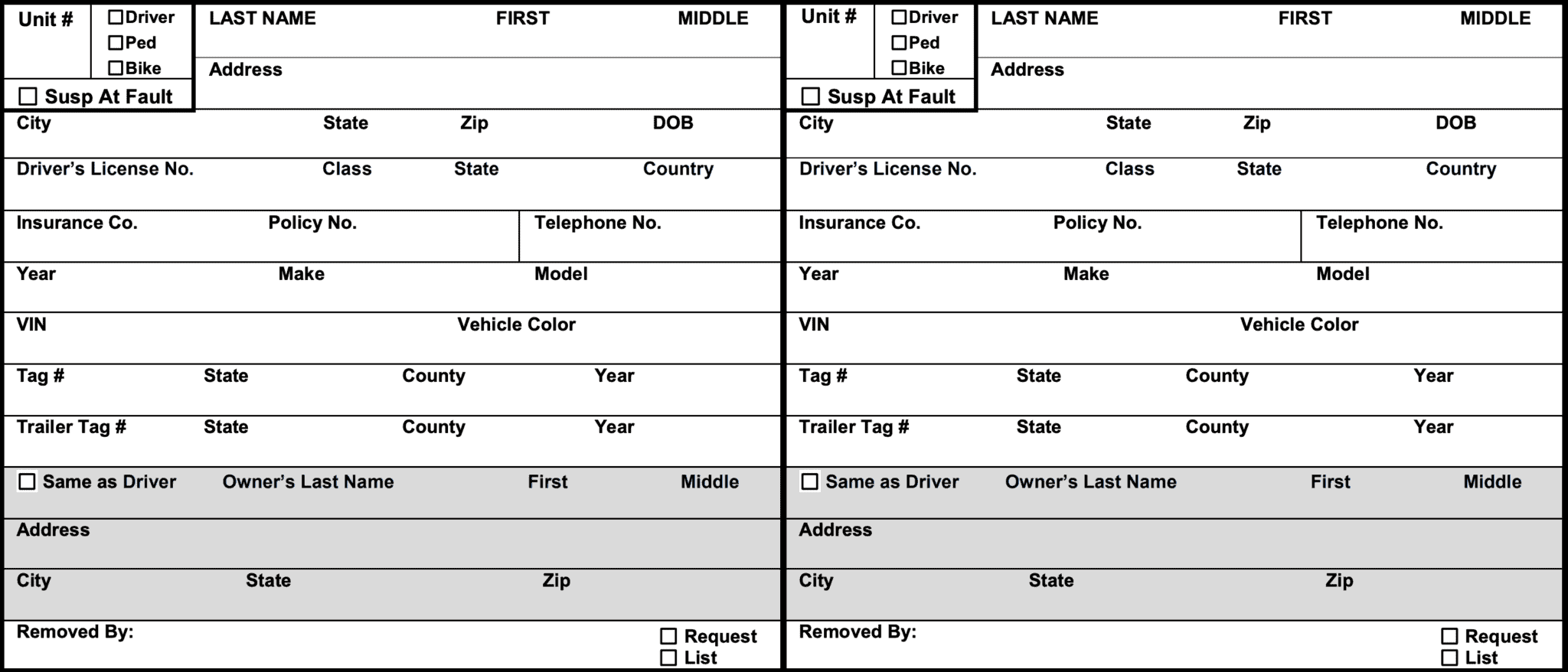 The next section of your Georgia accident report lists all the parties involved. The information includes the following:
Names of drivers
Addresses of drivers
Phone numbers of drivers
Insurance information on vehicles
Vehicle information (things like year, make, model, VIN, and owner's name and information if different than the driver)
This is section will likely determine if you will be able to proceed with a personal injury claim in Georgia. Driver 1 is typically deemed the at-fault driver, no matter if tickets were issued or not. Another important section is the insurance information. This section has the insurance company name and policy number so that you can call the company to start an auto accident claim. You will need the information in this section to properly start a claim.
Page 1, Part 3

The next section of the accident report would be the "contributing factors" — in other words, what caused the accident.
Contributing Factors to Consider
Speed of the vehicles at the time of impact
Direction of travel
Travel flow
Roadway conditions
Vehicle maneuvers (were drivers moving or stopped)
Vision obscured (maybe by signs or roadway debris)
Vehicle type (passenger or commercial)
Number of occupants in the car
Area of contact
Damage to vehicle
Next, you should see any citations that were issued listed. Which citations were issued is helpful in that it only takes a quick glance to verify what liabilities Driver 1 is responsible for. While you may not understand the statute codes (such as 40-6-49, which is following too closely), your attorney or the insurance adjuster will. This is evidence that someone was given a citation, and clearly lists the code they violated. If no tickets were issued, this box is usually filled with information that will be used later to argue for liability. The next section typically has the police officer's information and whether or not an ambulance was called to the scene. If so, it should indicate whether or not the ambulance transported anyone to a hospital and which medical facility the injured was taken to. This part is useful because you now have the police officer's information should you need to discuss any details of the accident report. It can also be useful during a personal injury claim if your attorney needs to speak with the officer.
Page 2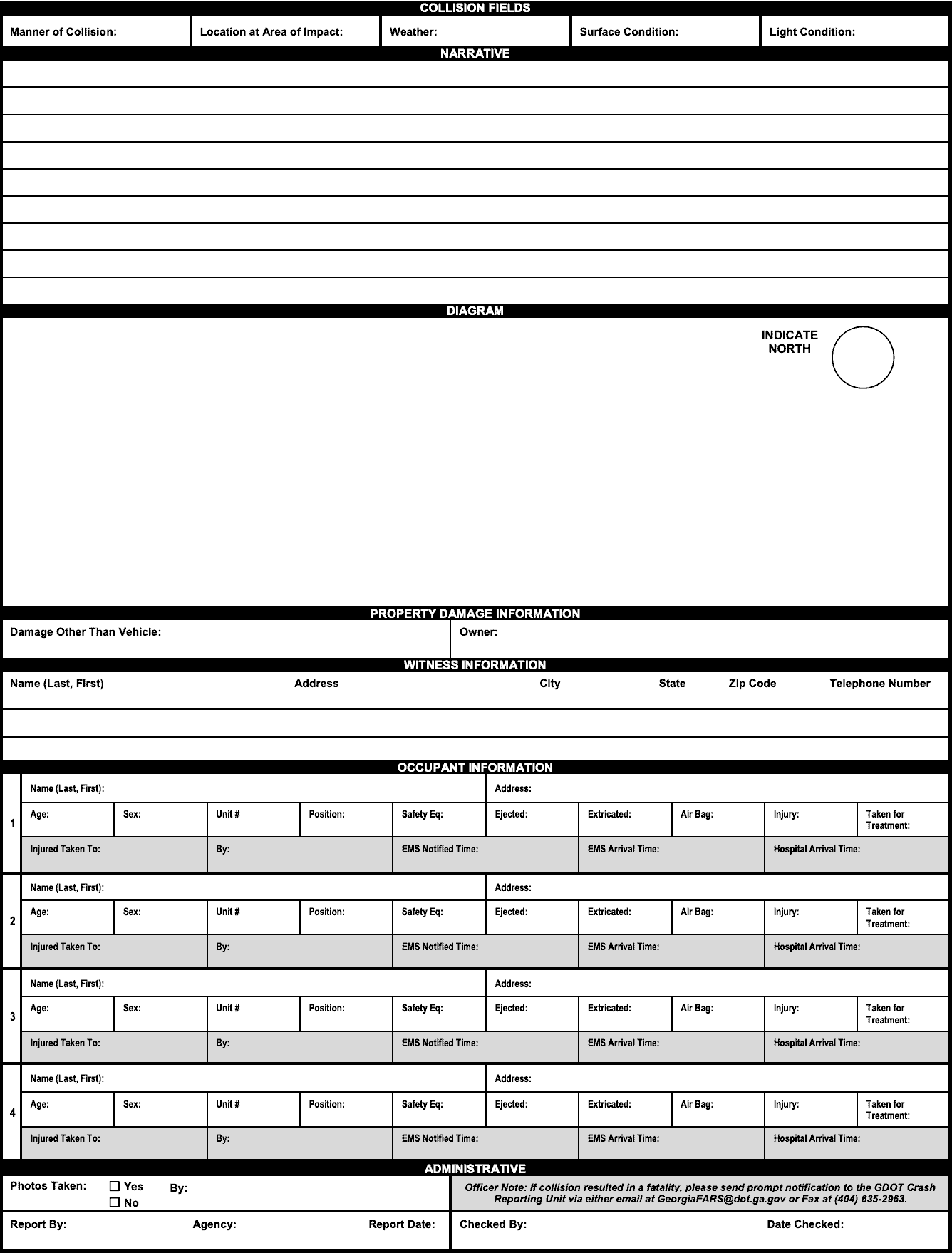 The second page of the accident report is just as important as the first page. The sections of this page include:
The narrative of the accident
A diagram of what happened during the accident
Citations issued
List of the vehicle occupants
The narrative of a Georgia motor vehicle accident report is gathered at the time of the accident when the officer asks each driver, passengers, and any witnesses what they believed happened to cause the accident. This section is basically the explanation for how the officer determined which driver was at fault and what citations will be issued. If no citations were given, this section explains how Driver 1 was found to have caused the accident, which is the language typically used to describe such labels.
The diagram is the map that helps provide a complete picture of what events actually took place and where. Your attorney may use this throughout your case to "paint a picture" of what happened. This information may also be useful in that later on in the case, your attorney will be able to request the disposition to see how the at-fault driver resolved the ticket. For instance, did the driver plead guilty or nolo contendere? This information will be important down the road as negotiations begin in your personal injury claim.
And finally, the last section of the second page will have information on any non-driver occupants of the involved vehicles. If you were involved in a motor vehicle accident, but you were a passenger, this section is important for you. This section informs the insurance company that there were multiple people involved in an accident that may require multiple claims. If you were a passenger in Driver 1's vehicle, you can still potentially have a personal injury claim against that driver.
---
Who fills out an accident report in Georgia?
If a death results from a motor vehicle accident, then in addition to the standard accident report, a specialized team with advanced training in accidents resulting in death is sent to investigate. In larger jurisdictions, such as Atlanta, this may be a team employed by the local law enforcement departments. If you have lost a loved on in a car accident, please contact one of our compassionate wrongful death lawyers.
On Georgia and federal highways and in rural jurisdictions (which do not have certified teams in-house), the Georgia State Patrol will send a Specialized Collision Reconstruction Team (SCRT). These SCRT teams consist of highly trained law enforcement technicians who are experts in performing forensic accident investigations. SCRT teams produce sophisticated reports that are often used in criminal prosecutions for vehicular homicide and are available in civil cases through the Georgia Open Records Act. There are 5 separate SCRT teams located throughout the state that can respond quickly in all regions.
---
What if there's an error or mistake in the Georgia motor vehicle accident report?
Police officers are human and make mistakes. Uncorrected mistakes can become part of the permanent record. If you see a mistake in the accident report, you should try to get it corrected as soon as possible. You should understand upfront, however, that this can be a real hassle. Officers are very busy and memories fade over time. An officer writes so many of these reports, he or she may not remember your accident, or they may confuse your accident with a different wreck.
It's very possible that a mistake made on a report can become a "fact" if the officer doesn't correct the document while it is fresh in his mind. Insurance adjusters generally follow what they read on the accident report. If it's wrong, you could be denied compensation for not only your property damages but also your personal injury. If you have a question about an accident report, or you think it is inaccurate, you should act quickly by contacting our experienced accident attorneys. Time is of the essence.
---
How Our Georgia Car Accident Attorneys Can Help
In order to understand whether mistakes have been made, one must understand the report itself. Reading and interpreting the document requires a "key" or "overlay" that is rarely provided by the police department. This key or overlay provides a description as to the meanings corresponding to the symbols and numbers in the report. A Georgia motor vehicle accident report provides the vital information needed right from the start to get a personal injury claim started.
While they can be confusing to read, they are extremely useful if you know what to look for. If you or someone you care about has suffered a serious injury or death because of another's negligence, and you would like to learn more about your legal rights, our experienced Georgia car accident lawyers can help. We have over 25 years of success handling accident cases, and we can quickly decipher the symbols and codes in your accident report to better understand what happened. From our main office in Duluth, we serve clients from offices in Decatur and represent victims throughout Atlanta and Georgia. To set up your free consultation, you can send us a message online or give us a call.
Accident Reporting Resources