Atlanta Highway Car Accidents Attorney
Serious crashes happen on Atlanta's highways and interstates each day.
If you or a loved one were a victim, Scholle Law can help you seek justice and compensation.
Attorney Charles Scholle leads a team of Gwinnett County lawyers and legal professionals who support Georgia's efforts to keep citizens safe on the highways. But when highway auto accidents do occur, Scholle Law is ready to do what it takes.
For over 20 years, we've assisted accident victims who are suffering from serious injuries, such as spinal injuries, brain injuries, skeletal injuries, soft tissue injuries and other medical challenges. We have earned a reputation for excellence and compassion.
Our Atlanta car accident attorneys can help you recover after your highway crash
Highway car and truck accidents are a fact of life in the greater Atlanta area, as well as Georgia in general. Nearly 7 million drivers travel on Georgia's extensive network of freeways, highways, interstates and intersections every day. Unsurprisingly, a fraction of these drivers never make it to their destinations. More than 1,500 people lose their lives on Georgia roadways every year, and thousands more are seriously injured.
Such numbers have led the Georgia governor to create the Strategic Highway Safety Plan (SHSP). This plan is intended to reduce highway auto crashes, injuries and fatalities by increasing awareness and education, improving engineering and consulting law enforcement and emergency medical services. The hope is that drivers will "Buckle up, slow down and drive sober."
While Scholle Law fully supports the governor's plan, as well as Georgia's Injury Prevention Program (which is intended to prevent injuries in our major cities and throughout the state), we understand that highway auto accidents will continue to happen no matter what. And when they do, victims and their families can count on the legal team at Scholle Law to be their strongest advocates.
What to do after a highway crash in Atlanta, Georgia
Auto accidents on busy highways and interstates are scary ordeals, often full of confusion, shock and disbelief. If you are involved in an auto crash, follow these step-by-step instructions in order to protect your health and your legal rights.
Step 1: Pull over and call 911
You may be driving alone without a care when — BAM — you get hit by another vehicle. First, try to pull your car over safely to the side of the road, if possible, to avoid getting hit by other passing vehicles. If your car is too damaged and cannot be moved, that's okay. Leave it where it is and dial 911. Tell the dispatcher if you or anyone else in your vehicle appear to be injured. The dispatcher will send an ambulance to your location if needed, and local police and firefighters may be dispatched to the accident scene as well.
If you are injured and need medical treatment immediately, you can skip to Step 4. If not, continue to Step 2.
Step 2: Listen to law enforcement
When police officers, sheriffs, firefighters or other first responders arrive at the scene, follow their instructions and answer their questions truthfully. When talking with police, be sure to stick with the facts and don't be afraid to say "I don't know" or "I can't recall." It's understandable that you may be flustered and in shock, so your memory about what happened may be foggy. Avoid apologizing or saying that the crash was your fault. Let the officers determine what occurred and who was responsible. It's their job — not yours.
Step 3: Gather evidence and witness information
Before you leave the accident scene and before anything is changed, try to take as many pictures and videos as possible of the crash. Be sure to snap photos of your vehicle's damage, as well as the damage to the other vehicle. Try to get images of the surrounding environment too, such as the road and weather conditions. This evidence might be crucial down the road to prove your claim.
Also, write down or take pictures of the other driver's license and insurance information. Then, be sure to give them your information as well. In addition, get the names and contact information of any witnesses who saw the crash.
Step 4: Notify your insurance company
As soon as possible (ideally the same day), call your auto insurance company and tell them that you were involved in a highway accident. Notifying your insurer promptly will help start the claims process and ensure that you are holding up your end of the deal. They should give you information about what documents you'll need to complete and how to proceed.
When talking with the insurance adjuster, don't agree to a recorded statement and don't sign anything before speaking with your lawyer. As with the police, avoid apologizing or implying that you think you were at fault. Stick to the facts.
Step 5: Consult a local attorney near you
If the crash was minor (with no injuries and little to no damage), you may be able to resolve the issue on your own, without consulting an attorney. However, most highway auto accidents involve catastrophic injuries and damage, meaning the claim will be much more complicated and confusing.
For instance, if you were knocked unconscious, seriously injured or disabled in the collision, you may have been unable to complete some of the steps listed above such as gather evidence or get witness contact information.
Our experienced Atlanta lawyers can get the police report and request important documents to determine what caused your crash. We can also consult with accident reconstructionists, medical doctors and other experts to determine important elements of your case such as liability and damages.
Other reasons to contact an auto accident lawyer include:
If the crash resulted in serious and significant injuries or a death

If the collision involved a driver who was drunk, distracted or reckless

If the police were unable to determine who was responsible for the accident

If the police report is inaccurate or doesn't accurately reflect what happened

If you or the other driver were uninsured

If an insurance company is acting strangely or dishonestly

If your damages exceed what is covered by insurance

If you have unanswered questions about your legal rights
Most deadly highways and interstates in Georgia
While any road can be dangerous under the wrong circumstances, data can reveal where certain stretches of roadways result in higher rates of injuries and fatalities than others.
Based on motor vehicle collision statistics in recent years, some of the most deadly highways and interstates in Georgia include:
I-285

I-70

I-20

Mike Padgett Highway

I-85

Old National Highway

I-75

Athens Highway

Gordon Highway

I-516

Cartersville Hwy SE

State Route 36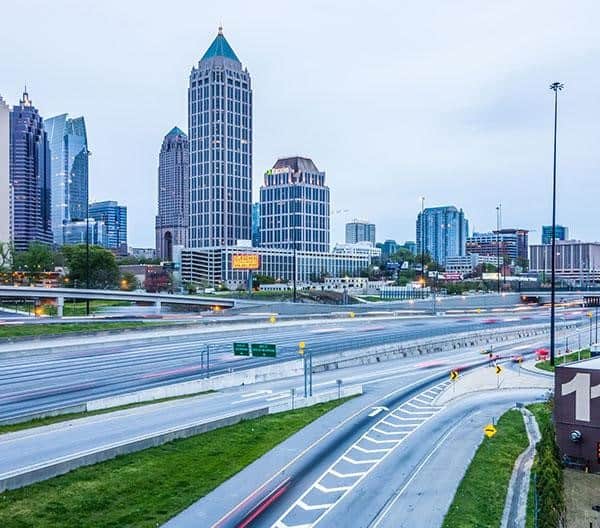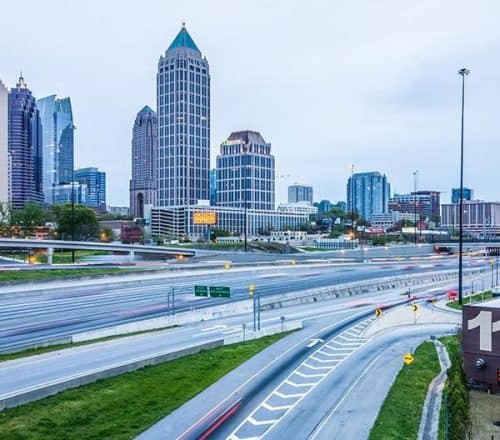 Auto accident statistics in Georgia
Did you know that more than 70 drivers are hurt in car accidents across Georgia every hour? That means there are more than 1,200 car crashes every day. In total, the Georgia Department of Transportation reports more than 300,000 traffic accidents in the state each year, resulting in roughly 130,000 injuries.
In 2018, GDOT reported that more than 1,500 people died in auto accidents, an average of 4 per day in our state alone. GDOT says 70 percent of fatal crashes were caused by unsafe driving behaviors, including distracted driving, driving while under the influence or driving too fast for conditions. About 59 percent of those who were killed weren't wearing a seatbelt at the time of the crash, and 17 percent of fatalities were pedestrians. On top of that, highway auto accidents appear to be on the rise.
Passenger cars are 3 times more likely than pickup trucks to be involved in a crash, with yearly figures hitting an average of 300,000 for cars and 100,000 for pickups. SUVs and vans rank third and fourth, with roughly 90,000 and 35,000 crashes each year respectively. Tractor-trailer trucks account for about 13,000 crashes each year, and motorcycles and motorized bikes are involved in about 4,000 crashes.
Rural counties have higher rates of fatal crashes. About 60 percent of crashes on Georgia roadways are single-vehicle crashes. About 40 percent of crashes are multi-vehicle and can involve any number of cars and/or trucks.
A shocking 45 percent of people involved in a crash in Georgia weren't using proper safety equipment like seatbelts. So please buckle up, put down your device and take responsibility to protect yourself, any passengers in your vehicle, other drivers and any bikers or pedestrians you may encounter on the roadways.
Common causes of highway auto collisions
When some drivers get on the highway, they are actually not ready to drive safely. They might be distracted drivers using their cellphones, or they're fatigued or under the influence of medication, alcohol or drugs. Some drivers habitually drive aggressively, which is a dangerous practice. They might also think that speeding will get them to their destination faster, but instead, it greatly raises their likelihood of a highway accident.
The leading causes of highway car crashes are:
Speeding

Tailgating

Failure to yield

Improper lane change

Driving on the wrong side of the road

Alcohol or drugs in the driver's system

Reckless driving/losing control

Animal or object in the roadway

Poor weather conditions

Disregarding stop sign/signal

Design flaws
Is there a deadline to file an auto accident claim?
Yes. The city of Atlanta, Gwinnett County and the entire state of Georgia has a time limit (known as the "statute of limitations") that applies to all personal injury cases. In most auto accident lawsuits, you only have 2 years to file an injury claim. If you fail to file your lawsuit before this deadline, you will most likely lose your ability to recover compensation for your damages. Talk to an accident attorney as soon as possible if you have questions in order to give ample time to build a strong case before the statute of limitations expires.
Don't delay. Get justice and compensation now.
Families often need help when a tragic highway accident occurs in Atlanta or elsewhere in Georgia. When you are represented by Scholle Law, you can rest assured that Charles Scholle and his team will fight aggressively until you and your family receive the compensation you deserve. Our commitment and care for victims of highway crashes with severe or fatal injuries has been proven time and time again over the past 2 decades. We will make your recovery a top priority and communicate with you every step of the way. Don't let the negligence of another driver stop you from talking with an attorney today.
Scholle Law has offices conveniently located in Duluth, the Perimeter,  and Decatur. If you or a loved one were injured in a highway crash, contact Scholle Law or call us toll-free 866-592-1296  to schedule up your free consultation. This evaluation is free of charge and you're not obligated to make a decision. We'll simply provide you with answers.