Atlanta Parking Lot Accidents Lawyer
Were you involved in a collision in a parking lot or garage?
Our Atlanta car accident attorneys can untangle the mess of establishing fault and proving liability.
In Georgia, drivers who are backing or pulling out of a parking space must yield the right of way to any vehicles or pedestrians that are traveling down the lane. If 2 cars are backing out of different spaces at the same time and rear end each other, both drivers may be held equally responsible.
For many reasons, proving liability (fault) in a parking lot accident may be more difficult than proving negligence for a roadway accident. If you were injured or suffered serious property damage, we can answer your questions about what to do and who will pay for your medical expenses, lost wages, pain and suffering and other damages. Let us help you.
What to do after a parking lot accident
Immediately following a car collision in a parking lot, parking garage or anywhere else in Georgia, you should evaluate yourself and your passengers to find out if anyone is injured. Next, call 911 to report the incident. The dispatcher will send a police officer to the accident scene to report the incident, as well as call an ambulance if necessary.
If nobody appears to be injured, exchange contact and insurance information with the driver of the other vehicle. In addition, collect the names and contact information of nearby people who witnessed the collision. Before leaving the scene, be sure to take pictures of each vehicle involved as well as the general scene.
Never admit fault to anyone at the accident scene (including police). Even seemingly minor and straightforward fender benders may be caused by multiple factors. Let the police and your attorney do their jobs, and don't give an insurance company the excuse they need to deny or reduce your potential claim.
Also, don't leave the accident scene until the police officer gives you permission; otherwise, you might be charged with a hit-and-run.
You'll also need to contact your auto insurance company and notify them about the accident as soon as possible.
Even if you don't think you were hurt, we strongly recommend that you visit your doctor for a medical evaluation as soon as possible after a collision. Even minor car accidents at low speeds can result in serious injuries. The sooner you see a medical professional, the better your chances are of discovering a hidden injury and receiving treatment.
Lastly, if you were involved in a parking lot accident (as a motorist, pedestrian, bicyclist or motorcyclist) and suffered an injury as a result — or if liability is disputed, as is often the case — then we invite you to contact our experienced Atlanta car accident law firm. At Scholle Law, we offer a FREE consultation with a knowledgeable and friendly attorney near you. We've helped countless crash victims get through this difficult time and secure the financial compensation they deserve. We want to help you, too.
Why talk to a top-rated Atlanta car crash lawyer?
Compared to minor car accidents, collisions in parking lots and parking garages are often more complicated and complex when it comes to determining fault, especially if the other driver fled the accident scene (as is common in parking lot accidents).
If the crash involved a pedestrian, the injuries might be extremely severe, if not fatal. In such cases, it's crucial accident victims hire a highly qualified and experienced local car crash attorney who knows what needs to be done to secure a proper recovery. Few attorneys in Atlanta have the experience, skill and passion needed to properly represent car accident victims as attorney Charles Scholle.
For example, Scholle Law was able to secure a $200,000 policy limits settlement for a couple who both suffered severe neck injuries in a collision caused by another driver who fled the scene of the accident.
Over the last 20 years, we've recovered millions of dollars for our clients in personal injury verdicts and settlements in Atlanta and across Georgia, including parking lot accidents.
If you were involved in a crash, contact us immediately so that we can begin investigating your case and advise you of your legal options before the statute of limitations expires on your case. Following the free initial consultation, we'll take aggressive and vital legal action by:
Investigating and documenting the accident scene, then gathering evidence to prove fault

Calculating the full extent of your damages — including economic losses (medical bills, lost wages, loss of income, etc.) and non-economic losses (pain and suffering, loss of consortium, etc.)

Filing the necessary paperwork and meeting deadlines to ensure you get compensation sooner

Negotiating on your behalf with the other party and insurers to make sure you receive a full and fair settlement

Skillfully representing your case in court (if necessary)
At Scholle Law, your initial consultation is 100% free — no cost, no commitment. During this meeting, we'll carefully listen to your story, answer your most pressing questions and evaluate your claim to determine your best next steps.
If we think we can help you and you decide to hire us to represent you, then we'll get started right away. We operate under a contingency fee arrangement, which means you only pay for our expert legal services when we win your case. If we don't win, you don't owe us a penny. It's that simple.
We serve clients throughout Metro Atlanta and the state of Georgia.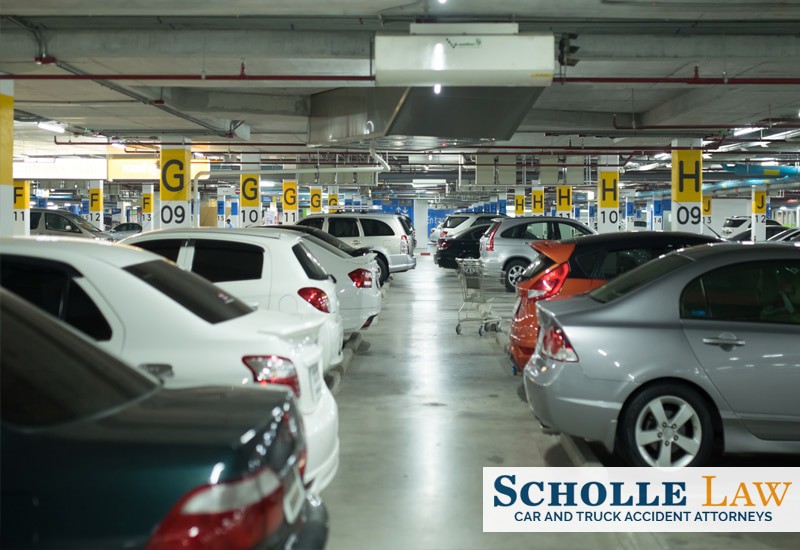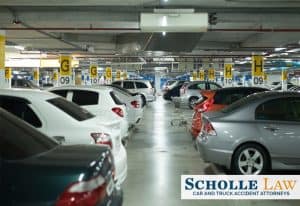 Common types of parking lot accidents
With so many cars backing up, pulling in and turning out of a small space — not to mention lots of pedestrians and often dim lighting — the environment around parking lots and parking garages can be a terrible recipe for danger. Add that to the fact that people aren't perfect and often make bad decisions such as speeding, distracted driving or driving drunk, and it's easy to see how accidents happen.
Here are a few common scenarios that result in parking lot car accidents in Atlanta, GA:
A driver backs out of the parking spot into a pedestrian or another vehicle.

A driver pulls through an open parking spot and hits another vehicle or pedestrian.

Two drivers back out of a parking spot at the same time and rear end each other.

A pedestrian (adult or child) is hit by a car while entering or exiting the store.

A driver rear ends another vehicle that stops for a pedestrian or stop sign.

Two drivers try to get the same parking space.
Who's at fault in my Atlanta parking lot accident?
Many parking lot accidents require help and advice from an experienced and knowledgeable Atlanta attorney for a number of reasons. For starters, determining liability may be more complex and challenging. Georgia follows an at-fault system when it comes to liability, which means that each party is responsible for their degree (or percentage) of fault. Typically, it's up to the courts to determine your percentage of fault based on the police report and evidence from the scene of the collision.
Under Georgia's comparative fault rule, if you're found to be less than 50 percent at fault, your final award or settlement will be reduced by the amount equivalent to your degree of fault. If you are found to be 50 percent or more responsible for the crash, then you won't be able to recover any damages whatsoever.
With parking lot accidents, it can often be difficult to determine who really caused the crash in cases of he said/she said. Who was ultimately responsible — the other driver, the pedestrian, a third-party? It's the job of the police to analyze accident scene evidence to write a report that gives their objective view of what happened, and it's your attorney's job to frame that evidence to the court in a way that reduces your liability and increases the likelihood of a large settlement or award.
In order to prove liability, it's important to establish who had the right of way according to Georgia law. For instance, if you were walking to your car and were struck by a vehicle, the driver will generally be considered at fault. Similarly, it's vital to determine which vehicles were moving and when motion occurred.
For example, if you were rear ended by another driver who backed out of a different parking spot at the same time, our experts can gather witness accounts and video footage to show that you started backing up first and therefore had the right of way. If the other driver was distracted or drunk, we can also gather evidence to prove that these factors contributed to the accident.
Parking lot car accident statistics
On average, more than 50,000 crashes occur in parking lots and parking garages annually, resulting in 500 or more deaths and more than 60,000 injuries.

About 20 percent of all vehicle accidents happen in parking lots.

Sixty-six percent of drivers nationwide said they would make phone calls while driving through parking lots.

Over half of teens surveyed (59 percent) were more likely to engage in personal grooming than adults (53 percent) while driving in parking lots, but less likely to be on the phone.

Nine percent of pedestrian deaths in parking lots result from backup incidents.
Sources:
https://www.nsc.org/road-safety/safety-topics/distracted-driving/parking-lot-safety
https://www.ehstoday.com/safety/article/21917821/black-friday-alert-driving-through-a-parking-lot-is-still-driving
https://www.iii.org/fact-statistic/facts-statistics-highway-safety
When to contact an experienced car accident attorney near you
Some minor car crashes and fender benders can be resolved easily between the drivers and their insurance companies, especially if nobody was hurt and there was little to no property damage. However, if you were seriously injured, experienced significant financial loss or there's a dispute regarding liability, it's time to consider meeting with a lawyer who specializes in car accident cases to ensure you get a fair settlement.
At Scholle Law, we've represented car accident victims for over 20 years and we have recovered millions of dollars for our clients in personal injury verdicts and settlements across the state of Georgia, including in parking lot injury cases.
We invite you to get free legal advice from our Atlanta offices to find out how we can get you compensation for ALL of your damages, including:
Funeral and burial expenses (in the event of a 

fatal accident

)

Medical bills, prescriptions and treatments

Lost wages

Property damage

Pain and suffering

And more…