Atlanta Rollover Car Accidents Attorney
Were you injured in a rollover crash?
Find out how Atlanta accident attorney Charles Scholle can help you.
Being involved in a rollover crash can be an incredibly scary experience. Instances of rollover crashes have increased in frequency throughout the Metro Atlanta area and across the country as a whole. Tragically, authorities say alcohol is involved in nearly half of all rollovers. Rollover crashes are a complex series of events which can also be influenced by the interaction between the driver, vehicle, road and environmental factors (rain or snow, for example).
Many types of vehicles can be involved in rollover crashes, such as SUVs, pickup trucks, tractor trailers, buses and other vehicles that carry passengers as well as loads. In particular, rollover car accidents have been on the rise due to the popularity of larger vehicles such as SUVs, which have a greater likelihood of tipping over due to their size, weight and higher center of gravity.
While rollovers represent only about 8 percent of crashes involving SUVs, cars and pickups, they are a particularly deadly type of crash. About 21 percent of victims are seriously injured and 31 percent are killed in rollovers. In other words, rollovers might not happen often, but when they do, they can be very serious and very deadly.
Our Atlanta-based auto injury attorneys at Scholle Law provide the victims of rollover crashes the highest level of support due to our knowledge and abilities. Charles Scholle has over 20 years of experience representing clients involved in rollover accidents, and he can help. Whether you were driving in a rollover accident or were a passenger in a vehicle that rolled over, we can give you guidance and advice about recovering from your injuries and determining liability for the accident.
Rollover car accident statistics
Rollovers have a higher fatality rate than other kinds of crashes. Of the nearly 9.1 million passenger car, SUV, pickup and van crashes in 2010, only 2.1 percent involved a rollover. However, rollovers accounted for nearly 35 percent of all deaths from passenger vehicle crashes.

In 2018, rollover crashes accounted for 20 percent of occupant deaths in cars, 40 percent of occupant deaths in pickups, and 42 percent of occupant deaths in SUVs.

In 2010 alone, more than 7,600 people died in rollover crashes. The majority of them (69 percent) were not wearing safety belts. A total of 6,583 passenger vehicle occupants died in rollover crashes in 2018.

NHTSA data show that 95 percent of single-vehicle rollovers are tripped. Untripped rollovers occur less than 5 percent of the time, and most involve top-heavy vehicles such as SUVs and commercial vehicles.

According to the IIHS, the rollover driver-death rate among newer (1 to 3 year old) passenger vehicles dropped from 27 in the year 2000 to 6 in 2012. The newest SUVs have lower rates than the newest cars.

About 40 percent of fatal rollovers involve excessive speed.

Although most rollovers (72 percent) were associated with a pre-rollover impact, a substantial proportion (28 percent) rolled over without having impacted anything beforehand.

In 2018, single-vehicle rollover crashes accounted for 16 percent of occupant deaths in cars, 31 percent of occupant deaths in pickups, and 31 percent of occupant deaths in SUVs.

Since 1978, driver death rates for single-vehicle rollover crashes have declined across all passenger vehicle types, particularly among SUVs.
Sources:
https://www.safercar.gov/Vehicle-Shoppers/Rollover
https://www.consumerreports.org/cro/2012/02/rollover-101/index.htm
https://www.iihs.org/topics/fatality-statistics/detail/passenger-vehicle-occupants
What is a rollover crash?
The Insurance Institute for Highway Safety (IIHS) defines a rollover as a crash that occurs "if the vehicle tips onto its side or roof at any time during the crash. The rollover may result from an impact with another vehicle or with a fixed object. Many rollovers occur after a vehicle leaves the roadway and may lead to occupants being ejected from the vehicle, increasing the likelihood of a fatality."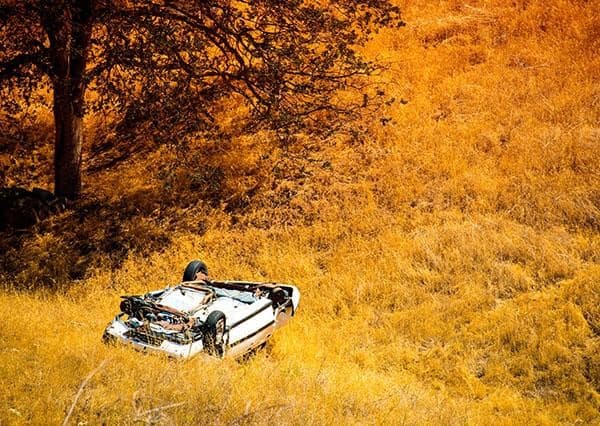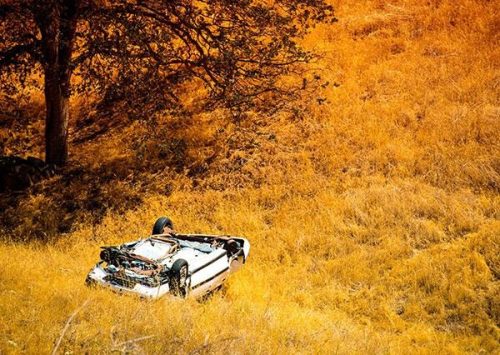 Types and causes of rollover car accidents
Contrary to common belief, most rollovers aren't caused by a driver jerking the steering wheel too far while traveling too fast. They are actually most often caused when the vehicle is "tripped," meaning the car or truck departs the roadway after hitting a curb, soft shoulder or any object that trips the vehicle. Aside from tripped rollovers, sometimes rollovers are caused by a blown tire or panicked swerving (known as an "untripped" rollover).
Examples of tripped rollovers
Soft soil

Guardrail

Steep slope

Curb
Examples of untripped rollovers
Sudden collision avoidance

High speed

Sharp turn
Are SUVs more likely to roll over?
Georgia's Office of Consumer Protection notes that most Americans believe they are actually safer in an SUV than a car, and have a greater sense of power in these vehicles. But in fact, SUVs roll over more often than passenger cars in motor vehicle crashes. In recent years, an estimated 37 percent of fatal crashes involved an SUV rollover. In contrast, the rollover rate for passenger cars is about 15 percent.
Imagine an SUV turning a sharp curve and being hit by another vehicle at the same time. The physics of these circumstances is clear. When the SUV is hit, the center of gravity is much higher than with a lower vehicle. When an SUV is involved in an accident, the chances of it losing its grip on the road and becoming airborne is also higher.
In recent years, SUV rollover crashes have had the highest occupant fatality rate of any vehicle – higher than pickup trucks, vans and passenger cars. Efforts are being made to improve SUV safety and avoid rollovers by vehicles with a lower center of gravity and using technology to help stabilize the vehicle, but they are still more difficult to handle in certain driving circumstances.
Unfortunately, even in single vehicle crashes, SUVs are more likely to cause death or injury than other types of single vehicle crashes. This is because drivers can lose control of the vehicle, causing it to slip and making it nearly impossible for the driver to keep the vehicle upright with all 4 wheels on the road. Once gravity takes over, the SUV is more likely to roll over.
Common rollover crash injuries
Rollover crashes often result in serious and long-term injuries. In some cases, crash victims and their families may be able to get compensated for the medical expenses, lost wages and pain and suffering arising from these injuries.
The most common catastrophic injuries after a rollover crash include:
Traumatic brain injury (TBI)

Spinal cord injury

Paralysis

Amputation

Broken bones

Internal injuries (organ damage, bleeding, etc.)

Wrongful death
How to prevent rollover car accidents
The National Highway Traffic Safety Administration (NHTSA) suggests that drivers can minimize their risk of a rollover crash by following these 8 safe driving tips:
Avoiding panic steering or sudden jerking movements of the steering wheel.

Alcohol and driving never mix – have a designated driver or don't drink.

Limit your distractions by leaving the phone alone and don't play with your radio.

Be aware of your vehicle's blind spots and make small corrections to your direction (don't jerk the wheel).

Avoid or limit any nighttime driving.

Don't make sudden maneuvers to avoid hitting an animal crossing the road, since aggressive swerving could lead to a rollover.

Know proper maneuvers such as reducing your speed, maintaining the proper tire pressure, and making sure you have loaded your vehicle to distribute weight correctly.

Purchase a vehicle with Electronic Stability Control (ESC) and always use it (leave it engaged).
Experts also suggest being cautious while driving on rural roads. A majority of rollover accidents in the United States happen on rural roads where there might not be a shoulder or a barrier. Many of these accidents occur at night, when it is more likely that drivers will become fatigued or cannot see the road as well as during daylight hours.
Another little known fact is that a majority of rollovers are single-vehicle crashes, and the drivers tend to be male and under the age of 40.
Is there a time limit for filing my car accident claim?
Yes. The city of Atlanta, Gwinnett County and the entire state of Georgia enforces a deadline on car accident lawsuits (known as the "statute of limitations"). In general, most people injured by a car crash have just 2 years to file a claim. If you don't file your lawsuit before this deadline, you will lose your ability to recover compensation for your damages. It takes time to prepare a compelling case on your behalf, which is why you should talk with a car accident lawyer as soon as possible if you have questions about your case.
Call Scholle Law for your free consultation 866-592-1296.
When to contact our Atlanta car accident lawyers
Charles Scholle and the Scholle Law team have the knowledge, experience and passion to help clients deal with the difficulties presented by rollover accidents. Often, this type of car accident causes severe or fatal injuries due to the forces that are at work as the vehicle is rolling. Catastrophic injuries such as severe brain trauma and skeletal injuries often occur, requiring tremendous medical costs and extensive follow-up support. You cannot and should not manage this on your own. The legal process can be challenging if you need to prove your rollover accident was caused by the negligence or recklessness of others.
"We can help you and your family members with the legal and medical support needed after a rollover crash," says attorney Charles Scholle. "We provide the best in legal representation, along with the compassionate support that all victims need after a traumatic experience like a rollover accident."
If you need help navigating the complex legal steps following a rollover car accident, then contact Scholle Law today to schedule your free consultation.
Verdicts & settlements
$5,500,000 Auto crash Settlement for a Gwinnett County resident who suffered a traumatic brain injury in an accident, suffering brain damage and multiple fractures.
$915,000 Auto accident case Plaintiff suffered permanent orthopedic injury in a car wreck.
$441,000 Automobile accident Gwinnett County woman suffered a meniscus tear to her knee, back injuries and post-traumatic headaches following a collision.
$441,000 Automobile accident Woman and toddler son in Gwinnett injured in crash. Woman suffered fractured knee, back and neck injuries. Toddler suffered contusions and emotional distress.