Atlanta Sideswipe Accidents Attorney
A sideswipe car accident can happen at any time in Georgia.
Don't wait to contact Scholle Law if you need experienced legal representation.
If you've been in a sideswipe car accident, you probably have lots of questions. Fortunately, attorney Charles Scholle has answers. He leads a team of experienced Gwinnett County lawyers and legal professionals who specialize in car, truck and motorcycle accidents. For over 20 years, we've helped accident victims who are suffering from serious injuries — including spinal injuries, brain injuries, skeletal injuries, soft tissue injuries and other medical challenges — recover the compensation they deserve.
For example, we were able to secure a $390,000 truck accident settlement for our client who suffered a neck injury requiring surgery after he was sideswiped by a Schneider truck on Interstate 85 North near Columbus, Georgia.
Over the last couple decades, our firm has earned a strong reputation in the local community for our commitment, excellence and compassion.
Let us put this reputation to work for you by negotiating the maximum settlement possible and fighting for your rights in court, if needed.
You don't have to handle a car accident claim on your own. If you need help or have questions, contact Scholle Law today to schedule your free consultation.
How our Atlanta car accident attorneys can help you recover from a sideswipe collision
Sideswipes are common on Georgia's roadways, and they're happening with greater frequency due to busier roads and the rise in distracted driving. Many sideswipe car accidents result in minor vehicle damage, but not all. Some sideswipes happen at high speeds or on packed roads, which can set off a chain reaction of events that leads to a serious and devastating collision.
A sideswipe accident occurs when 2 or more vehicles driving side-by-side collide, often because one of the drivers attempted to change lanes or swerved into another lane of traffic. Sometimes, sideswipe car accidents happen when a negligent driver fails to check whether he or she can safely change lanes prior to entering the lane or prior to merging onto a roadway. Sideswipes also frequently happen when a driver is distracted, falls asleep or is intoxicated.
Whatever the cause, the consequences of a collision can be catastrophic. If you or a loved one were seriously injured in a sideswipe car accident, it's time to get help from a legal professional. During your initial consultation, we'll listen to your story and explain your options. We don't expect you to make a decision or commit to hiring us right away; we just want to give you the information you need to make the right decision that's best for you and your family.
Securing the rights of our clients, and helping them to heal physically and emotionally from trauma, makes my job worthwhile. Clients and former clients are grateful for the legal work we have done for them and the support we provide.
– Charles Scholle, Atlanta car accident attorney
What to do if you've been sideswiped
If you've been the victim of a sideswipe or caused a collision, the first thing you should do is try to control your vehicle and remain calm. You only have seconds to react, and the key to minimizing the damage is to avoid overreacting or over correcting. Don't jerk the steering wheel one way; instead, make small adjustments until you're able to separate from the other vehicle. Drastic over-corrections can cause you to dangerously swerve into another lane or hit another vehicle. Apply your brakes in a steady manor and slow your vehicle as you head towards the road shoulder.
Once you've safely steered your vehicle to a stop, follow these steps.
Step 1: Pull over and call 911
Pull over as soon as it's safe for you to do so. Once you come to a complete stop, assess yourself and your passengers for any injuries, then call 911 and tell the dispatcher what happened, where you are and if anyone in your vehicle appears to be hurt.
Step 2: Gather evidence and witness information
Now that police and EMS are on their way, check to see if the other driver has also stopped. If neither you or anyone else appears to be injured, try to collect the other driver's contact and insurance information, then take pictures of any damage to your vehicle, the other vehicle and the accident scene.
There may also be witnesses who stopped to offer help. Before they leave, ask them to wait to talk to police in order to help complete the police report and get their contact information as well.
Step 3: Notify your insurance company
Before you leave the accident scene or shortly after, call your auto insurance company and notify them that you were in a car accident. Don't give a recorded statement yet, or admit to being at fault (even if you were). Simply tell them the facts.
Step 4: Seek medical attention
If you were seriously injured during the crash, you may have been whisked away to the nearest hospital via an ambulance to receive emergency medical treatment. However, even if you don't feel hurt and weren't treated at the accident scene, we strongly recommend that you visit your doctor to receive a post-accident medical evaluation and check-up. In the aftermath of a collision, when your adrenaline is flowing, you may not realize that you've been injured until hours, days or even weeks later. The sooner you seek medical care and treatment, the better.
Step 5: Contact a local attorney near you
Lastly, if you've been injured or are unsure of how to work with the insurance company, reach out to Scholle Law today. We can help guide you through the entire legal process step-by-step to make sure you get the justice and compensation you deserve.
Common causes of sideswipe car accidents
You may have been driving along, minding your own business, when all of a sudden — BAM! You feel a tremendous impact from the side and your entire vehicle shakes.
What just happened? How did you get sideswiped?
While there are countless reasons why a collision might happen, here are the most common causes of sideswipe accidents:
A driver changes lanes without looking or checking blind spots

A driver drifts out of their lane due to distractions (i.e. texting on their phone, changing the music or station, etc.)

A driver is under the influence of drugs or alcohol

A driver behaves recklessly or aggressively due to road rage

A vehicle hydroplanes and loses control on wet or snowy roads

A driver fails to use their blinker to signal a lane change

Two drivers merge into the same lane without checking lane traffic

Multiple vehicles attempt to merge at once
A sideswipe crash can occur because of a variety of reasons, under all sorts of conditions, and at any time of day or night. The best you can do is to be an alert and attentive driver to reduce your chances of becoming a sideswipe crash victim. But you can't control other drivers, and for that reason, you still might be involved in a collision. If you are, talk to an experienced car accident lawyer near you about your rights and what to do next.
Head-on sideswipe car accidents
A particularly dangerous and deadly type of sideswipe crash is when 2 vehicles are traveling towards each other and one (or both) drivers make a last-minute correction to avoid a head-on collision. Head-on sideswipes are rare and don't happen often on highways or interstates since there is often a median, but they are more common on rural roads where 2 vehicles approach each other at slow or moderate speeds in opposite directions.
Although many newer vehicles come equipped with side airbags and blind spot warning technology to help drivers avoid sideswipe crashes, these are still common causes of serious and fatal injuries. Sideswipes can involve multiple vehicles depending on the circumstances. Such collisions are extremely dangerous, especially when the vehicles involved are traveling at high speeds on busy freeways or interstates.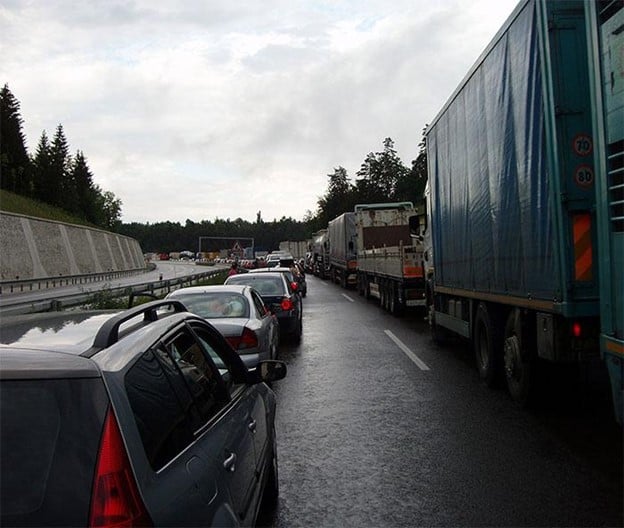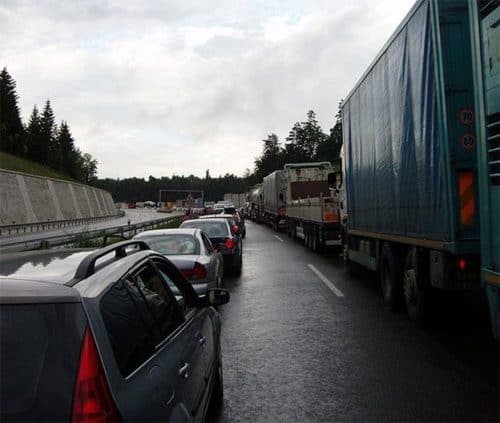 Who's to blame in a sideswipe collision?
For a number of reasons, determining fault in a sideswipe crash can be particularly complicated, especially when one of the drivers doesn't stop and flees the accident scene (known as a "hit and run"). However, the issue of liability is extremely important in car accident cases in Georgia.
According to Georgia modified comparative negligence law, as long as you were less than 50% at fault, you may be able to recover money for personal injuries and property damage sustained in the accident.
But if you are found to be 50% or more at fault for the collision, then you aren't eligible to receive any compensation since it was determined that you were equally, mostly or totally at fault.
Take this example:
Let's say you were driving down I-75 in downtown Atlanta when the vehicle in front of you suddenly slams on their brakes to avoid stopped traffic. Unfortunately, you were driving too close and therefore had to swerve into the right lane to avoid rear-ending the car. In the process, you sideswipe another car.
Who's at fault?
The driver who slammed on their brakes might be at fault, or you could be held partially responsible for following too closely. A determination of fault largely depends on police interviews with the drivers and eyewitnesses, as well as their personal interpretations of the crash scene.
Whether you are at fault for a sideswipe collision or not, it may be in your best interests to hire an attorney to represent you.
Georgia's signaling, turning and lane change laws
Georgia law requires that drivers signal before turning, changing lanes, slowing or stopping. Under the Official Code of Georgia (section 40-6-123 (a)), drivers must not "change lanes or move right or left upon a roadway unless and until such movement can be made with reasonable safety."
This provision also requires that vehicles must provide a proper and timely turning signal. An appropriate signal must "be given continuously for a time sufficient to alert the driver of a vehicle proceeding from the rear in the same direction" and must indicate their intention to turn or change lanes.
Unfortunately, many drivers behave as if they are the only vehicle on the road. When a driver fails to warn other drivers that they intend to make a lane change or intend to merge into traffic, this can cause a dangerous sideswipe car accident. In such cases, the driver who violated Georgia driving laws should be held liable.
Is there a deadline to file an auto accident claim?
Yes. The city of Atlanta, Gwinnett County and the entire state of Georgia has a time limit (known as the "statute of limitations") that applies to all personal injury cases. In most auto accident lawsuits, you only have 2 years to file an injury claim. If you fail to file your lawsuit before this deadline, you will most likely lose your ability to recover compensation for your damages. Talk to an accident attorney as soon as possible if you have questions in order to give ample time to build a strong case before the statute of limitations expires.
You deserve justice and compensation. Let us fight for you.
When drivers fail to abide by Georgia law and behave negligently or recklessly, we believe they should be held responsible for any injuries or damage they cause as a result. At Scholle Law, we have successfully represented clients who have been seriously injured in a sideswipe car accident involving other cars, trucks, vans, SUVs, semis and motor vehicles of all kinds. We have also represented the families of those who have tragically lost their lives in a fatal car accident.
Scholle Law has offices conveniently located in Duluth, Atlanta and Decatur. Contact Scholle Law for a free consultation 866-592-1296.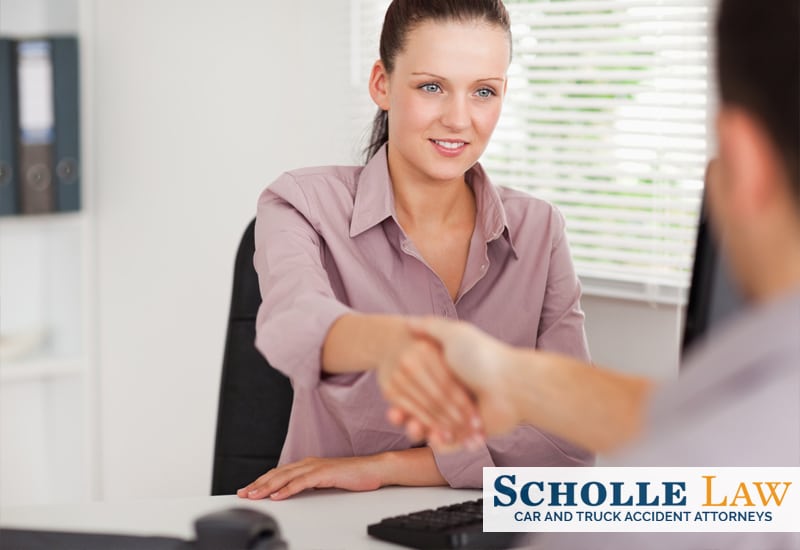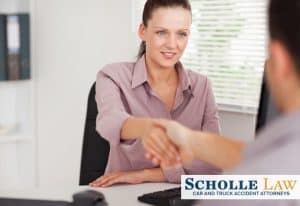 What to expect from a free consultation with Scholle Law
To make the best use of your free consultation, we encourage our clients to come to the meeting fully prepared with all the information and documentation that is pertinent to your accident and your injuries. Above all, be honest with your attorney. Everything you share is confidential and will aid your attorney in representing you.