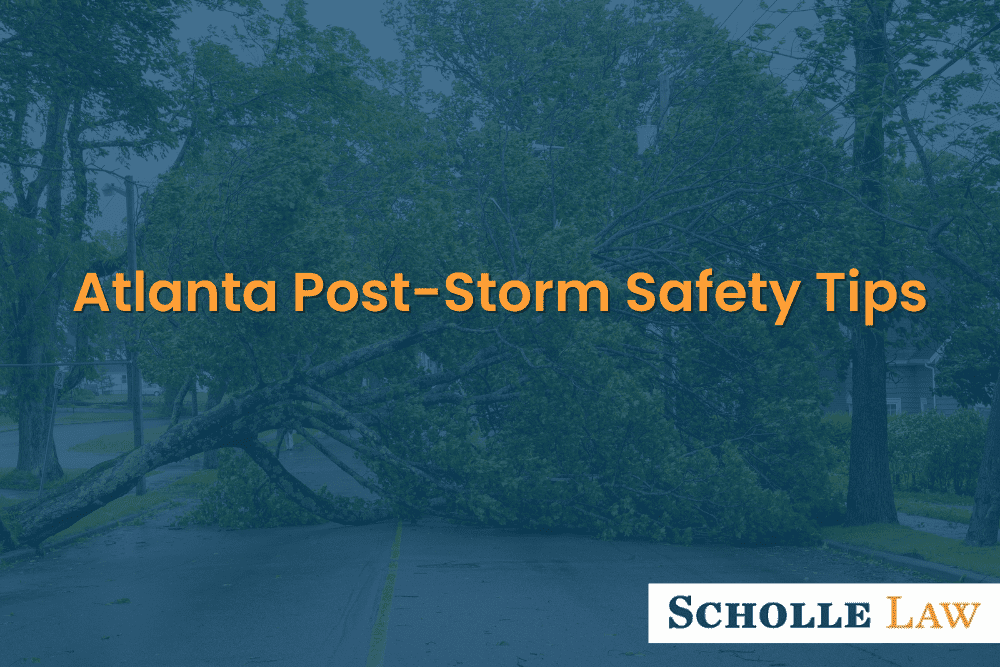 Summer in Georgia went out like a lion. Now that fall has arrived in earnest, we all hope that recovery from the dangerous storms that millions of Americans experienced, including so many of us throughout Georgia,  will be well underway before winter arrives. Georgians saw the power of mother nature, rain and wind from Irma that impacted many of us. Our coastal communities were severely impacted by both hurricanes Matthew and Irma, and some lives were lost. Two Georgians suffered fatal injuries when trees fell on their homes or vehicles. Trees were down, power was out and some buildings were damaged in the storm. As premises liability lawyers, we know that property owners need to protect their own families and others from potential harm from the impacted trees. We thought it might be helpful to share with our readers some of the recovery and safety tips we have collected from governmental agencies.
Governor Deal noted that because the storms hit Texas and Florida so hard, there were fewer immediate resources for Georgia than there might have been. Our storm recovery may take months and while this work continues our governmental agencies ask that we are patient and safe.
Our Georgia Forestry Commission has some important information and specific recommendations on what homeowners and communities can do to recover from storms and to protect from future damage. By now, most residents have taken stock of any tree damage around their homes or apartments. It is very important to look carefully for less obvious damage that could make a tree more susceptible to falling limbs or completely failing. Forestry recommends hiring certified arborists that can properly trim your trees. If trees are not trimmed properly, further damage or personal injury can occur. One suggestion for future protection is to make sure your community leaders have formulated an Emergency Response Plan which can help qualify your area for FEMA help for trees on public property after a storm.
For future reference, when power lines are downed by trees or otherwise, the experts also have some guidelines for keeping you and your family safe from serious injury. Remember always that if you see a power line do not try to move it. Instead, move away at least twelve feet. But move away carefully, making sure that your feet are close together and on the ground, shuffling is the best movement to accomplish this. This movement makes it less likely that a charge will go through your body.
Do not touch anything that is also touching the downed power line, including an object or a person. Contact emergency personnel as soon as possible to get help. If you are driving and come in contact with a power line that is on the road, or elsewhere, stay in your vehicle and call emergency help. If it is not possible to get help, experts advise that you exit your vehicle by jumping out of it … but do not touch the vehicle and the ground to avoid conducting electricity through your body. Use the shuffling technique described above.
The Atlanta injury lawyers at Scholle Law are here to help our community. We serve the metro Atlanta area, representing clients in personal injury matters of all kinds. If you need guidance after an accident, please contact our law firm for a free consultation. We pride ourselves on our commitment to the well-being of our neighbors throughout the Atlanta area and within Georgia.